Winter in New York means a lot of time indoors and, we hope, a lot of time for projects. I have a penchant for all things floral, so it's only natural that one of my projects would be to bottle a favorite scent.
For an easy-to-make winter refresher, I turn to rose hydrosol, also known as rose water. Rose is known to be very good for your skin–both moisturizing and full of antioxidants–and a rose hydrosol makes a delightful facial spray.
I use essential oils as a way to relax and decompress. Sometimes this means using a few drops in the shower (pretending I have an aromatherapy steam shower) or sometimes it means lighting a candle. Many doctors working with integrative medicine view aromatherapy as complementary to other alternative healing methods, and I subscribe to the theory. I know this: a drop of essential oil can help me relax and feel refreshed.
For full step-by-step instructions for making your own rose hydrosol, see below.
Photographs by Sophia Moreno-Bunge for Gardenista.
Above: Rose is good for cleansing and hydrating, and is useful for headaches and tired eyes.
You can make your own floral hyrdosol with any scented flower or herb of your choice. Lavender, jasmine, orange blossom are a few of my other favorites.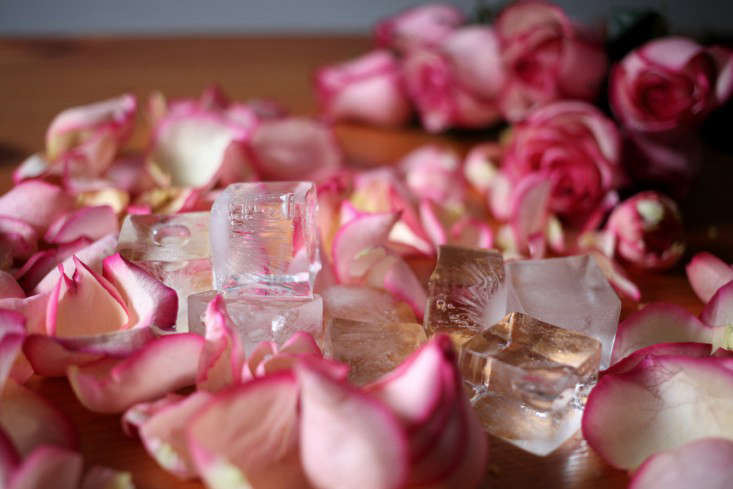 Above: Fresh rose petals and ice cubes for making a hydrosol.
A hydrosol is designed to be sprayed on your skin; use flowers from your garden or those purchased from a local organic farmer that you know have not been sprayed with chemicals. The best floral hydrosols are made with flowers that are in season, when they are most fragrant. Fear not: you can also make floral hydrosols from dried flowers using this same process.
What you'll need:
Rose petals from about six very fragrant roses (or roughly five or six handfuls of petals).  If you are using dried flowers, you'll need three handfuls.
Large cooking pot and a lid that fits snugly.
2 small, heat-safe glass or ceramic bowls.
Plenty of ice.
Ziploc bags for ice (so it can be easily replaced after it melts).
6 cups of distilled water.
A small spray bottle.
Step 1: Place a heat-safe bowl upside down in a pot. Next, drop your rose petals around the bowl, but not on top of the bowl. If you want an extra-fragrant rose water, use more plant material. You also can mix in herbs of your choice.
Step 2: Pour distilled water carefully over the petals until the water level reaches a height of about 1 inch below the lip of the bowl.  Place your second heat-safe bowl in the pot so that it rests on top of the overturned bowl.
Step 3: Place the pot lid on the pot (upside down, so the lid creates a concave space where you will place your ice cubes). When the steam from the water containing the plant material hits the bottom of the icy cold lid, it will create condensation and drip back into the empty bowl. This is your flower water.
Step 4: After your pot has finished simmering, turn off the heat and let it cool (with the lid still on so you don't lose any hydrosol from evaporation). After it cools, remove the bowl with your hydrosol and pour it into a bottle or jar to store. I decided to make my hydrosol extra aromatic and therapeutic by adding a couple of drops of rose essential oil.
Your hydrosol should last for about six months, and should be kept in a cool, dark place (a refrigerator works best).
If you're interested in trying your hand at making another kind of hydrosol (or stocking up on a few new essential oils), I did some research into ailments and their corresponding aromatherapy treatments, and this is what I found:
Muscle soreness (for the gardeners!): bay, caraway, chamomile, eucalyptus, frankincense, ginger, geranium, juniper, lemon grass, lemon verbena, rosemary, sandalwood, patchouli and myrtle.
Fatigue: basil, angelica, cedarwood, clove, eucalyptus, jasmine, frankincense, lemon, neroli, marjoram, peppermint, patchouli, and vanilla.
Anxiety: lavender, melissa, myrrh, bergamot, cardamom, chamomile, cypress, frankincense, rose, pine, vanilla, marjoram, neroli, nutmeg, patchouli, and orange/lime.
Headaches: basil, chamomile, cinnamon, ginger, eucalyptus, lavender, lemon grass, melissa, marjoram, peppermint, thyme, ylang ylang, and clary sage.
Interested in natural beauty? See Gardenista's archive of Health & Beauty posts.
Finally, get more ideas on how to successfully plant, grow, and care for rose with our Rose: A Field Guide.
Finally, get more ideas on how to plant, grow, and care for various perennial plants with our Perennials: A Field Guide.
(Visited 938 times, 2 visits today)