We're always on the lookout for inspiring ideas, even in a restaurant bathroom. Our favorite midday LA haunt, Joan's on Third, happens to have one of our favorite restrooms anywhere: back and white, with purple flowers.
Here are some ideas for recreating the look at home.
Photography by Laure Joliet.
Above: Scabiosa and white lisianthus fill an enamel pitcher.
Above: For bouquet of scabiosa that's so easy to arrange it will look like you didn't, see DIY: Alliums Three Ways.
Above: A study in black and white: the bathroom at Joan's on Third.
<>Above: Ceramic drawer pulls on a powder-coated steel cabinet; for something similar, consider a steel cabinet from KNF Designs, available through Empiric Studio.
Above: It all starts with the woodsy scent of Le Labo's Santal 26 candle, "An aristocratic scent, smoky and leathery"; $70.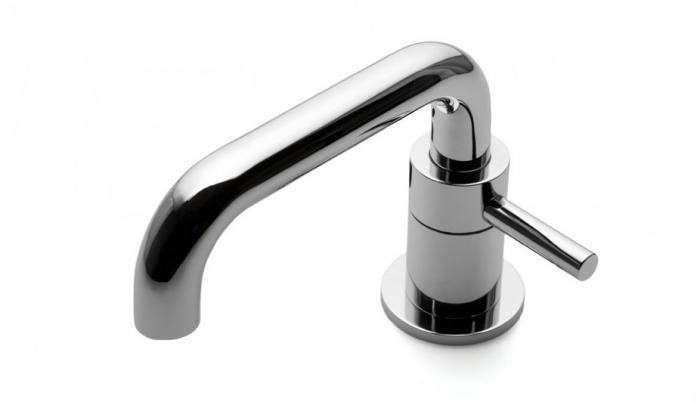 Above: The Low Profile Deck-Mounted Lavatory Faucet from Waterworks' Flyte line is $675; simple elegance worth the investment.
Above: For similar cabinet pulls, consider the Reproduction Antique Knobs from Paxton Hardware; $1.60 each. For the ultimate porcelain cabinet pulls, go to Whitechapel Hardware.
Above: Ikea's Sockerart Vase is made of enameled steel; available in three sizes at prices starting at $9.99; also consider the Emile Henry Urban Pitcher in Nougat ($50 at Amazon) and consult 10 Easy Pieces: Classic White Ceramic Pitchers.
Above: Above: Classic Series Glazed 1.5-Inch Hex Tile is $11.95 per square foot, available in black and white, at Hex Tile.
Above: Display a trio of artwork with the black Ribba Frame; $9.99 each from Ikea.
Above: Support local artisans; consider the multi-functional Dustbin by LA-based Brendan Ravenhill; it's a trash can with a detachable lid that doubles as a dust pan; $250 from Brendan Ravenhill.
Above: We'd hang it sideways: Ikea's Hemnes Mirror in black-brown for $44.99.
For more simple floral arrangements for a powder room, see:
(Visited 104 times, 1 visits today)