Before opening Caffé Spina in Greenpoint, Brooklyn, Vanessa Chinga-Haven was busy crunching numbers behind the scenes as financial adviser to floral designer and event planner Paul Diaz of Spina NYC. When Vanessa felt an itch to start an endeavor that would get her hands dirty, she floated the idea of opening a flower shop that wasn't just a flower shop–and Paul was immediately on board. He provided the funding to get the new business off the ground and gave Vanessa the freedom to run with it.
But there was a minor issue: Vanessa wanted to open a combination flower and coffee shop, but she'd never so much as steamed milk behind a coffee bar. None of that mattered to Paul and, as Vanessa explains, spurred on by Paul's refrain of "let's just make it happen" and the support of her husband, Scott Haven, she forged ahead.
Photographs by Nicole Franzen for Gardenista.
Above: The shop window.
When Vanessa stumbled upon the gem of a retail space in Greenpoint, Brooklyn, last February, she was halfway through her first pregnancy and her approaching due date inspired her to get the shop up and running by May, before the baby was expected to arrive.
As it turns out, the shop required a bit of handiwork to make it customer-ready. The floor had been painted black and a funky recessed portion of it had to be removed. Vanessa and Scott, who now works full time on the business, had some differences of opinion about making shop repairs. Vanessa was budget-conscious and wanted to try to do everything herself, while Scott encouraged hiring professionals to improve the raw space.
Above: A quiet seating area across from the coffee bar.
Together they decided on a group of plumbers, carpenters, and electricians to transform the Greenpoint storefront into a bright, welcoming spot for the neighborhood. In contrast to nearby shops, Vanessa wanted her space to look modern and fresh. She started by painting the entire space white and adding a new hardwood floor. But despite her efforts to modernize, she took care to leave the pressed tin and brick elements exposed as vestiges of the shop's past. Flowers and plants serve as the pops of color against a neutral white and natural wood backdrop.
Above: The full-to-brimming flower counter.
Vanessa never wanted the shop to have the feel of a traditional florist's shop, and so she opted against a cooler for keeping flowers fresh. She heads to the flower market several times a week for fresh blossoms instead. The day-to-day running of the shop is left in the capable hands of Vince Cross, a longtime family friend and someone who Vanessa descibes as the "unofficial face of the store."
Above: Cut flowers in glass vases replenished with fresh water and sold flower-stand-style.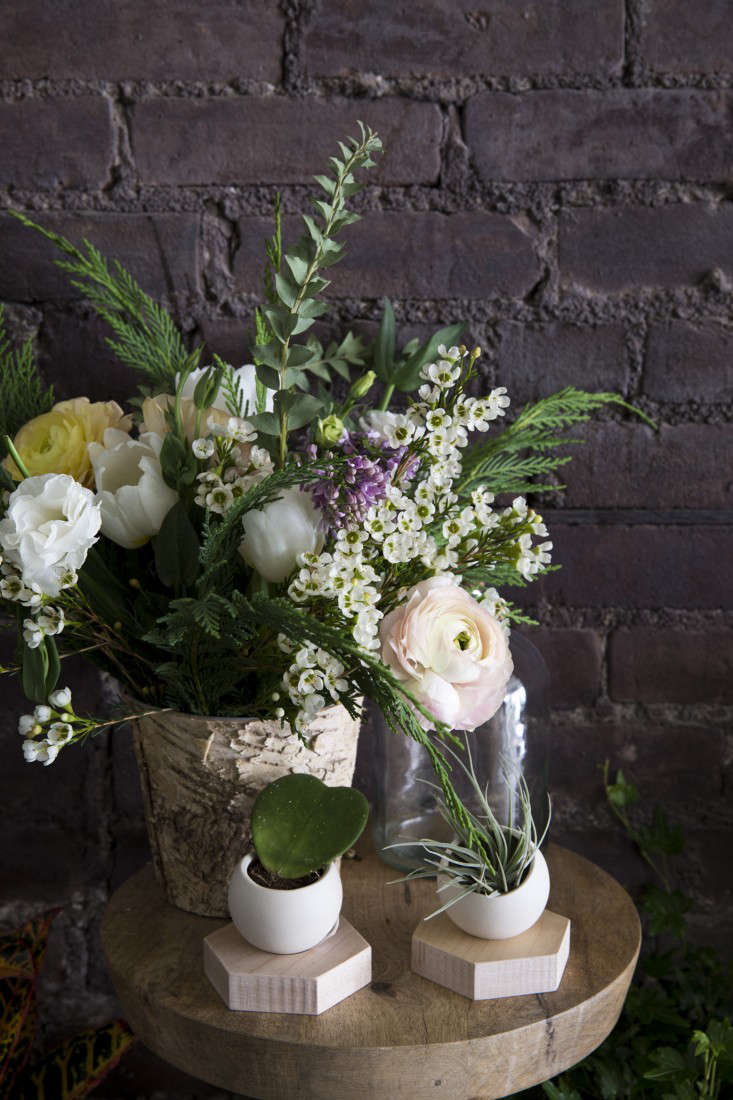 Above: At $15 apiece, pre-arranged bouquets are among the best sellers in the shop. 
Above: An assortment of houseplants for sale.
Houseplants are handpicked by Vanessa from nurseries on Long Island and brought into the shop with an eye toward providing neighborhood residents with plants that have a chance of surviving in city apartments that might not have optimal light conditions or caretakers able to spend a lot of time caring for their charges. Vanessa explains: "Hardy, low-light plants keep our customers happy."
Above: The coffee bar, which serves Blue Bottle Coffee and Bellocq Tea.
Vanessa decided to contract with Blue Bottle coffee for the coffee portion of the business. And, she exclaims, the partnership has been amazing. Blue Bottle has been hands-on from everything to training baristas to suggesting a builder to construct the coffee bar.
Above: A latte to go.
Vanessa didn't want the coffee to be secondary to the rest of the shop: "I wanted people to come because they liked our lattes…".
Above: Home goods and housewares for sale.
In addition to offering customers coffee, flowers, and plants, Spina keeps an inventory of home goods made by local Brooklyn designers. Scott works with Gardenista favorites like Light + Ladder, Helen Levi, Chen Chen Works, Mast Brothers Chocolates, and Lite + Cycle Candles.
Above: Pre-potted houseplants in planters made by local Brooklyn ceramacists.
Above: Staghorn ferns, plants, and planters at Caffé Spina.
The shop is open from Monday to Friday from 8 am to 7 pm, and from 9 am to 7 pm on Saturdays and Sundays.
Above: To visit the shop for yourself, head to 107 Franklin Street, Brooklyn, NY 11222. 
Curious to see more from Brooklyn designers like Light + Ladder? See Julie's post Stylish Storage Solutions from a Brooklyn Designer on Remodelista.
Did we whet your appetite for coffee? See Alice Gao's Coffee Tips and 7 Secrets: Tips to Make a Perfect Cup of Coffee.
(Visited 117 times, 1 visits today)