Farrah Sit is the mastermind behind Light + Ladder, a Brooklyn collaborative of independent artists who design meaningful handmade home goods. Their belief that "the home should be like a garden" comes to life through the products they design, available through an online shop.
One of Light and Ladder's latest collection includes the Chromo, a stacked self-watering ceramic planter. The two-piece planter reduces watering chores while promoting root growth. A lower reservoir provides a place for both water and ample drainage, encouraging a balanced moisture level in the soil and making for deep happy roots.
 Above: The Chromo Self-Watering Planter Collection is available in small (shown here) and tall planters; they come in Brown, Sage and Ivory.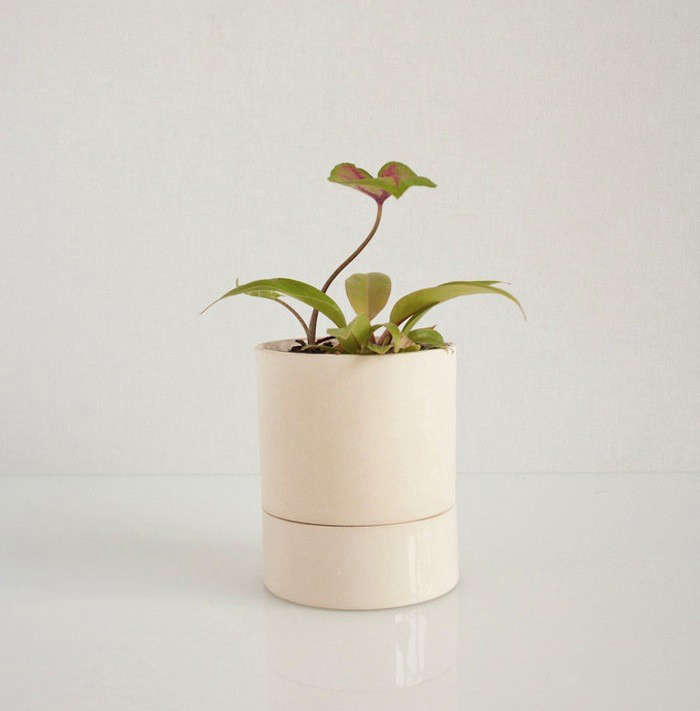 Above: The Small Chromo Self-Watering Planter In Ivory measures 5 inches tall and 4.25 inches wide; $90. A Tall Ivory Planter measures 9 inches tall and 4.75 inches wide; $100.
Above: The Tall Chromo Self-Watering Planter in Grey and Sage is $100.  All Chromo planters are made to order, and the reservoir and pots of the planters can be mixed and matched to achieve a two-toned look. If you prefer to mix sets or customize a planter, contact owner Farrah Sit directly.

Above: The Small Brown Chromo Planter is $90. A crevice on each pot is both beautiful and functional, providing a good spot to grip the planter during refills. 
Are you on a planter hunt? See our post 10 Easy Pieces: White Hanging Planters. 
(Visited 163 times, 1 visits today)