As you might have noticed, we're having something of a coffee moment at Gardenista. So when we kept on seeing beautifully framed shots of cappuccinos and cortados pop up on the Instagram feed of one of our favorite New York City photographers, we had to get in touch.
Alice Gao, whose work you can see in 'Of What Use is the Tuileries to Us…" shares photos featuring her discerning taste in coffee with her 695,000 Instagram followers daily. A photographer by trade, she's also a coffee aficionado in practice. We wanted to know: what does she look for in the perfect cup of coffee, and what are her tips for brewing a cup that lives up to her high standards?
Photographs by Alice Gao for Gardenista.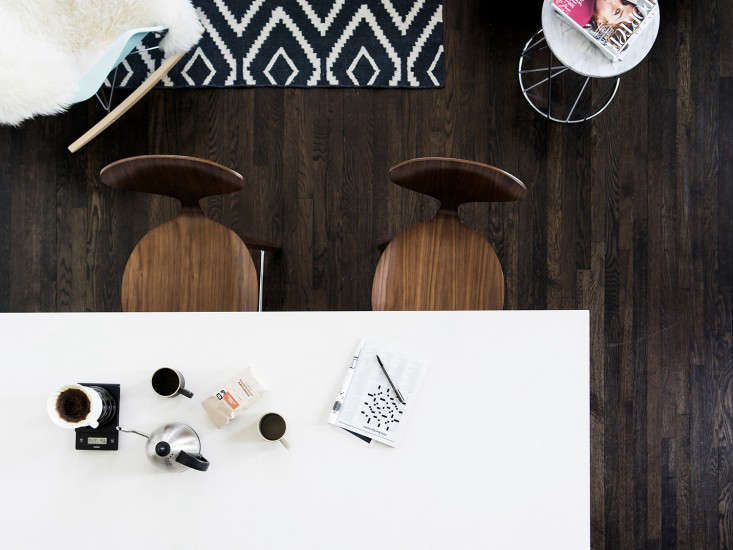 Above: The view from above; a morning scene in Alice's Manhattan apartment.
GD: What's your current favorite spot to drink coffee when out and about in New York?
AG: It's hard to say because it's constantly changing. For quality of coffee, I still really enjoy Blue Bottle. The one in Chelsea has a siphon bar on the upper level, which is my favorite spot to linger over a cup of excellently made drip coffee (the Belgian waffles are a bonus). For atmosphere and café design, I love Cafe OST in the East Village. Marble tabletops, Thonets, and beautiful afternoon light. Sigh. I also have a soft spot for Abraí§o since it was my neighborhood shop for so long.
Above: A cup of pour over, made at home.
GD: When looking for the perfect cup of coffee, what are your criteria?
AG: Well, for one, the place needs to be able to consistently pump out a good cup of coffee, no matter who is behind the bar. One thing I hate is only being able to go somewhere when "that one good barista" is working. Because I am so precise at home with measuring beans and water, I look to see how the café is doing pour overs. Are they just ballparking it, or using a scale, timer, and temperature-controlled water? As for espresso drinks, it's all about taste and texture for me. I can't stand over-extracted bitter espresso, and don't even get me started on heaps of dry foam in my cappuccino. There should be a nice velvety feel to my cappuccino and a good balance of milk and espresso.
GD: Do you order the same thing every time, or do you change it up?
AG: I do change it up depending on my mood. In the summer, I like iced cortados. Otherwise, I usually order cappuccinos or drip coffee.
GD: What are your essential coffee making tools at home coffee?
AG:
GD: Any beans preference?
AG: I personally prefer beans of Ethiopian origin–Yirgacheffe is one of my go-to regions. (A 1-pound bag of Blue Bottle Ethiopia Yirgacheffe Gelena Abaya Natural is $24.) When I can find them, Ethiopia Nekisse and Panama Gesha beans are a real treat, but they're rare (and quite expensive). I trust Blue Bottle and Stumptown the most when it comes to a proper roast. I can always find single origin beans that were roasted just a few days ago when I go to their locations in the city. I always, always check the roast date. If you want to get truly geeky about it, I especially like Blue Bottle's small lot roasts of Ninety Plus' beans, which are really special. But, I definitely encourage trying out all sorts of regions and roasters to find your preference.
GD: Coffee pet peeves?
AG:
Freezing beans. It's a misconception that this extends the life of beans. 

When people take so long to photograph or Instagram their cappuccino that the entire top bubbles over and really, the drink "dies."

Pre-ground beans. Just no. 

Inconsistency at cafés (as mentioned above).
What do you think? How does Alice's routine compare to your daily cup of joe?
Captivated by Chemex? See Amanda's 7 Secrets: Tips to Make Perfect Cup of Coffee.
(Visited 55 times, 1 visits today)