When landscape designer Brook Klausing, the founder of Brook Landscape, was asked to reimagine the front entrance of the Brooklyn Museum, there wasn't much in the way of a garden to work with. "The museum had large crescent-shaped swaths of lawn that didn't add anything dynamic to the space," says Klausing. "It felt like a dead zone up front." 
The entrance to the McKim, Mead & White building has long been a sore spot for the Museum. When it opened in 1897, visitors entered the Beaux-Arts building via a grand staircase, but by 1935 the steps were in such a state of disrepair that they were removed.  In the early 2000s, the Museum's director described the Eastern Parkway entrance as "bleak and unwelcoming" and commissioned architect James Stewart Polshek to design a new one. Polshek added the modern glass entrance and also the crescent-shaped strips of grass, which broke up the concrete, but instead of people lounging on the lawn as Polshek imagined, the space became a no man's land. 
Klausing's goal was to reinvigorate the space and give the Museum some additional curb appeal. The designer, who had previously helped with the revamp of the Brooklyn Museum's sculpture garden, decided to work within the existing crescent shapes for the sake of time and budget. His plan was to soften the space while keeping it visually open as a plaza. He also wanted to disconnect the garden from the street but not completely block it off. "We landed on this idea of a meadow," he says. Klausing knew just whom to call to help him design it: his longtime friend, ecological horticulturist Rebecca McMackin.
In addition to beauty, Klausing and McMackin wanted to create something that provided meaningful habitat and ecological benefit, an area in which McMackin specializes. While they could have filled the whole crescent lawn in with a meadow, they decided to fill only every other strip to create walking paths within the plants. Klausing says, "We wanted people to be able to engage and experience it firsthand." 
Planted in May, the space was officially dedicated to philanthropist Iris B. Cantor this past weekend. At the ceremony, Cantor, who is 92 and grew up on Eastern Parkway, said that she was thrilled to see birds and butterflies in front of the museum.
Here are 8 lessons home gardeners can borrow from Klausing and McMackin's Brooklyn Museum garden:
Photography by Douglas Lyle Thompson.
1. Design for community.
"We need more gardens outside of gates and fences," McMackin says, who views public horticulture as an issue of social justice. The new Brooklyn Museum plaza invites passerby to linger on wood benches that Klausing says are randomly placed in the garden with "enough space for people to be scattered, but not overly curated." For a home gardener, this might mean reconsidering the solid wall of privacy screening at the street in favor of something that offers glimpses of the garden beyond, or possibly extending your garden to the planting strip on the other side of the sidewalk.
2. Go ahead, kill the lawn.
Step one to reinvigorating the plaza was to kill the existing lawn. If you have your own section of unused, dead-zone lawn, consider replacing it with something that will provide sustenance and habitat for butterflies, birds, and bees. While homeowners might opt for solarization or a thick layer of leaves to kill the grass, Klausing and McMackin needed to work quickly, so their crew pulled out the old turf.
3. Soften the hardscape.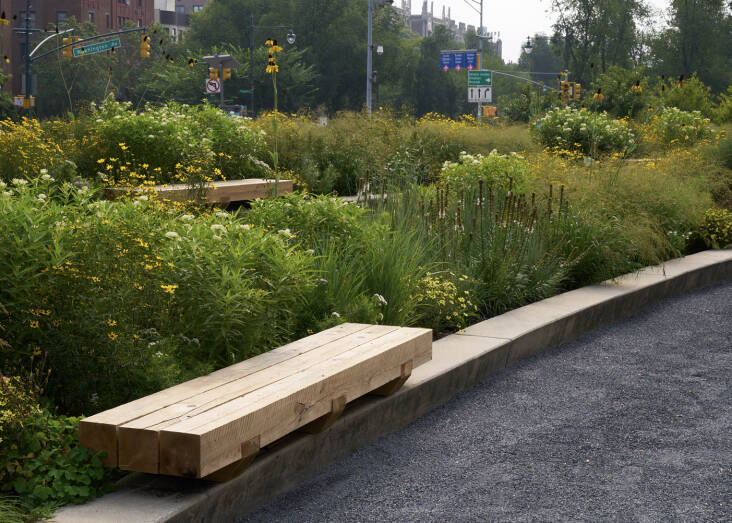 The new bands of permeable crushed bluestone aggregate create paths through the garden and also help reduce stormwater runoff. Inspired by the bleacher seating architect Elizabeth Roberts designed for the sculpture garden in the back, simple wood benches bring another natural material to the concrete pavilion. "They are a little chunky and a little brute: They fit right in," says Klausing.
4. Put your best foot forward.
Because this garden sits in a prominent public space, McMackin and Klausing were careful to make the new garden look its best on Day One. "We bought a few species of showy plants as large as possible," McMackin explains of the plants, like 2-gallon foxglove beardtongue (Penstemon digitalis), that she knew could "carry the show" in Year One. This is a smart strategy for home gardeners as well: Buy as many large plants as you can comfortably afford, then use less expensive landscape plugs and seeds to fill in.
5. Narrow your palette.
McMackin chose mostly yellow and white plants for the garden's spring and summer chapters, in part inspired by Deborah Kass's yellow OY/YO, which sits within the garden, but also because she wanted to show that yellow, an often underused garden color, can be part of a high-design landscape. The tight palette helps the wildflowers to look even more intentional.
6. Plant an ombré.
Come autumn the palette shifts to purple as asters come into bloom. McMackin planted five types of asters in drifts from lightest (white heath aster) to darkest ('Grape crush'), so that the flowers create a gradient of color. Asters provide vital late-season food for pollinators and birds.
7. Invite wildlife in.
When selecting plants, Klausing and McMackin focussed on native wildflowers for bees, host plants for butterflies (including milkweed, which they planted close to the benches in the hopes that visitors could see caterpillars and chrysalises), and plants that would produce seedheads for birds (the hope is to leave the plants standing through winter). Since the installation pollinators have flocked to the garden, and McMackin says she even spotted a half dozen species of native bees at work in the first week of June when New York City was immersed in wildfire smoke.
8. Create structure.
The meadow is not just wildflowers: McMackin and Klausing used shrubs, including three Ilex glabra ('Compacta,' 'Gem Box,' and 'Maryland Dwarf') and Sweet pepperbush (Clethra alnifolia 'Hummingbird') to anchor the native pollinators. Native grasses like Gunsmoke switchgrass (Panicium virgatum) and Little bluestem (Schizachyrium scoparium 'Prarie Blues') add structure and year-long interest.
See also:
(Visited 8,649 times, 11 visits today)