In summer nothing beats the feel of sand between your toes. Unless, of course, you happen to be inside. Sandy floors (or worse, sheets) are the bane of every beach cottage. But, as this native Cape Codder has discovered, there are ways to keep the sand at bay.
Here are eight solutions to stop sand at the door.
Photography by Justine Hand, except where noted.
1. Set up an outdoor foot-washing station.
A good day at the beach usually ends with a shower to remove all sand, salt, and sunscreen. But what about all those to-ings and fro-ings throughout the day? For quick rinses, create a designated outdoor station specifically for rinsing sandy feet. All you really need is a low hose or spigot—make sure little beach-goers can reach the handle. Or simply keep a large bucket of water near the door.
2. Double up on doormats.
Despite my efforts to install a foot-wash station, some will always forget to rinse their sandy feet. Therefore my next line of defense is a series of sand-trapping doormats, on both sides of the threshold.
3. Remove all shoes before entering.
Even with double doormats, I still encourage everyone to remove their shoes, by setting up a designated area for footwear. Ideally this area is outside the home, but still in a sheltered area—a porch is best. The hope is that a collection of shoes will subtly remind all guests that shoe removal is preferred, without your needing to nag too much.
4. Deploy sandtraps (rugs).
Sand, especially when combined with sunscreen, is notoriously sticky. For those particles that make it past my outdoor sand removal gauntlet, I deploy sand-trapping floor covers, such as sisal and sea-grass rugs. Just be sure to vacuum well.
5. Keep a sand removal bucket in your car.
If you don't want sand in your home, leave it at the beach. I encourage as much sand removal as possible while we're still seaside, by creating a sand-removal kit for the car. Stored in a simple galvanized bucket, my kit includes:
A cleaning brush to wipe down boards and the car.
Talc-free foot powder, which, when applied to sandy feet, makes them easier to clean.
Refreshing wipes, especially useful for sandy, post-Popsicle hands.
Rejuvenating sun spray in case those sandy feet get a little burned.
An extra towel.
6. Rinse all recreational equipment.
After a long day at the beach, I usually want to flop down with a cool drink. But I have trained myself to delay rest until after I've rinsed all the beach toys and boards. Not only does a quick wash help maintain the life of your recreational equipment, it also minimizes the chances that someone will take sandy items into the home or car.
7. Empty your beach bag daily.
Beach bags are notorious sand traps. Therefore, I make sure to unload my every day. After shaking out towels and brushing off the beach toys, I turn my beach bag upside down and give it a good shake before taking it indoors.
8. Don't forget Fido (install a handheld shower to rinse your dog).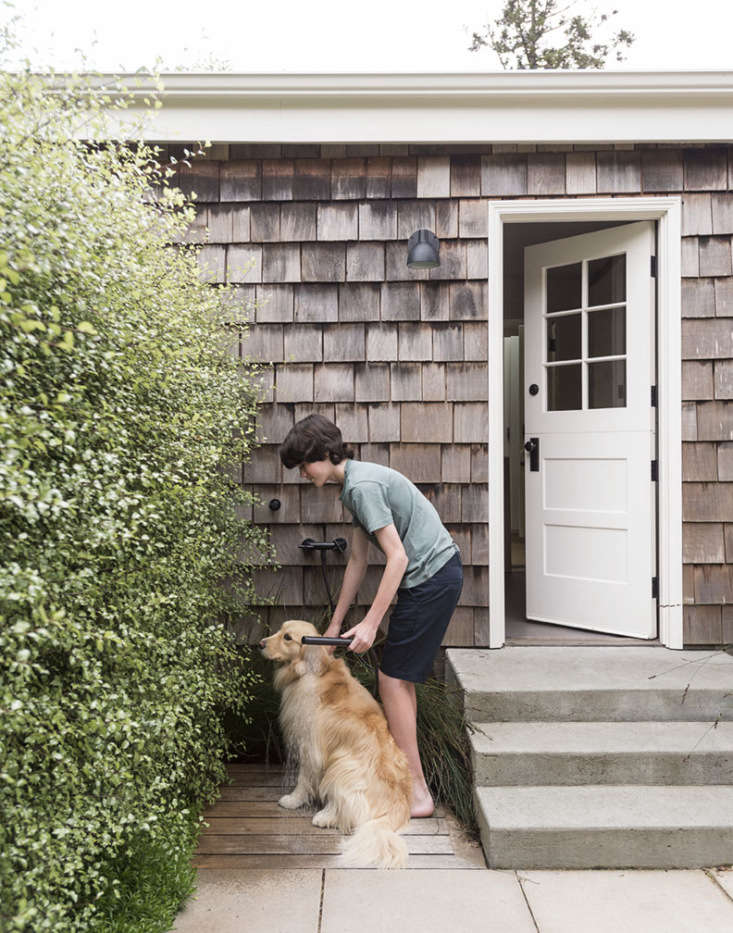 When it comes to tracking sand into your cottage, the only things worse than kids are canines. Luckily, like humans, salty dogs also enjoy a good rinse after the beach. A handheld shower attached to an outdoor hose is useful for washing both dogs and sandy feet.
Are you designing a seaside garden? See more ideas in our curated guides to Garden Design 101 and read more:
(Visited 1,242 times, 1 visits today)