My first foray into flower arranging was using statice and dried roses to make wreaths and potpourri in high school. At some point I shamefully hid my roots after dried flowers fell out of fashion and I became annoyed by bunches of dusty petals. Now trends have come full circle again and I see statice everywhere.
Here in Portugal, my interest was piqued when I began seeing bunches of statice hanging in country houses and even in chic shops in Lisbon in a way that feels absolutely timeless, rustic, and quite charming. Statice belongs to the Limonium family and is also called sea lavender.
Photography and styling by Chelsea Fuss.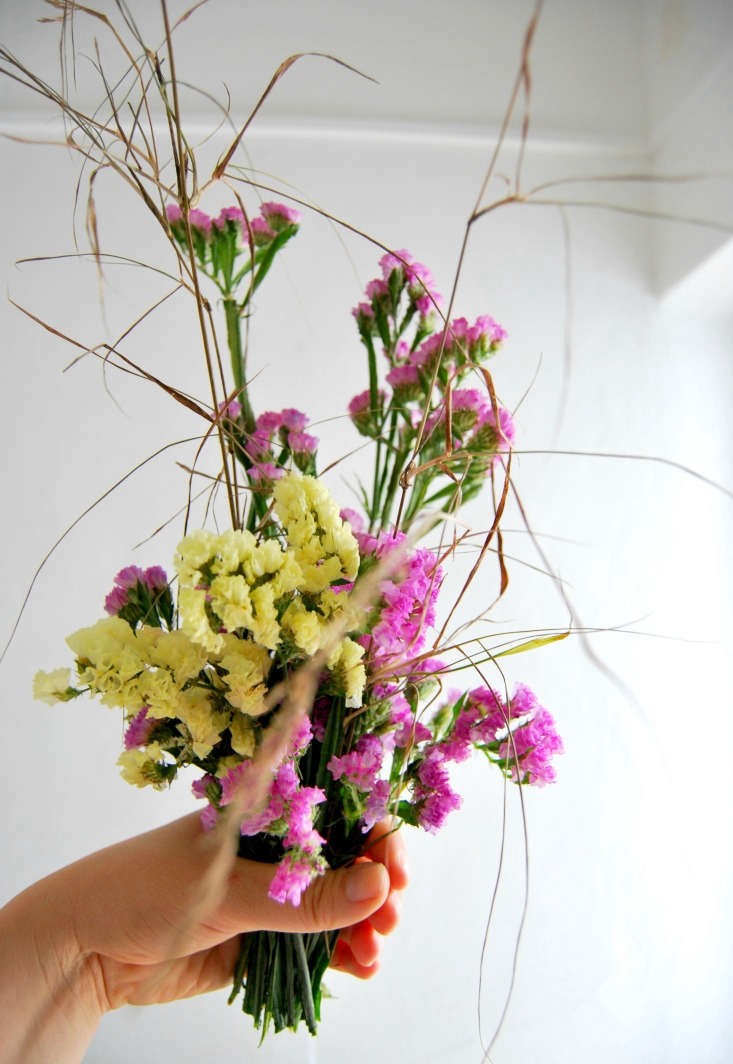 I was inspired by Jeanne Damas, the founder of the French fashion label Rouje who often lets us peek via Instagram into her house (where she has a basket by her door filled with dried flowers). I've placed the statice in the traditional Portuguese basket that was made famous in the 1970s by British-French singer Jane Birkin.
Here, I've hung a Cane Basket with Cover (€40 at A Vida Portuguesa) with simple string near a door and filled it with statice. Statice is charming and absolutely unexpected, and if you keep things minimal, it adds life and color to a room. I've stayed away from the mixed color bunches and instead asked my supplier for bunches in single colors. The pale yellow and classic violet colors of statice work nicely together.
Statice also works well for floral installations because it will just dry as is (I typically like to start out using it fresh and let it dry in the arrangement) and still looks colorful and lively. I've seen strings of hanging statice bunches or a ceiling covered in the blossoms. Below, I've done my own simple, at-home, countryside-inspired version of a statice installation by making small bunches and attaching them to a hanging string. It's a carefree way to add an embellishment for a dinner party or a bohemian touch to the corner of a room, For the bunches, I've added dried grasses to add more movement to the statice.
Simply tie the bunches together with natural string, and attach individually to a longer string. The flowers will dry as is. Statice dries best if hanging upside down. Keep it away from direct sunlight to prevent the color in the flowers from fading too quickly.
Bring color to an all-neutral room with these timeless, rustic bunches of statice.
Simple floral arrangements for spring? We've got them. Browse our Floral Arrangements archives (and get tips for growing our favorite flowers from our Garden Design 101 guides to Perennials and Annuals. And see Chelsea's earlier posts in our Rethinking Flowers series, including:
(Visited 428 times, 1 visits today)