British florist Constance Spry's image is at odds with who she was: a revolutionary flower decorator and intensely creative teacher, gardener, cook, and friend. The glove-wearing gentility which her name evokes says more about her Mayfair clientele, and though she may have been a kind of goddess she was not really a domestic one, despite writing the influential Constance Spry Cookery Book.
Her life is described entertainingly in The Surprising Life of Constance Spry by Sue Shephard.
Photography by Georgie Newbery for Gardenista, except where noted.
Above:Photograph by Kendra Wilson.
"Surprising" is an apt description of the life of Spry. Her artistic talent with flowers led her away from an early period of charity work and teaching in London's East End to decorating shop windows in Bond Street, which she found difficult to square with her social conscience. Given her big break in 1929 with a grand perfumers in London's West End, she was hired as a talented amateur with a fresh vision.
Spry avoided the usual offerings from the flower market and instead turned to the hedgerow. Dried hops, autumn leaves, and "old-man's-beard" (wild clematis seed heads) went straight into the large urns at Atkinson's Perfumers–with a few orchids to raise the tone–and Constance Spry's window designs literally stopped traffic.
Above: With the enthusiastic reception to her "country weeds," Spry soon had her own shop called Flower Decorations (never "arrangements"). Her services were required by the most influential people of the day. As with her flower choices, Spry's use of materials was democratic: she saw vase-potential in objects discarded in the street and she invented new techniques to pull off the impossible. One of her signature ideas was to use a dinner plate as a base with sprays and twigs arranged almost horizontally, jutting out at rakish angles. Curly kale was another signature look: kale eccentrically displayed on its own in a vase had an unusual effect and she remained remarkably loyal to the crinkly leaf for the rest of her life.
Above: The black and white photos in The Surprising Life of Constance Spry ($15.44 from Amazon) are are only able to portray some of the spirit of Constance Spry's designs. How would her flowers look in color, in a different setting?
The answer is that we see her influence in every creative floral arrangement today. To channel "our wonderful goddess of floristry," we asked gardener Georgie Newbery to do some foraging around her own Common Farm Flowers in Somerset and create a homage to Constance Spry. The flower decoration shown above is named Winter in a Glass Dish and includes kale Cavolo Nero, of course. (N.B.: For more of Newbery's work, see Wildflowers Delivered to Your Door.)
Never legally married to Mr. Spry, Mrs. Spry had an affair with the female artist known as Gluck. Though the circles in which they moved were not worried by unconventional behavior, they must have made a striking couple with Gluck only ever dressed in men's clothes and Constance resembling the late Queen Mother. Spry's ability to teach and inspire was felt in her shops and later her school, but she also influenced the great taste makers of the day. Syrie Maugham (wife of Somerset) relied on Spry during her celebrated White Period. Constance impressed on her: "When you do a room, you must 'over-scale' it." She avoided small vases dotted around and would instead concentrate her energies on one or two strikingly oversized displays.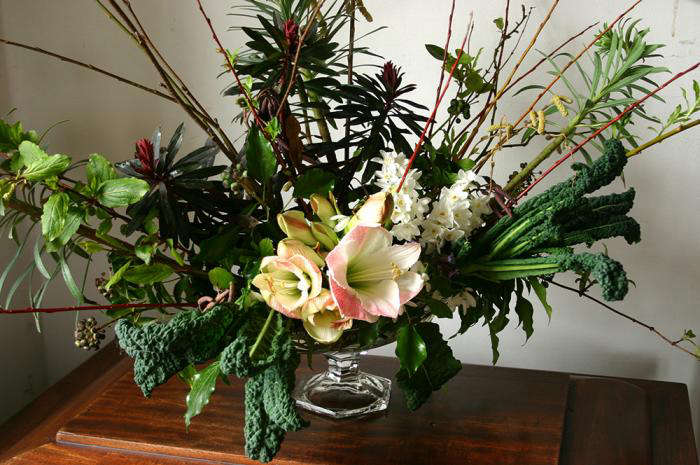 Above: Snowdrops, pulmonaria, euphorbia, scented narcissi, willow, hazel catkins, honeysuckle, and one high-class bloom: amaryllis.
The expression "doing a Constance Spry" was in common parlance at one time. Gardening contemporary Beverley Nichols explains this in the foreword to one of Spry's many books: "Doing a Constance Spry… means suddenly stopping in a country lane, and noting for the first time a scarlet cadenza of berries, and fitting it, in one's mind's eye, into a pewter vase against a white wall."
As for Mrs. Spry's cookbook? The Constance Spry Cookery Book is $55 from Amazon.
(Visited 58 times, 1 visits today)