Anyone who knows of Babylonstoren in South Africa, a luxuriously comprehensive vineyard experience in the Franschhoek wine valley, will not be surprised to see the scale of ambition on show at the Newt in Somerset, both owned by former magazine editor Karen Roos and entrepreneur Koos Bekker. In a way similar to its Dutch Cape cousin, Hadspen House and garden (plus 800 acres) has been rationalized and rearranged into something new yet old—it is sometimes difficult to discern which—that makes full use of Somerset's rural heritage. Cider is a big part of that (think of the Newt as a vineyard for cider), the land newly planted as far as the eye can see with rows of apple trees.
Named after a prosperous colony of amphibians including the protected variety, Great Crested Newt, this "glamorous" species is described by the Head of Programmes as "a powerful salamander that holds up diggers." With newts as cosseted as guests, the house was eventually allowed to become a hotel. This summer's enticement for city dwellers is a one-day West Country taster, and a promise to be delivered back to Paddington Station in time for dinner.
Photography by Kendra Wilson except where noted.
Roos and Bekker have again hired French architect Patrice Taravella to lay out the garden's new bones, which mingle with some of the old structure. The irregularly shaped walled garden, called the Parabola, has been configured with labyrinthine displays of fruit trees, including 250 varieties of apple.
A Victorian plunging pool continues to send up vigorous jets of water, which hotel guests sometimes use, "although it's not encouraged." To the left, a fully-grown and ready-to-install nobbly hedge, has been named by the gardeners "Old Nobbly." It gives some volume to this very young garden.
The garden is for display and education, in which city folk are encouraged to taste young salad leaves, or pick apples later in the season, washing them in a fountain made from an old cider mill.  The different apple-growing regions and soils of England are represented with a typical attention to detail: Lancashire apples are planted among crushed cockle shells, being a county of cockles, while the Devon's woodland associations are the reason for bark chip around Devon apples.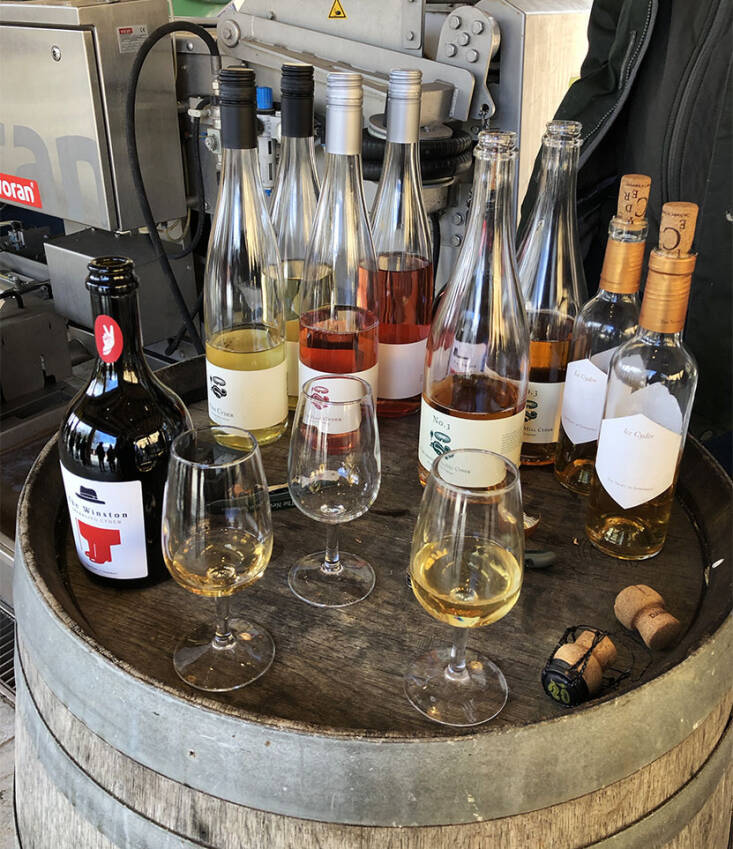 Cyder tasting is part of the Great Garden Escape package, even after a Babylonstoren wine-infused lunch. Cyder is packaged like wine and is just as carefully made. Rosé cider is made with apples that have a pink flesh, and Champagne-method wine finds its equivalent in The Winston. There is also an irresistible dessert cyder. Lunch is made with whatever is in season. No matter how complex the outcome, the chefs (and gardeners) are notably easygoing, insisting that the ingredients speak for themselves.
This young cherry is tied to its support with torn bedsheets, a traditional French method. Step-over apples have their limbs cracked sideways if they do not naturally bend; these mend in the manner of a broken leg. Stones suspended from  branches do more persuading. Espaliers that are shooting upwards too enthusiastically have their tips tied into knots to slow the growth down.
There are 48 gardeners at the Newt, numbers which would have impressed earlier residents, when it was the weekend house of the Hobhouses.
At the end of the 20th century, the Cottage was the public-facing tea room of Hadspen's celebrated gardeners Nori and Sandra Pope, who rented a flat in the house and turned the walled garden into a treasure trove, famous for its masterly use of color and sublime atmosphere. When the Popes went home to Canada, the garden packed its bags as well. A color-coded garden around the Cottage is an homage to this almost-forgotten era.
The Great Garden Escape is every Friday throughout the summer, leaving Paddington Station for Castle Cary just after 9am.
(Visited 180 times, 1 visits today)