Urban gardening meets office organization. Here are seven containers that effortlessly bring plant life (office plants help us work smarter – Michelle explains why) and office organization into your workspace.  
Note that the vessels featured do not have drainage holes. Care should be taken to put a layer of pumice or rocks at the bottom, under the soil, to provide adequate drainage. 
Above: Designed by a graduate of the Savannah College of Art and Design (SCAD), the innovative Cork Planter Bookend Set features water tight vessels nestled in cork. They can hold small plants or office supplies, while propping up books and acting as a miniature cork board; $50 for the pair at Canoe Online.
Above: An office wall organizer with an adaptable design, the Urbio Wall Organization and Planter System is made of lightweight polypropylene plastic with ultra-strong neodymium magnets that are strong enough to hold your pencils, scissors and plants. Available in individual units to customize to your space or as a pre-designed set. The Urbio Happy Family Planter and Organizer with two wall plates and three vessels is $82.53 at Amazon.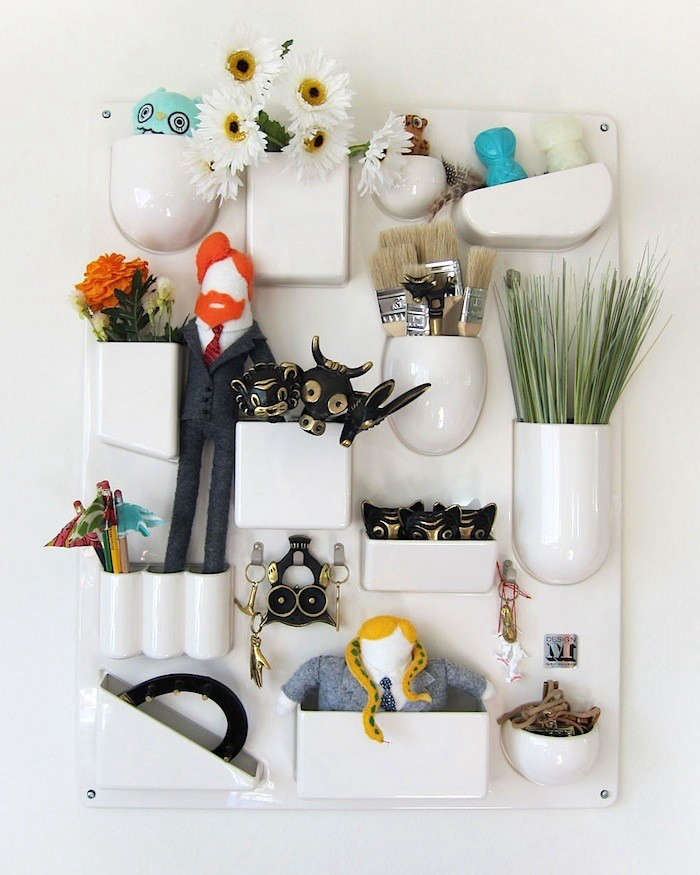 Above: A classic, the Vitra Uten Silo Small Wall Organizer can hold a desk's-worth of office supplies with plants or cut flowers comfortably in the water tight pockets; $395 at Design Public. Image via Vintage Spotlight.
Above: Stoneware containers hang on S-hooks (a five-pack of Grundtal S-Hooks is $2.99 from Ikea) from a simple rail to lift supplies and greenery off the desktop. Photograph by Erin Williamson via Flickr.
Above: This Wall-Mounted Planter and Office Organizer by designer Eric Trine is no longer available. But, a similar effect can be achieved by hanging Socker Galvanized Plant Pots (79 cents each at Ikea) above your desk. 
Michelle offers another Low Cost Idea to Re-purpose Ikea Cutlery Containers for plants or other items. 
Above: Hanging mason jars make great holders for plants and pencils. Karla Lim offers step-by-step instructions for this project on her blog, Oh So Very Pretty. You can purchase a box of 12 Ball 32-Oz Wide Mouth Mason Jars for $12.99 at Ace Hardware.
Above: This hardwood DIY Desktop Organizer and Succulent Planter offers space for work essentials and a few favored potted plants. See Instructables for plans and instructions. 
What plants to use? Succulents are a good choice for small indoor green garden (see Tips for Growing Succulents Indoors). Also consider Justine's Favorite Mini House Plants. 
You need to login or register to view and manage your bookmarks.