Flyaway hair, the bane of winter, is upon us. A large problem formerly known as my bangs is standing on end, crackling with electricity, as I type. How can we be expected to work under these conditions?  The solution: moisten the air in your office. 
We've rounded up ten attractive humidifiers (no, that was not an oxymoron) sized to sit on a desk where they can also do your cracked lips some good. Your droopy office plants will thank you too if you get the moisture level up.
Above: Designed by Shin Okada and made of hinoki, a fragrant Japanese cypress tree, the Mast Humidifier is named for its sailboat shape. No cords or electricity required; to use, simply fill the "boat" with water. After the thinly sliced sheets of hinoki absorb the liquid, they will emit both moisture and a fresh scent into the air. Available for pre-order (with two weeks' lead time), the Mast Humidifier is $104 from White Rabbit Express.
For more about the Mast Humidifier, see The Poetic No-Tech Humidifier.
Above: It's in the works; Korean designers Cloud and Co plan to offer the Bottle Humidifier, which has a plastic exterior shell and a glass bottom, for sale in July. For information and pricing, see Elevenplus.
Above: A Chimney Humidifier designed by Tokyo-based Takeshi Ishiguro doubles as a scent diffuser (just add essential oil) and is $200 from Design Within Reach. For more about it, see our previous post about the World's Most Beautiful Humidifier.
Above: A Stadler Form Essential Oil Diffuser allows you to add scented oil to the water in its well; it's $59.99 from Brookstone.
Above: Takashi Hiroshi Tsuboi's Middle Colors Humidifier is available in two sizes: the 9-inch W model, shown here, emits a cool mist from an ultrasonic humidifying element, while the similar looking 12-inch H has a hybrid function: it sends either a cold or warm mist (through a built-in heating element) depending on room temperature. Available in 15 colors from Gizmine, the humidifier is priced at $119 to $179 depending on size.
Above: A humidity tray with a 2-inch lip, a Polished Marble Tray is a low-tech evaporative humidifier. It also will house shallow-rooted house plants; $128 from Terrain. 
Above: A ceramic humidifier designed by Patricia Urquiola fits on top of a radiator and can hold a potted plant, books, or office accessories. One of the Il Coccio collection of nine ceramic products commissioned by Fluvio Martini of Italian-based Martini Spa Home to "rethink the humidifier," it is designed to sit atop a warm radiator and evaporate water into the air. For more information and pricing, see Martini Spa Home.
Above: A Roolen Breath Humidifier, available in white or black, emits a cool mist; $129.98 from Amazon.
Above: An Ultrasonic Aroma Diffuser uses ultrasonic waves to vaporize water and produce a cool, dry mist. It is $119.50 from Muji.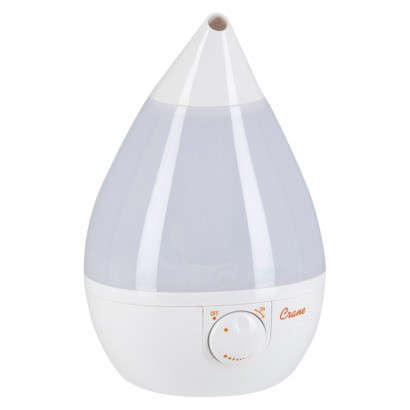 Above: A Crane Drop Shape Humidifier provides up to 24 hours of moisture and is suitable for rooms of up to 250 square feet; it is $49.99 from Target.
Another way to be nice to your desk plants is to give them a spritz every now and then. If you're in the market for an adorable plant mister, we've found some: Glass, Brass, and Nickel.
(Visited 207 times, 1 visits today)