On admiring a graceful trio of ponds on the terrace at the Whitney Museum of American Art in Manhattan's Meatpacking District, we enquired after the designer. But Mathews Nielsen Landscape Architects, responsible for most of the Whitney's outside space, said sorry, it was nothing to do with them. In fact, it is an artwork by Virginia Overton, part of a fifth-floor takeover called "Sculpture Gardens."
We were so charmed by the exhibit's lily pads that we asked pond-plant experts Florida Aquatic Nurseries for tips to create a similar pond garden at home. Read on for the suggestions:
Photography by Megan Wilson, except where noted.
Above: Photograph by Ron Amstutz.
Virginia Overton, a Tennessean based in Brooklyn, reacts to her surroundings with minimal sculptures. Like a landscaper (which she is not), Overton is in the business of transforming architectural space. As her London gallery, White Cube, notes, "Notions of equilibrium, weight, and gravity are foregrounded in her carefully balanced assemblages."
The windmills were installed by Overton to harness wind from the Hudson on this riverside site. Their energy is used to aerate the set of three ponds.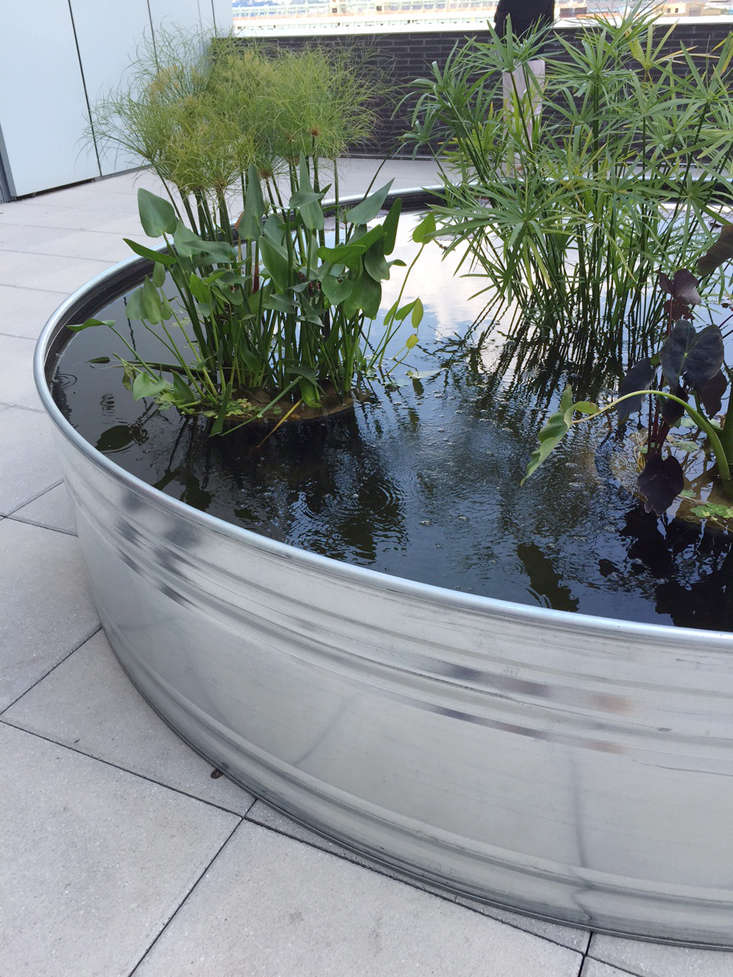 Above: Like oversized celluloid film canisters, painted galvanized steel tanks provide a minimalist setting for uncongested aquatics.
Above: Virginia Overton's open-air installation extends the fifth floor gallery space at the Whitney. The terrace is part of a continuum of outdoor space that gives New Yorkers renewed access to the Hudson River, alongside the world-renowned High Line park, opened in 2009.
Above: Mahogany pads complement magenta lilies with Nymphaea x 'Red Flare'. For similar lily pads with purple flowers, try Nymphaea x 'Ultra Violet'.
A collection of simple watertight shapes, each with the same finish (such as galvanized iron, brushed steel, or non-porous ceramic) can be used for a smaller scale water garden. Whether you approach it as art or ornamentation, keep the planting sculptural.
Above: Lightly mottled pads provide an alternative to plain green. The planting was overseen by Virginia Overton. Since artists don't tend to give it all away, we asked our friends at Florida Aquatic Nurseries to help us to catalog the lilies. For the above specimen, they suggest Nymphaea x 'Bull's Eye' for the intensity of the flower color. For slightly veined foliage but with purple-blue flowers, there is Nymphaea x 'Blue Spider'.
Water lilies need to be chosen on the basis of water depth, otherwise vigorous pads will rise above the surface of the water. Beyond this, a basic water garden is a very straightforward process: keep to one or two plant types, fill an aquatic basket, and plunge it to the bottom. Don't worry if it shows through the water.
Above: Florida Aquatics are quite convinced that this is Nympaea x 'Foxfire'. For something similar there is also Nymphaea x 'Tanzanite' or Nymphaea x 'Southern Charm'. For flowers with seering color, there is Nymphaea x 'Hot Pink'.
Above: Beautiful, minimalist pond or "integrated vernacular ornamental object?" The reaction of museum goer Megan Wilson, who took these photos, is nicely succinct: "The Whitney is helping to make New York sexy again."
Above: Virginia Overton uses industrial and natural materials. Trunks of Eastern white pine make the simplest seats, contrasting with the urban cladding of the Whitney.
Above: Another clever and practical element to this artwork is the use of directional rubber cable protectors, covering air hoses which connect the windmills (powder-coated galvanized steel) to the ponds. Health and safety has never been so artistic.
Virginia Overton's "Sculpture Garden" is temporary: See it before September 25. For information and museum hours, go to Whitney Museum of American Art.
Heading to New York City on this hot weekend? Stay cool with:
(Visited 209 times, 1 visits today)