We are huge admirers of Alan Calpe and Christopher Crawford's beautifully curated Gardenheir store (see our Shopper's Diary on it here), which is why we were curious about the couple's own garden in Windam, NY. When they bought their Upstate home in 2016, they had "no garden experience whatsoever," admits Alan, but that didn't deter them from dreaming, planning, and, finally, planting a sprawling, flower-filled garden.
It took a healthy appetite for mistakes (see lesson #4), vast reserves of patience (see lesson #5), and a high tolerance for back-breaking labor before the pair were able to transform the challenging landscape—"heavily forested and brambly" is how Christopher describes the property prior to their interventions—into the modern pastoral garden they sought.
"A new garden can be so daunting but you really can surprise yourself with what you can accomplish. We found that it helped to think of it as a process, a series of experiences, rather than an end product," says Christopher.
Below, the two share all the invaluable lessons they've learned on their gardening journey thus far.
Photography courtesy of Gardenheir. Follow them on Instagram @thegardenheir.
1. Research should be both broad and specific.
Alan and Christopher were truly clueless about gardening when they purchased the 4-acre property and started their horticultural education "in the most likely place—the internet," says Alan. "We bookmarked texts and collected a lot of imagery to start understanding what appealed to us."
"There was a lot of reading of the greats (Dan Pearson, Piet Oudolf/Noel Kingsbury, Christopher Lloyd, Vita Sackville-West, Gertrude Jekyll, and Derek Jarman) that opened our perceptions of the garden as more than simply aesthetics. Gardenista and Gardens Illustrated were definitely resources we relied upon—as were blog sites that helped us to understand our particular region and growing conditions, like Margaret Roach's A Way to Garden, James Golden's Federal Twist, and Tony Spencer's New Perennialist."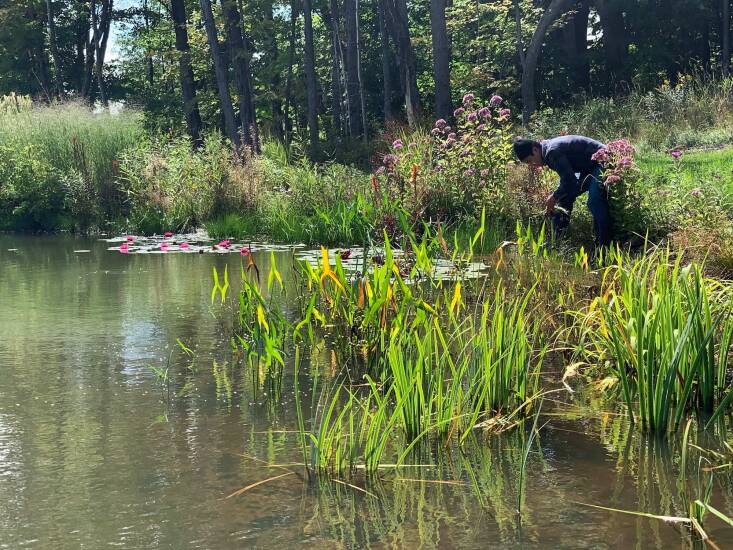 Says Christopher: "We also loved watching a lot of television programs from the UK, where gardening shows are quite popular. Gardeners' World has been a particular favorite. Monty Don always advises people who are just starting a garden to 'Be brave.' I guess that stuck with us."
2. Your dog can be your co-designer.
Before the pair could focus on the plantings, they had to make sure the structural elements were in place. One of the first things they did was to clear about an acre of land to gain mountain views. Then they had a pond dug out. And from there, they began to create paths and beds. "We were a bit eager with early hardscaping and paths and ended up changing them as we got to know the garden better and spent more time there," says Christopher. "At the beginning, when the garden was just open landscape, we had some paths in mind, but we found that we were moving through the garden in a different route than we had designed. Someone had mentioned to us that dogs often take the most direct route and in the case of our garden, this was true. Once we took note of it, the garden flowed a lot better."
3. Compost is your friend.
Alan and Christopher had read that one shouldn't amend soil because native plants prefer native soil, but it was hard to stick to this rule. "The excavation work had badly compacted our already compacted soil structure. It's heavy, sticky clay, and very, very rocky," says Alan. "For most areas, we laid down cardboard and heavy layers of compost as preparation to help suppress weeds and improve the soil structure come planting time. Occasionally we've planted directly in the unamended soil because there's been a lot of thought that plants fare better in the end, but the clay really is so agonizing to work with that compost has been such a friend."
4. Got deer? Do not underestimate them.
"Our second season, after convincing ourselves that the deer browsing wasn't so bad, we planted thousands of tulips and, without exaggeration, at the very moment before we were going to see its gorgeous display, we woke up to a complete massacre," recalls Alan. "It was as if the deer had a bacchanalia and were just laughing in our faces. This really shifted what and how we planted. Our garden would have a hard time maturing if many of the plants, particularly shrubs, were constantly eaten down."
5. Patience is a virtue—especially for gardeners.
It took three years before "we started to feel more confident in what the garden was becoming," shares Alan. "After the excavation, we were left with something that looked like a disaster zone in the wake of a meteor crash! It was hard not feeling like we had devastated the land. Having the blank-ish space where all is potential was exciting but also pretty terrifying. Patience is the lesson we've really had to learn through gardening."
6. Mother Nature knows best, always.
"An embarrassing amount of plantings, especially in the early days, didn't work out—mostly because we didn't heed Beth Chatto's 'right plant, right place' motto at the time. We'd imagined our guest house swallowed in climbing roses, and there just wasn't enough sunlight for that" says Alan. The couple prioritized native perennials that could grow in clay-heavy soil (and the more deer-repellent, the better) and often took cues from what was already growing wild on their property.
"Though there wasn't much in way of an established garden on the property, we've still really been surprised by what would find their way into our cultivated garden, like the wilder asters (calico and wood asters), ironweed, sedges and rushes, many woodland ephemerals, and solidago. The goldenrod felt too vibrant at first but, along with the other interlopers, now helps the garden feel more attuned to the natural boundaries of our land where they're abundant."
7. Your garden can be a four-season wonder.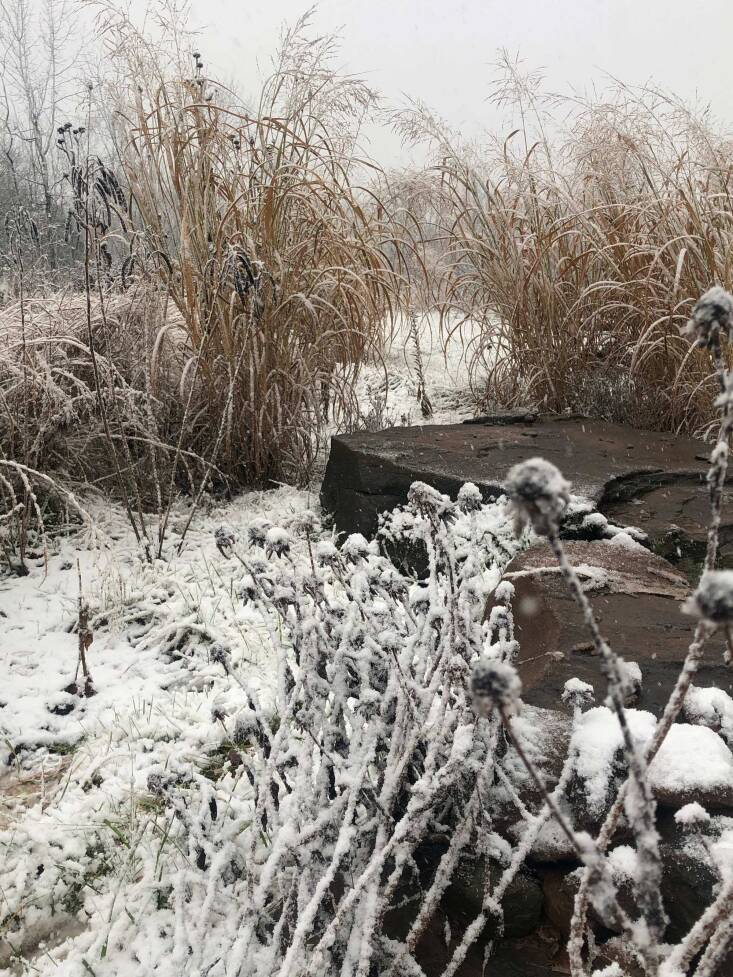 "Choosing plants that would have a long seasonal interest is really important to us," says Christopher. "We have a short growing season in our area of the Catskills and can have brutal snowy winters here, so we try to include many plants that can hold attention as form throughout the colder months."
See also:
(Visited 746 times, 3 visits today)