First-time visitors to New York, on a tight schedule, sometimes skip the Brooklyn Botanic Garden, imagining it less worthy of their focus than the New York Botanical Garden in the Bronx, which hogs all the glory. While it is true that the BBG is much smaller than its mainland cousin, it remains an immersive experience, a botanical escape from the city that presses on its edges. In late April and May the green blood of spring is racing through the garden, bringing life to a diverse collection of plants.
The BBG's annual plant sale is this week (open to the public on Thursday) and in the wake of this past weekend's annual Sakura Matsuri (cherry blossom festival), the trees are still in bloom. Mid-week is the time to see them without the crowds:
Photography by Marie Viljoen.
Above: Seen from above the Cranford Rose Garden, cherry trees in bloom are a pink haze in the distance.
Above: The double pink flowers of 76 Prunus 'Kanzan' trees on the Cherry Esplanade are a magnet for Brooklynites in spring and draw visitors from all over the world.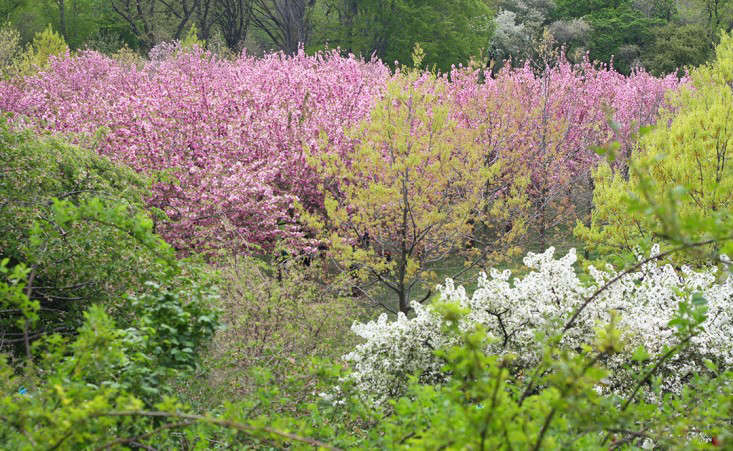 Above: One of the best places to enjoy the blossoms is from an overlook facing south, where the texture of young leaves and fresh blossom fills the view.
Above: Wisteria follows on the heels of cherries, and the clusters of purple drip from sturdy pergolas to fill the air with perfume. (If you are planting wisteria in the United States, choose the indigenous species, Wisteria frutescens, which is less aggressive than traditional but highly invasive Wisteria sinensis.)
Above: Wisteria and the new growth of clipped yew (Taxus species) flank the wide steps leading from the migraine-bright azaleas on the Osborne Terrace to the lilac garden below.
Above: The highly anticipated annual BBG Plant Sale starts on Wednesday. Plants that are not available at most nurseries are offered: get your shooting star (Dodecatheon) and lady's slipper orchid (Cypripedium species) here, if you're lucky.
The event will kick off Wednesday in the highly competitive hours from 4:30 pm to 8 pm with a members-only sale. Grab a little red cart or a box and then shop. Fast. Veterans of the sale will scope the stock of plants from beyond the confines of the fence and plan their route in advance. Competition is fierce. Rehearse your route and wear steel-tipped boots unless you enjoy having our toes run over. On Thursday,  from 9 am to 8 pm the sale will be open to the public.
Above: South of the Cherry Esplanade, Spanish bluebells (Hyacinthoides hispanica 'Excelsior') spread like a reversed spring sky under the towering beeches and oaks. If you visit mid-week you might have this dell all to yourself for a few minutes.