If Arthur Parkinson (the 23-year-old mastermind behind the gorgeous garden at English potter Emma Bridgewater's vast Stoke-on-Trent headquarters) has a holy trinity of garden inspiration, it is surely Beatrix Potter, Sarah Raven, and the late, great Duchess of Devonshire.
As a chicken-mad child growing up in the north of England he befriended the Duchess and frequently visited her—and her hens—at home on the Chatsworth estate. Then, while training in horticulture at Kew, Parkinson became friends with Sarah Raven, helping out with open days at Perch Hill and then house-sitting after he graduated. "It was like rehab," he says of his three-month tenure at the bucolic Sussex farmhouse.
And the spirit of Perch Hill is clear in Arthur's first solo outing—a dazzling factory garden nestled in the heart of England's industrial Midlands. Amid the blackened landscape it's an enclosed oasis of nectar-rich planting and country charm. When visitors wander out from a factory tour into this idyll, complete with naughty ducks and roaming chickens, they are all stopped in their tracks. It's a little piece of heaven and one worthy of a Beatrix Potter storybook.
Photography by Arthur Parkinson except where noted.
Above: When Arthur first saw the yard in February 2015 there was little to suggest that it could one day be a cutting garden paradise: "It was the dullest day you could imagine and sleeting. It was absolutely bleak but I fell in love and saw such potential." Back then empty raised beds and fruit trees were the only things here.
Arthur spent the winter weaving the birch arches (using self seeded silver birch saplings) to link the raised beds and provide structure for sweet peas that are sown in the autumn to give bigger, earlier blooms the following summer.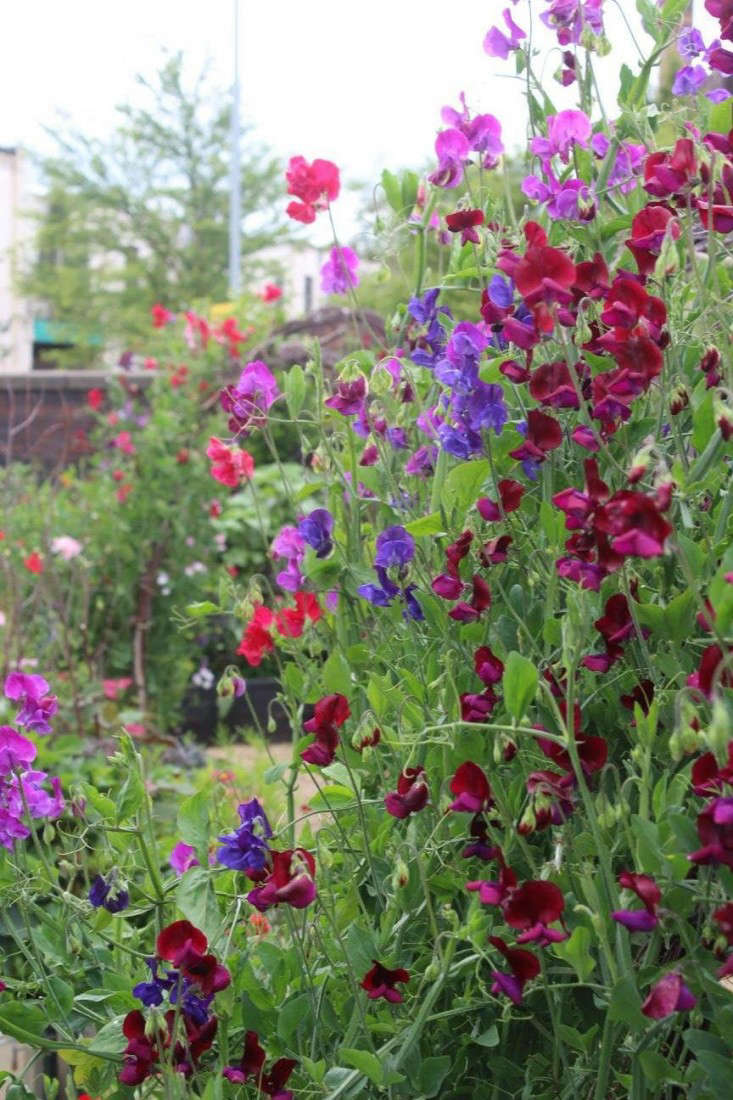 Above: The beds are also full of clever but basic homemade supports using grids of birch sticks.
Above: Everything in the garden is grown on site, in two greenhouses on top of the factory roof. And the planting is carefully choreographed to provide a continuous succession of flowers. Here, a zingy summer mix of cosmos including 'Click Cranberries', 'Dazzler', and 'Runbenza'.
Above: Successional planting guarantees a continual display of color in the raised beds from the first bright tulips through to late-summer dahlias. Arthur is a big fan of cost-cutting planting, using economical galvinized bins en masse. Holes are drilled in the base and they are filled with a deep layer of crocks (which are in plentiful supply here) and topped with compost. "You can't have too many as they start to look a bit like daleks," says Arthur, who wanted to recreate the look of the galvinized dolly bins that his mother had in her garden.
Arthur also repaints old furniture. In the center of the garden an unused table has been painted Moroccan blue and repurposed as a plant stand/hen shelter.
Above: Arthur loves rich color: Dahlia Totally Tangerine is used in many of the summer pots along with D. Waltzing Matilda and Cosmos Antiquity along with some billowing foliage, from Panicum Frosted Explosion or, in this case, millet.
Above: Flowers and farmyard animals have always been at the heart of Emma Bridgewater's pottery designs, which have been produced in Stoke-on-Trent for three decades and in her current factory for the past 20 years. The garden was designed not only provide inspiration for the design teams based at the factory but also to show customers some of the real life ideas behind the much loved crockery. Here handpainted polka dots are a more abstract—but very popular—Bridgewater design.
Above: Wildlife is key to the spirit and the storytelling of this space, linking the factory to the garden.
Above: Photograph by Clare Coulson.
Crested Appleyard ducklings roam freely around the beds while the chickens usually sit in the shade of their chic black coop, apart from a daily run around the yard.
For more cottage gardens, see:
(Visited 667 times, 1 visits today)