A miniature vase can have maximum impact. Read on for New York City–based events designer David Stark's eight top tips for creating tiny bouquets that make a big impression.
Photography by Corrie Beth Hogg courtesy of David Stark Design.
1. Set a friendly budget.
"This trend is suitable for any budget," says Stark. "We found vases at ABC Carpet for six dollars each, but handblown versions by Kiva Ford are  range upwards of one hundred twenty-five dollars apiece. You can definitely find options in between those extremes, of course."
2. Use foraged finds.
"Unlike typical, larger vases that require a full bunch or bundle of blooms to fill appropriately, tiny vases can help you save big on natural materials," says Stark.  Forage in the flower or vegetable garden, or use a single leaf cut from a garden center, a bloom from a wildflower field, a blade of ornamental grass, or a slight sprig fr0m a forest floor.
3. Buy a single specimen.
"Of course, purchasing the right delicate blossom from the flower shop or greenmarket allows you to showcase specimens rather than bouquets, and that is both fun in its curation and easy on the wallet," says Stark.
4. Make a monochrome moment.
Group miniature vases, all made from the same material or in the same color range as vignettes to create surprising and impactful displays.
5. Showcase shapes.
"When arranging vases together, don't feel that you need to fill each vase," says Stark. "It's nice to enjoy some of them simply for their shape and scale variations rather than for what they showcase."
6. Find your niche.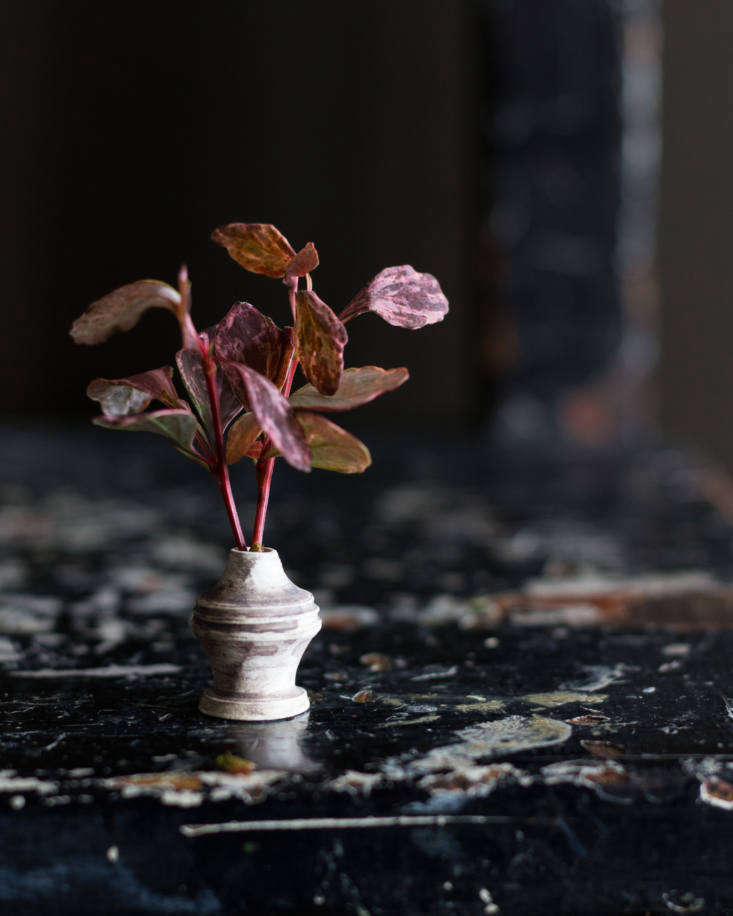 A lone vase works equally well in the right setting, says Stark: "On a giant dining table, one mini vase will get overwhelmed and ultimately lost. In the right niche or on the right shelf, though, on the appropriate side or coffee table, in the right display with other objects, a single miniature vase, showcasing a perfect stem will finish a vignette like a cherry on a sundae."
Tip:  Because these vessels are so, so small, remember to refill them with water often. A single stem might drink rather fast, so you may need to refill it in the morning and in the evening.
7. Pay attention to proportion.
"When arranging florals in miniature vases, less is more—a wispy stalk of grass or a single flower on a delicate stem will not overwhelm the vase," says Stark. "Rather, the opening in the vase will often dictate what works. Remember that the opening will be tiny, scaled proportionately to the overall size of the vase."
Tip: It's easy to drop a miniature vase in your pocket and take it with you when foraging or shopping for appropriate natural materials; that way you can double check that the stems you are eyeing are not too big.
8. Set a stage.
"Create a backdrop or set the stage—arrange mini vases on a chic tray, for instance—to draw more attention to them," says Stark.
See more ideas for our favorite Floral Arrangements and Flower Arrangements 101: A Crash Course for Easy and Elegant Florals. Read more:
(Visited 1,063 times, 1 visits today)