For most of us, Provence is a dreamy holiday location. But for gardeners in any arid climate that mimics the dry earth and sun-baked summers of the South of France, the region's landscapes are a rich source of design ideas.
For inspiration, we looked at some of the region's best-loved gardens as well as the luxurious, low-water landscapes of British garden designer James Basson of Scape Designs, who has been based in the South of France for nearly two decades. In many of the photos below, you can see how his garden designs showcase the climate's best characteristics.
Here are 10 of our favorite ideas to steal from Provence.
Photography courtesy of Scape Designs, except where noted.
Embrace Evergreens
Gardens in the South of France need to cope with strong sun and a dry climate, and at La Louve, Nicole de Vesian's supremely elegant garden in the Luberon hills, there is a master class in how to plant for it. With a tightly knit patchwork of lush greens and grays, the former Hermès designer combined drought-tolerant plants such as santolina with evergreens such as boxwood. All of which—along with topiarized trees—are tightly clipped into neat mounds that echo the curves of the surrounding hills.
Plant a Lavender Field in Miniature
One of the most memorable areas of Nicole de Vesian's garden is the meticulous grid of lavender plants laid out like a dramatic geometric print. It's an idea that works on any scale so long as you can offer full sun and good drainage.
Build a Terrace
A Provencal house is unimaginable without an elegant terrace to enjoy long lazy lunches with friends. Add a large metal pergola—which are often fixed to the side of the area's mellow stone houses—and then grow scented climbers such as wisteria and jasmine, which will quickly provide shade from the sun.
Add Gravel
Whether it's pea shingle or crushed limestone, an area covered with crunchy gravel adds an instant French feel. Use it to cover one distinct area, such as a terrace, or surround plants to make a gravel garden.
Source Stone Troughs or Fountains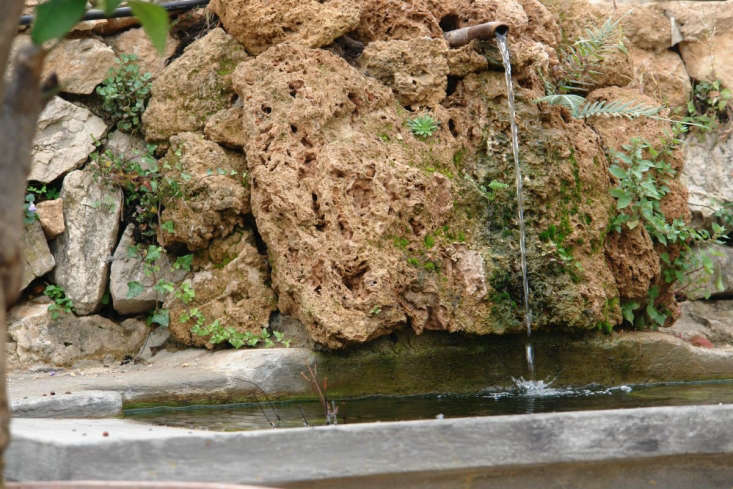 Add cooling water features using reclaimed stone vessels, troughs or even fountains. Even the most understated pool of water can add a cooling element.
Gather Your Pots
Keep it simple with one-note pots and planters. At the incredibly chic Provencal home of designer Francois Catroux, a grand courtyard is filled with terracotta pots, all planted with boxwood domes in varying sizes. It's the perfect understated but impactful planting against the cool stonework of the house.
Add Height with Cypress
Whether they are lining a long drive or standing as sentinels by a house, columnar cypress trees add a striking architectural element, and they are also a perfect foil to the soft gray of the other Provencal must-have, the olive tree.
Plant Sun Lovers
Provencal gardens may focus on evergreens and subdued palettes, but some plants are tailor-made for the free-draining soil and long hot summers. Collections of drought-tolerant grasses and tough perennials such as phlomis. Bearded iris will also thrive in these conditions—plant a succession of varieties for the longest flowering period.
Add Texture with Old Stone
Many Provencal houses are already blessed with incredible texture from their old stone walls—echo the effect with informally laid stone paths or stone garden walls, which not only add warmth and atmosphere but also provide a beautiful backdrop to planting.
Use the Views
N.B.: For more of our favorite destinations in France, see:
(Visited 2,138 times, 6 visits today)