The typical townhouse backyard in New York City is a rectangle 20 feet wide by 36 feet deep. So, how do you turn a measly box like that into a garden that feels private, lush, and irresistibly usable?
The goal for a young family in downtown Manhattan was to create a modern outdoor room that works well both as a play space for kids and a party space for adults. The solution, a design by New York-based Robin Key Landscape Architecture, was to use a unified color palette and plants that would provide year-round interest:
Photographs by Francine Fleischer.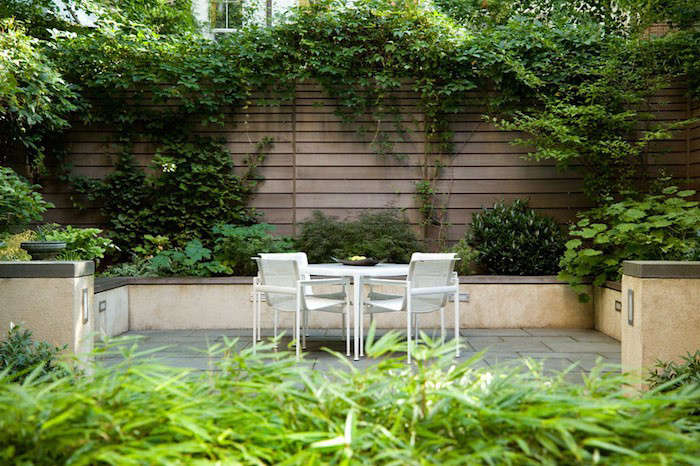 Above: A peaceful color palette includes bluestone pavers, zinc on the retaining walls, and a bleached cedar fence.
Above: Espaliered shrubs turn the fence into a focal point.
Above: In the back of the lot, where the trees and neighboring buildings bathe the area in shade, the sorts of plants that thrive include Solomon's seal (L), Japanese painted ferns, and a white-blooming ground cover (R).
Above: The view from the house, which is located in Manhattan's West Village.
Above: The steps down from the main garden to a lower level create a sense of more space.
Above: Three floors above is a rooftop terrace where crape myrtle trees in containers are planted with perennial grasses.
For a Brooklyn backyard, see Steal This Look: Modern Townhouse Garden on a Budget. Read more about Robin Key Landscape Architecture in our directory of architects and designers on Remodelista.
N.B.: This is an update of a post originally published October 22, 2012.
(Visited 267 times, 1 visits today)