The winner of the 2018 Gardenista Considered Design Awards Best Curb Appeal project is Urban Oasis Landscape Design for their Vibrant Mediterranean Front Yard landscape in Los Angeles.
The project was chosen as a finalist by guest judge Brook Klausing, who compared it to "the last day of school before summer break: There is a feeling of abandonment with something special waiting for you on the other side."
N.B.: This is the first of six posts spotlighting the winners of the 2018 Gardenista Considered Design Awards. Go to this year's Considered Design Awards page to see all the entries, finalists, and winners, and to have a look at the Remodelista Considered Design Awards.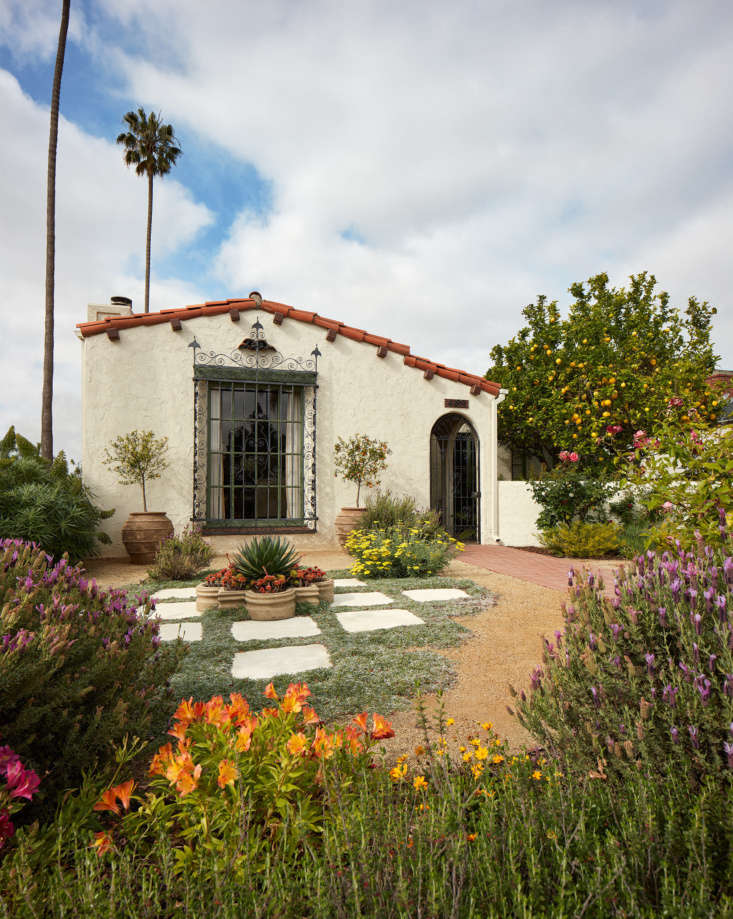 Urban Oasis's Design Statement: "We created a classic Mediterranean courtyard by using a Moorish quatrefoil planter with a grid of precast concrete pavers as the anchor to the space. Plants at the sidewalk create a feeling of enclosure while keeping the garden open to neighbors. Color and texture are carefully balanced with decomposed granite."
Gardenista: What does your firm specialize in?
Urban Oasis: We specialize in creating sustainable residential landscapes using the watershed method. In a balanced watershed, rainwater passes through plants and healthy living soil before moving into our local waterways or going back into the sky to form clouds. With the proper practices, every garden will function as a mini-watershed: sequestering atmospheric carbon, preventing water and air pollution, restoring the water and life of the soil, and attracting essential life into the garden—keeping our Earth green and water abundant.
G: What were your practical goals for the project?
UO: We wanted to update the front yard to reflect my clients' creative personalities and the beautiful style of their classic Spanish bungalow. They also wanted to lower their carbon footprint and water bill by switching their irrigation to a drip system and using California climate-friendly plants. We wanted to craft a sense of entry and enclosure while maintaining a degree of openness to the neighbors, creating an exuberant garden that they could enjoy and share with the community.
G: What solutions did you find to your design problems?
UO: We removed the lawn and replaced it with low-water, climate-appropriate Mediterranean and California native plants. Taking our cue from the architecture of their house, we tried to create the feel of a classic Mediterranean courtyard using a classic Moorish quatrefoil planter as the focal point of the space with a grid of precast concrete pavers radiating outward. The budget was very tight, but we found a company that creates concrete fountains quite inexpensively and used a fountain base for the quatrefoil. The pavers are also a budget item, but together these two elements have quite an impact. We put an informal low hedge of germander at the outer edges and anchored the two front corners with small trees (crape myrtle 'Tuscarora' and Caribbean copper plant). Color and texture are carefully balanced with the plant choices while the decomposed granite floor keeps it from being chaotic. Two large distressed ceramic containers containing kumquat trees flank the stately arched plate glass window.
G: What are your favorite features of the project?
UO: We love the way the plants all work together to create such a lively garden. It's the gift that keeps on giving with a profusion of flowers for much of the year. It's also very gratifying that the clients have had so much positive feedback from the neighborhood.
Q: What advice do you have for someone else undertaking a similar project?
A: Don't be afraid of color, but make sure that you have a planned color palette. This garden uses a lot of purples and oranges, which are complementary colors (opposite each other on the color wheel). Another thing to keep in mind is including a variety of foliage textures to balance everything out. For example, you wouldn't want all the plants to have strappy leaves. It's nice to balance differently sized and textured foliage. You also want to create a rhythm with plant sizes to keep drawing the eye around the space. Last but not least, leave some negative space so the eye has a place to rest. We always like to leave areas with either low-growing plants or some inorganic surfaces.
Q: What was your biggest splurge?
A: The two large urns were the most expensive items in the project, but they were worth it. They make the project look luxurious.
Q: Where do you get your design inspiration?
A: We love going on garden tours. When we can't physically go to a garden, we do a lot of reading, go to lectures, and look at projects online to see how people solve various design dilemmas.
Q: Which garden designers, gardeners, or landscape architects do you admire?
A: Well, Piet Oudolf of course. Everyone loves him. More locally though, we like Margie Grace, Mia Lehrer, Nancy Goslee Power, Campion Walker Landscapes—there are so many talented people out there.
(Visited 767 times, 5 visits today)