With Valentine's Day nearing, the default gift most people reach for is a clutch of blooms. And while that might seem a bit unoriginal, you can elevate it to new levels with a bouquet that holds a secret message. Turns out, flowers (and even their specific colors) have their own symbolic meaning and some come with a deep history and even folklore behind them. So before you chose a bouquet at the local stand, think about what sentimental message you're trying to convey and match it with the perfect petaled plant.
A Little History
The language of flowers dates back for centuries. You can find art, folklore, sonnets, plays, and mythologies from the Greeks, Romans, Chinese, and Egyptians, all filled with flower symbolism. During the Victorian Era, flower language became especially en vogue. Why? Flowers offered a subtle way to deliver emotion-packed messages, since Victorian-era etiquette dictated discreetness and reserved decorum. However, some blooms had harsh and unpleasant meanings, while others had multiple and contrary (even cryptic) meanings, so the landscape of flower symbolism became a minefield of potential social missteps. This explains why the pastime fell out of fashion.
The language of flowers has shifted and evolved over time, but the allure of this silent dialogue exists today. Here are 10 traditional bouquet flowers and their symbolic meanings:
N.B.: Featured image by Justine Hand, from DIY: How to Make a Vase of Cut Flowers Last a Week.
1. Rose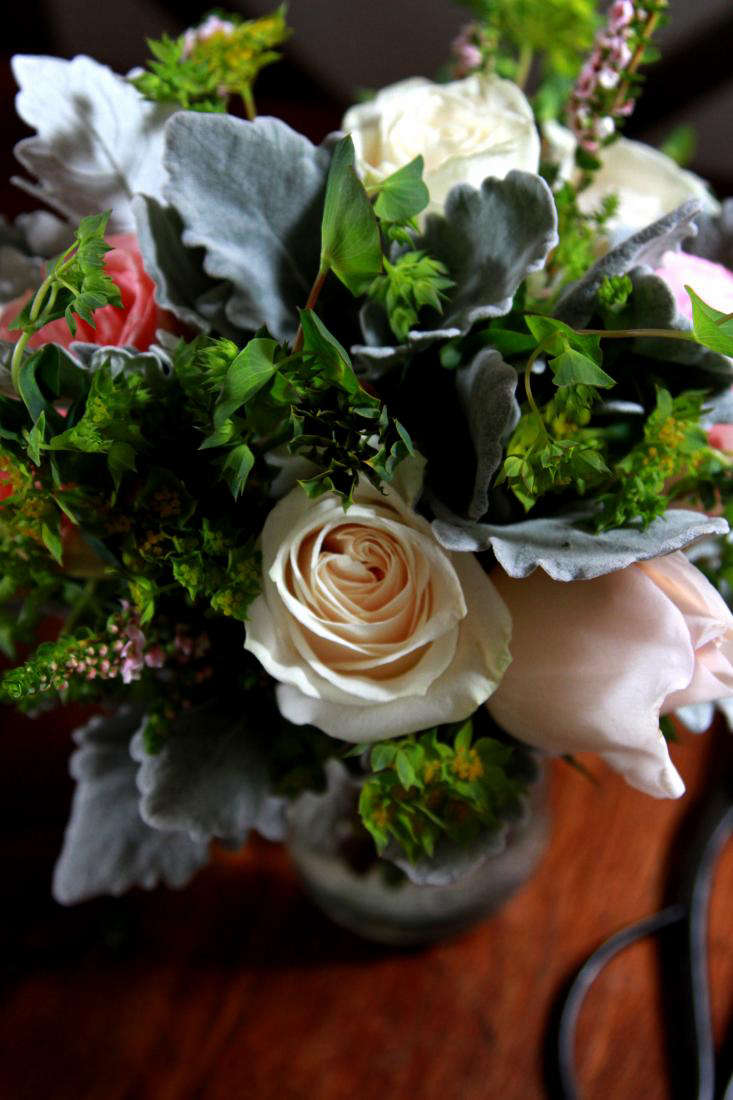 Meaning: Luck, magic, passion, ultimate beauty, and psychic powers.
Colors: White: new love. Yellow: friendship. Peach: gratitude.
Note: In any era, a red rose is considered a loving gesture. No wonder it's the number one flower choice on Valentine's Day.
2. Peruvian lily 
Meaning: A powerful bond, friendship, prosperity and longevity.
Colors: Pink/red: love and appreciation. Orange: passion and positive energy. Yellow: optimism and joy.
Note: This flower is perfect for that special, supportive friend.
3. Lavender

Meaning: Devotion, faithfulness, love, and humility.
Note: Since ancient times, lavender has been used to freshen homes, linens, and one's self. Stems of lavender are said to bring peacefulness to a home, and sniffing it is said to enable people to see ghosts.
4.  Ranunculus

Meaning: Ambition, charm, memories of childhood, and attractiveness.
Colors: Yellow: happiness. Red: passion. Pink: romance.
Note: The perfect flower to give to someone who you have a secret crush on.
5. Lilac 
Meaning: Confidence, love's first emotion and memory.
Colors: Light purple: first love. Magenta: passion.
Note: Lilacs are said to fend off evil spirits and clear a haunted house of ghosts.
6. Tulip
Meaning: Declaration of perfect love, romance, rebirth, and wealth.
Colors: Red: everlasting love. Pink: happiness. White: forgiveness—the perfect flower to say 'I'm sorry.'
Note: Did you know that tulips are named after the Persian word for turban because they resemble a turban when in bloom?
7. Freesia
Meaning: Trust, faithfulness, and child-like innocence.
Colors: White: purity. Yellow: joy. Red: passion.
Note: Very popular to welcome a new baby and for baptisms. Also, freesias have been wildly used in weddings because they represent the trust between the couple.
8. Gardenia
Meaning: Exhilarating emotions, ecstasy, joy, love and peace.
Note: Gardenias are said to posses high spiritual vibrations, so float a blossom in a bowl of water to increase peace and spirituality.
9. Chrysanthemum
Meaning: Abundance, happiness, and joy.
Colors: Violet: get well wishes. White: honesty and loyalty.
Note: According to feng shui theory, this flower brings happiness into a home, especially yellow ones, as they represent the sun. It is also a sacred flower of Asia. However, in Italy and Malta, it is considered unlucky to have this flower in your home and you only give chrysanthemums for funerals and sad events.
10. Carnation
Meaning: Health, energy, and bonds of affection.
Colors: Pink: a mother's love. Striped: sorry, I can't be with you. Dark red: deep love.
Note: In ancient Greece, Dianthus caryophyllus was considered a divine flower and was used for ceremonial crowns. Dianthus gets its name from the Greek word 'dios' meaning 'god' and 'anthos' meaning 'flower'.
For more on cut flowers, see:
(Visited 103 times, 1 visits today)