When it comes to making things, knowing when I'm in over my head has never been my strong suit. I love the thrill of a new challenge and when given the option between doing something myself and relying on help from others, I tend toward going it alone.
I admit that sometimes I take this a bit too far. My impulse to tackle projects all by myself has more than once left me in a heap on the floor, teary-eyed and surrounded by whatever misguided craft project that I had insisted I had either the skill or the gumption to tackle.
(Stop Me Before I DIY Again, by Michelle had me nodding in agreement).
Believe me when I write that signing up for a floral arranging class earlier this month was a bit out of character. But determined not to be too set in my ways, I took the plunge and signed up for Chelsea Fuss's Flower Arranging 101, an online class with a goal of teaching both professional and hobby flower arrangers a thing or two they don't already know. 
Photographs by Erin Boyle.
The class is set up as a four-week series. Each week, Chelsea demonstrates a different floral arranging technique through a series of videos and leaves students with a "recipe" to follow. For students, the goal is to recreate the assignment and upload pictures for review and comments. 
If you're looking for floral arranging supplies of your own, see 10 Easy Pieces: Floral Scissors for Softer Stems.
First-up, we made French hand-tied bouquets–those elusive, round bouquets that are beautifully photogenic, but can be maddening to replicate on the first go-round. Luckily, Chelsea's videos provide ample step-by-step directions, with the added bonus of being able to pause, rewind and watch over and over. I took full advantage.
I chose light pink and blush colored roses, dusty miller, buplerum, and a tiny pink spike whose name eludes me. Any experts out there?
We learned (me, to only moderate success) to spiral our stems with an end goal of having a bouquet that can stand up all on its own. Magic!
After I submitted my photos, Chelsea wrote with advice that I should frame the bouquet with hosta leaves to help buoy some of the roses that I let hang out along the edge. Her demonstration bouquet was gorgeous and used a similar technique, with scented geranium and camellia leaves.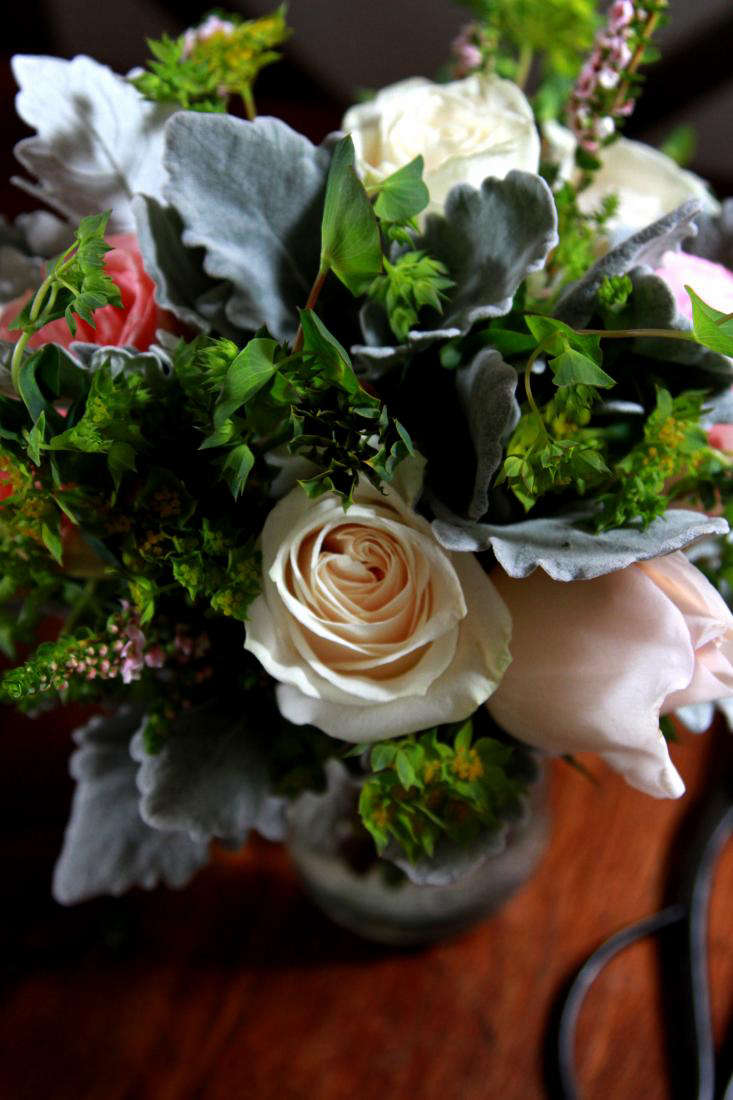 After just one week, I'm already awed. The class proved an incredible exercise in humility and floral arranging, both at the same time. And though it pains me to admit it, I'm so glad I asked for help.
Next week? Stay tuned for a Gertrude Jekyll-inspired arrangement. If you're interested in signing up for the class, Chelsea's Floral Arranging 101 is offered online through Nicole's Classes. A four-week class costs $125 plus the cost of floral supplies. For more beautiful examples of student work, see Chelsea's blog, Frolic.
For more of our favorite DIY Bouquets, see our past posts about Floral Arrangements.
(Visited 32 times, 1 visits today)