In his water phase, Finnish artist Antti Laitinen made an island in the Baltic Sea by piling sandbags, from the seafloor up, over a period of three months until he was able to perch on top, under the shade of a pine tree. The work was titled It's My Island (2007). He describes Voyage (2008) on his website as: "I row a palm island." He is seen doing just this, calmly rowing past the Houses of Parliament in London, closely followed by a police boat. His efforts are presented as photographs and short films with a Buster Keaton-like absurdity, as he goes about the whimsical, yet arduous tasks that he sets for himself.
More recently, he started his tree phase. Join us as we are lured into his fantastical forest art:
Photography courtesy of Antti Laitinen.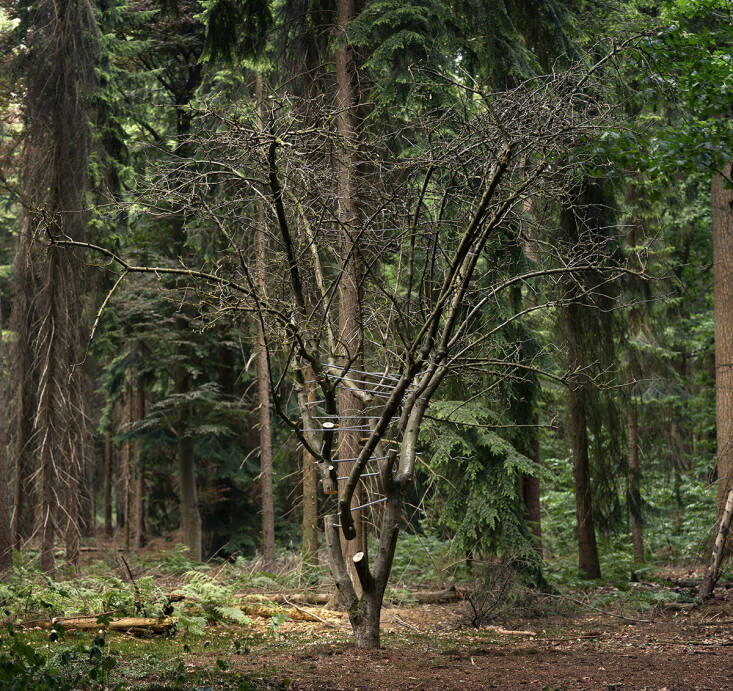 Antti Laitinen relishes the physical side of his work, and he'd always prefer to be chopping a tree and putting it back together with steel bars, or attaching ropes to the branches of another tree and pulling them from the side to mimic the effects of wind, to working indoors on a computer. There is an attitude in Finland he says, that when you sweat, you are making good work.
Since his series "Broken Landscapes," which he began in 2017, Laitinen has been attracting the attention of an increasing number of global galleries with his oversized photographs of rearranged nature. Grids are a recurring theme, unnatural squares cut into a twiggy wilderness, in which everything is still growing—and in the process of erasing his work.
Besides making holes into a copse or forest, with the resulting photograph hanging on a gallery wall, Laitinen makes physical circles of crossing willow branches, which might then join his photos on a gallery wall, before being restored to the countryside, where they might be photographed again, in a meta-circle. Here, in his garden, Laitinen can observe them as the trees grow around his shapes, slowly closing in on them.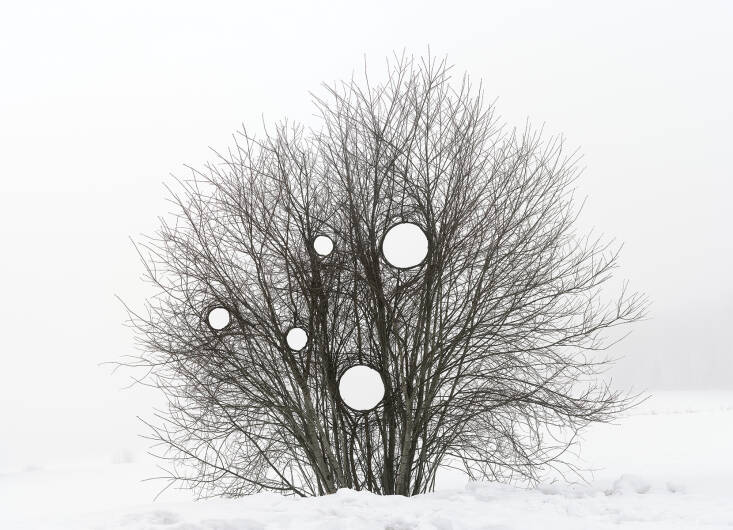 The woven circles are like semi-transparent shutters, while the slightly earlier works from the "Broken Landscape" series form windows through the trees. Adding enchantment to a snowbound, densely wooded, and mysterious landscape, Laitinen's human mark-making is beautiful, but brutal too. Armor (2014) and Nail Trunk (2019) show trees that have a martyred look, being covered in sheet metal or shiny nails.
A magical tree presented itself to Laitinen when he was looking at the woods last autumn. "I saw this place and there was one tree, which was totally different from the other trees. There were autumn leaves on that tree, and no other leaves anywhere else." It inspired a work which he called Autumn Act II.
Laitinen decided to get the leaves "to act a little bit," animating the scene by rolling across a tightly packed circle of dried leaves.
Making a door or window into the forest is an idea that has preoccupied Laitinen since he was a child. "When you have a spruce forest, the branches are so thick, that you can't see what's inside," he explains. "When you go in, there's no light at all; everything's just brown and dead-looking. So I thought I'd make these windows so that you could see in."
Antti Laitinen will be showing his work at GSA Gallery, Stockholm, starting February 24. He will be taking over the Turku City Art Museum ( WAM), Finland, starting May 28. His work is also available to buy as fine art prints at Galerie Anhava, in Helsinki.
For more stories on nature-infused art, see:
(Visited 359 times, 1 visits today)