Carmella Rayone is the can-do sort who, faced with the high cost of soapstone, comes up with a convincing DIY look-alike for her family's kitchen counter: See A Low-Cost Cabin Kitchen for a Family of Five. So we weren't surprised to hear she also cleared a patch of land and built her own flagstone terrace. But we were impressed.
A largely self-taught interior designer and advocate for the simple-life movement, Carmella writes a blog about living with her husband, a pilot, and their three boys in a 665-square-foot cabin (yes, she had a big hand in the design of that too). A little more than a decade ago, Carmella and her family downsized from a four-bedroom house in Port St. Lucie, Florida, to their cozy quarters in Sheraton County, Wyoming. Her motto: "I don't want this life to be a showcase of what I've done, but of how I've lived." The terrace is actually a great example of both.
Photography by Carmella Rayone, courtesy of Carmella Rayone, An Assortment.
"The first step was removing a rusted-out horse trailer and trimming back the vegetation," Carmella says. She visited her local stone yard and settled on buff flagstone—"I wanted the landscape to look natural and organic." Then she asked a carpenter friend for advice, and he introduced to her to his stone source: a member of the Crow tribe, who quarries stone on the nearby reservation. She placed an order for two tons and they were delivered to her (she estimates the $370 she was charged was about half what she'd have paid at the stone yard, not including delivery). Shown in the background here is the family's homemade firepit and benches.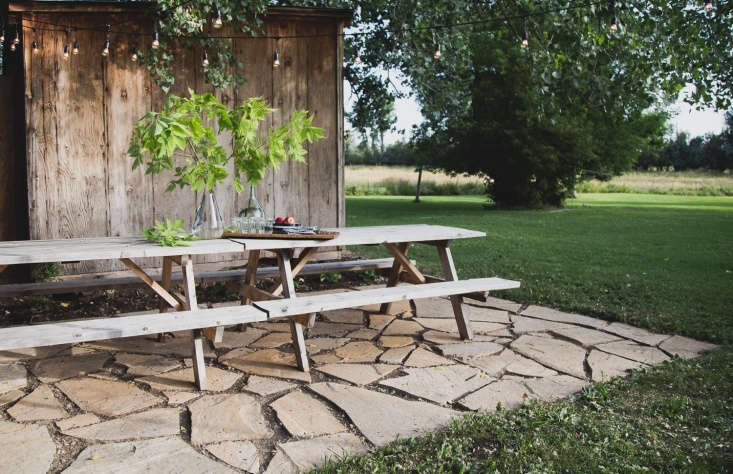 Shaded by cottonwood trees, the patio is scaled to work with a pair of end-to-end untreated pine tables—from the local lumberyard—that had been placed there several summers ago; having to move them when it was time to mow is what inspired the stonework.
The resulting hole was a foot deep; Carmella also had the skid driver do other work on the property and estimates the cost of the digging came from $50 to $75. After sifting out the roots, she and her boys spent Mother's Day weekend wheelbarrowing in topsoil "to bring the surface back to within four to five inches of grade."
Next, at her carpenter friend's advice, Carmella added two inches of crushed rock and red clay known as ball field: "It's slightly larger than sand, which is typically used, and not nearly as costly: Two and a half tons was about twenty-five dollars; it's what's actually used on ball fields." Packed down really well and watered, ball field serves as a stable base for the stones. Not surprisingly, laying the stones—and then leveling each one using a level—was the hardest part. The final step: sweeping a fifty-fifty mix of topsoil and compost into the cracks. "Our local landfill makes compost out of green waste; they sell it for thirty dollars a ton."
The conduit poles cost $10 each; Carmella spray-painted them black ("you could also have this done by a body shop") and had a cabinetmaker friend put in the notches ("an electrician or plumber could also do it"). She set the poles herself: "two feet deep, tamped well, no concrete." The lighting system is an extra that brought the total cost to nearly $700.
For more details on the project, go to
Carmella Rayone
. And by the way, Carmella's kids are now all in school and she's taking on interior design work. Tour the family cabin in
The No-Cost Remodel: Carmella's 7-Step Plan to Clutter-Free Living
.
N.B.: This post has been updated with new prices; it was first published on December 31, 2018.
If you're thinking of adding an outdoor dining area, see more tips and inspiration at Decks & Patios 101: A Design Guide. Find more projects and advice in our Hardscape 101 guides, including:
(Visited 488 times, 1 visits today)