There are more ways to use roses in a garden than there are roses—and as you know, there are many thousands of kinds of climbing, rambling, heirloom, floribunda, hybrid tea, and miniature roses.
Are you designing a new rose garden, reviving a neglected collection, or just trying to decide which scented climber would be the best choice for an arbor? For inspiration, we've rounded up 10 ways to use roses in some of our favorite gardens:
Sunken Rose Gardens
See more in Grandeur in the Hamptons: A Sprawling Estate, Sunken Rose Garden Included.
Rose Canopies
Rosarian David Austin describes the Sissinghurst specimen as a "massive rambler:  one of the biggest of all climbing roses in this country," and it certainly dominates the space. Originally four were planted to cover the axes, but they were thinned out to just one.
See more at 10 Garden Ideas to Steal from Vita Sackville-West at Sissinghurst Castle.
Control Erosion Ramblers
"At Tattenhall Hall in Cheshire, a Jacobean manor house that sits in a picturesque English village, the line between cultivation and wilderness is finely drawn," writes our contributor Clare Coulson. See more at Wild Child: An Intoxicating English Garden at Tattenhall Hall.
Roses as a Refrain
At Torrecchia Vecchia (an hour's train ride south from Rome), garden designer Dan Pearson restored 15 acres of the landscape of a 1,500-acre property on which an entire medieval village once stood. Throughout the garden, white and pale pink climbing and rambling roses envelop walls; the repetition creates unity throughout the landscape. See more at Paradise Found: Designer Dan Pearson's Modern Garden for a Medieval Castle.
Roses on a Budget
After a remodel laid waste to my back yard, to get rid of the mud and the dust my husband set a budget of $250. Like many post-remodelers, we were out of cash and in a state of sticker shock. I headed to Home Depot to buy some sensible shrubs, but instead came home with 16 big-box-store roses that haven't stopped blooming since. See more of my Iceberg rose bushes, climbing New Dawn roses, and generic landscape roses labeled simply "Rose, white"  at Landscape on a Budget: The $250 Instant Rose Garden.
English Roses
At David Austin's headquarters, "each year 450,000 roses will be crossed, creating 150,000 seedlings that are initially grown in huge greenhouses before 10,000 are selected to grow on. It takes eight years, and a long process of elimination, to release new roses to the market. From those initial seedlings, around three new roses will be eventually released," writes our contributor Clare Coulson. See more at Shopper's Diary: David Austin Roses in Shropshire.
Cottage Garden Roses
In modern English cottage gardens roses engulf a trellis, rub shoulders with herbaceous perennials, and are encourage to spill over picket fences. See more in
10 Ideas to Steal from English Cottage Gardens
.
Monster Roses
Climbing roses are an effective way to light up shaded areas.  At Kiftsgate Court in England, the famous Kiftsgate rose, planted in the 1930s, sprawls up through the trees along one side of the garden and is reputedly one of the largest roses in England.
Formal Roses
In Santa Barbara, California Brooklyn-based architect Roberto Sosa restored a circa-1929 Spanish Colonial house's landscape with a light touch: the formal rose garden has clipped boxwood borders, symmetrical hedges, and a warm redbrick path. See more at Landscape Revival: A Secluded, Historic 1920s Estate in Santa Barbara (Rose Garden Included).
Brick Walls with Roses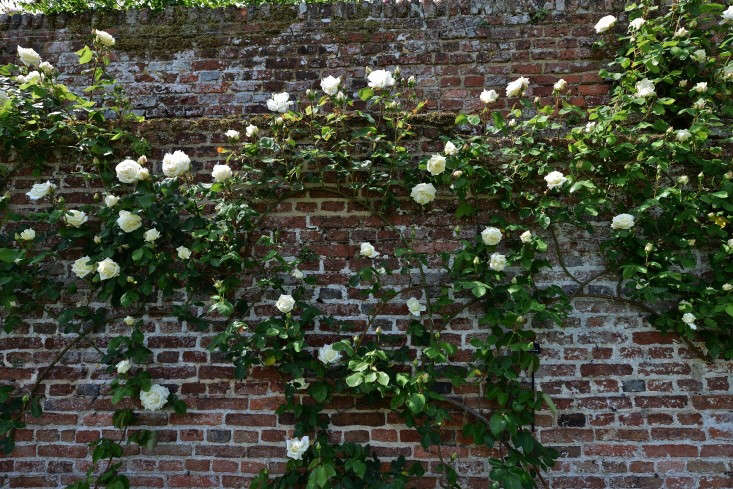 "When visitors to Sissinghurst admired the endless brick walls that were trained with languorous roses, hydrangeas, and clematis, Vita Sackville-West pointed out that all houses have exterior walls that can be covered with abundant climbers," writes our contributor Clare Coulson. "Well-trained climbers add another layer of texture to a house, as well as lush foliage and seasonal color. And if you can train scented climbers up high, then they will fragrance your bedrooms too."
N.B.: This post is an update; it was first published June 2018.