Peaceful, unchanged and hidden, the gardens of Trerice are tucked away in a quiet valley three miles from Newquay, a beach town in Cornwall, England. Built in 1571, the great estate with its decorative Dutch gables is the inspiration for Trenwith House, featured in 12 books by author Winston Graham made into the PBS television series Poldark, which airs this week.
Photography via National Trust, except where noted.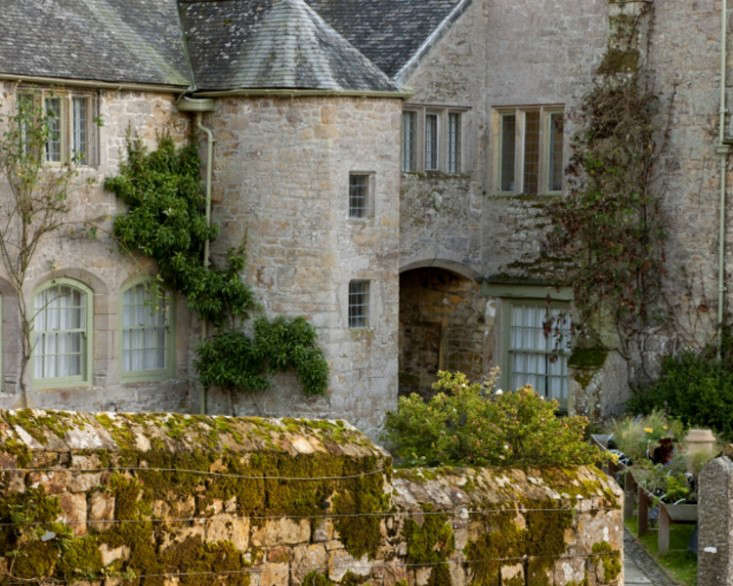 Above: The back of the house at Trerice (pronounced Tre-rice) is more akin to a collection of farm cottages than the rear of a grand house. The stone yard features a lawn and turret with climbing vines.
No stranger to the wild Cornish moors, Ross Poldark is the main character of this swashbuckling romance which features epic coastal scenery. Poldark returns from the war to find his sweetheart engaged to his cousin. He then decides to resurrect his father's coastal mine, and the show follows his fortunes.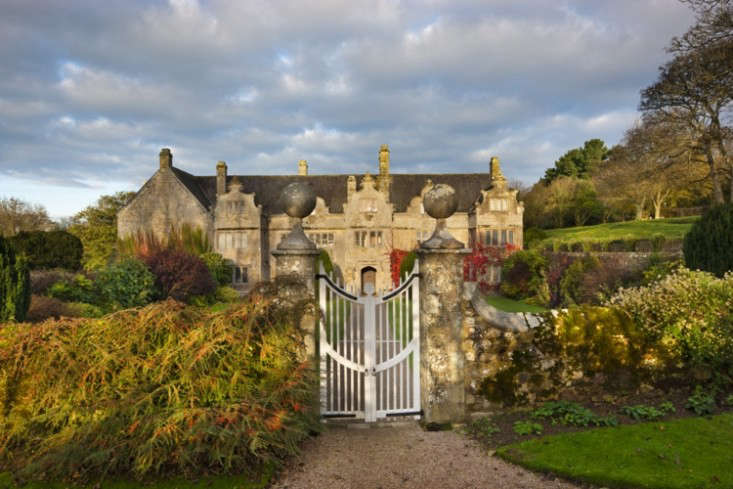 Above: The imposing front gates are softened by the moss-covered untidiness of the stone wall. Trerice is typical of the manor houses of the rich mine owners in Cornwall. The house and gardens offer a secluded and welcome retreat from everyday life.
Above: The front of the house wasn't always as open and friendly as it is today (in this early photo, a game of Kayling–Cornish bowling– is set up on the gravel pathway). When Winston Graham took inspiration from Trerice in the 1940s and '50s, it was a daunting and dark manor house with huge evergreen trees in front.
Today the kitchen garden is small but has an Elizabethan feel to it. Hurdle fencing is joined by open beds and wooden raised beds while a small well provides water.
Above: A friendly robin outside the Barn restaurant. Trerice remains little changed thanks to long periods under absentee owners; the orchard is a particularly tranquil area much frequented by the local wildlife.
Above: There are still some yews flanking the main gates, and access to a raised walkway with long borders is via lichen-covered stone steps.
Above: There is an upper terrace to the front of the house. This is thought to be the site of a bowling green created in Tudor times. It is overlooked by a mound, perhaps a viewing mound.
Above: A cold-frame in the yard houses plants for the regular plant sales held at Trerice. Photograph by Esther Westerveld via Flickr..
A survey commissioned by the National Trust (the custodians of Trerice revealed a mid-18th century landscape park containing walks, pleasure houses, dammed lakes, islands, and stepping stones in a nearby field.
Above: A new knot garden was recently planted with 800 yew trees to create this 30-by-30-meter garden. Traditionally, knot gardens were created by training and trimming box hedging but since box blight is so prevalent in England, yew has been used here instead.
Above: Swiss chard grows in open beds in the Elizabethan kitchen garden.
Above: Visitors can get their own slice of Poldark-inspired scenery as Trerice is open from February through October via the National Trust. For hours and information, see National Trust.
For more of our favorite cinematic British gardens, see:
(Visited 90 times, 1 visits today)