Suddenly surfacing all over: camp-style enameled flatware in graceful, ghostly white. The latest addition to the raging enamelware revival, the cutlery is as versatile as a T-shirt, and equally at home on a picnic and at the dinner table.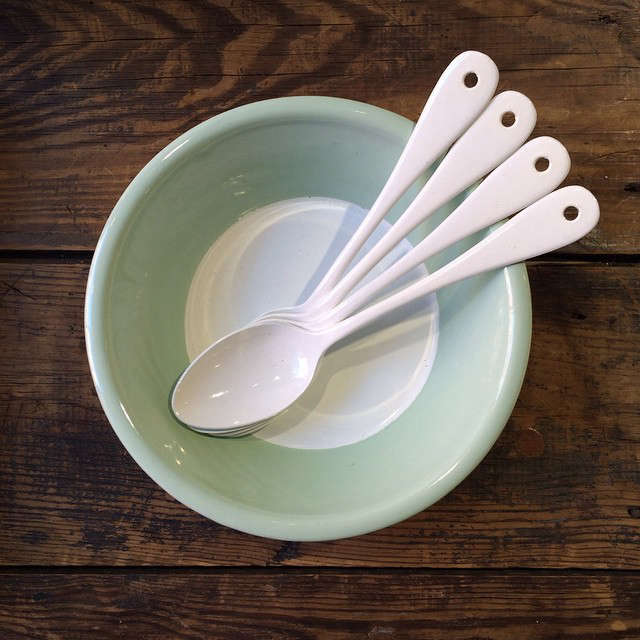 Above: Ideal for eating cereal and doling out jam–no campfire required. Variopinte's bowl and spoons are part of Italian designer Stefania di Petrillo's large enamelware collection. Spoons are €14.95 ($15.95) and Bowls in Green Almond start at €12 ($12.81) from Variopinte. Photograph via DESIGNality.
Above: Variopinte Enameled Cutlery is sold by the piece: Forks and Spoons, €14.95 ($15.95). Knives, €24 ($25.63), Dessert Spoons, €12.50 ($13.35), Salad Server Fork and Spoon, €22 ($23.50) each. Inquire about salt spoons. Photograph via Design Crush.
Above: West Elm Enamel Server Sets, sized for serving, are on sale for $14.99 in navy and $10.99 in gray (marked down from $39).
Above: For serving salt: Small Enamel Spoons come in five colors: $32 AUD ($24.57) from Dot & Co. in Australia.
Above: A three-piece Enamel Flatware Set is on sale for $9.95 from Williams-Sonoma.
Above: The Quartet Flatware Set from Terrain, $68 for a four-piece place setting, comes in three finishes: enamel (shown here), copper, and stainless steel.
Above: From Kaico of Japan, makers of one of our favorite tea kettles, enamel cutlery that's been creating a global splash. It's available at a number of retailers, including Poketo, which sells a Four-Piece Flatware Set for $78.&Cachette in France offers the pieces individually and in sets, as does The Mint List in the UK. Photograph via the Mint List.
Above: Kaico's cutlery can be hung on a wall or strung as wind chimes. Nest sells a range of the pieces individually: White Enamel Forks and Dessert Spoons are $12; Knives are $15; Enamel Salad Spoons are $14.50 each-and there's more. Brook Farm General Store also offers much of the collection. Photograph via Nest.
Dining outdoors? Take a look at:
(Visited 241 times, 1 visits today)