Picture a house sitting in a meadow of California wildflowers, welcoming butterflies.
That was the dream of clients who searched for two years for the right piece of land before buying a parcel on California's central coast, near Carmel. The challenge for San Francisco-based Feldman Architecture and landscape architect Bernard Trainor of Ground Studio—who worked together on the project—was to create a home and gardens seamlessly integrated into the "natural beauty of the location in the Santa Lucia Preserve, a 20,000 acre private development and land trust."
The solution? An environmentally friendly 2,900-square foot, one-story house with butterfly-wing roofs (designed to capture rainwater), surrounded by a low-water landscape that celebrates the spectacular California views.
Photography by Jason Liske.
A Bird's-Eye View
The house, built by Groza Construction, is divided into three pavilions with a specific functions (living and dining, sleeping and bathing, and relaxing). Each pavilion opens up into an outdoor living space with expansive views of the surrounding hills and canyon.
"In partnership with Feldman Architecture, we designed the shaping of the roof and landforms to move water in a very calculated way toward infiltrating the ground to recharge the water table or into stored catchments," said Trainor.
"We viewed the natural topography as our partner," he  said. The landscape captures water on the uphill slope, directly it toward a stream in the valley floor.
Trainor designed the landscape to create a "seamless transition between nature and building…with the landscape weaving between the three pavilions. As the plants slip through the interstitial spaces in the architecture, they serve to celebrate views beyond."
The plantings "announce the movement of water across the site in their coloring, texture, and growth patterns," Trainor said. "This is a 'quiet' pattern people notice or they do not. It is an artful experience if you have the heightened awareness."
The clients' goal was to build a family retreat where their grown children could visit and where the couple eventually could retire. It took them two years of hunting to find "a spectacular piece of land that was flat enough to accommodate living on one level," the architects said. "In an initial meeting with Feldman Architecture, the clients noted their vision of butterflies alighting on the meadow site, which the architects took as inspiration."
The butterfly roofs "bring in views of the surrounding hills, expand the main living spaces into the outdoors and also harvest rainwater," the architects said.
With interior design by Feldman Architect, cabinetry, stair treads and custom furniture were built by Commercial Woodworking and Metro18 installed the audio-visual system.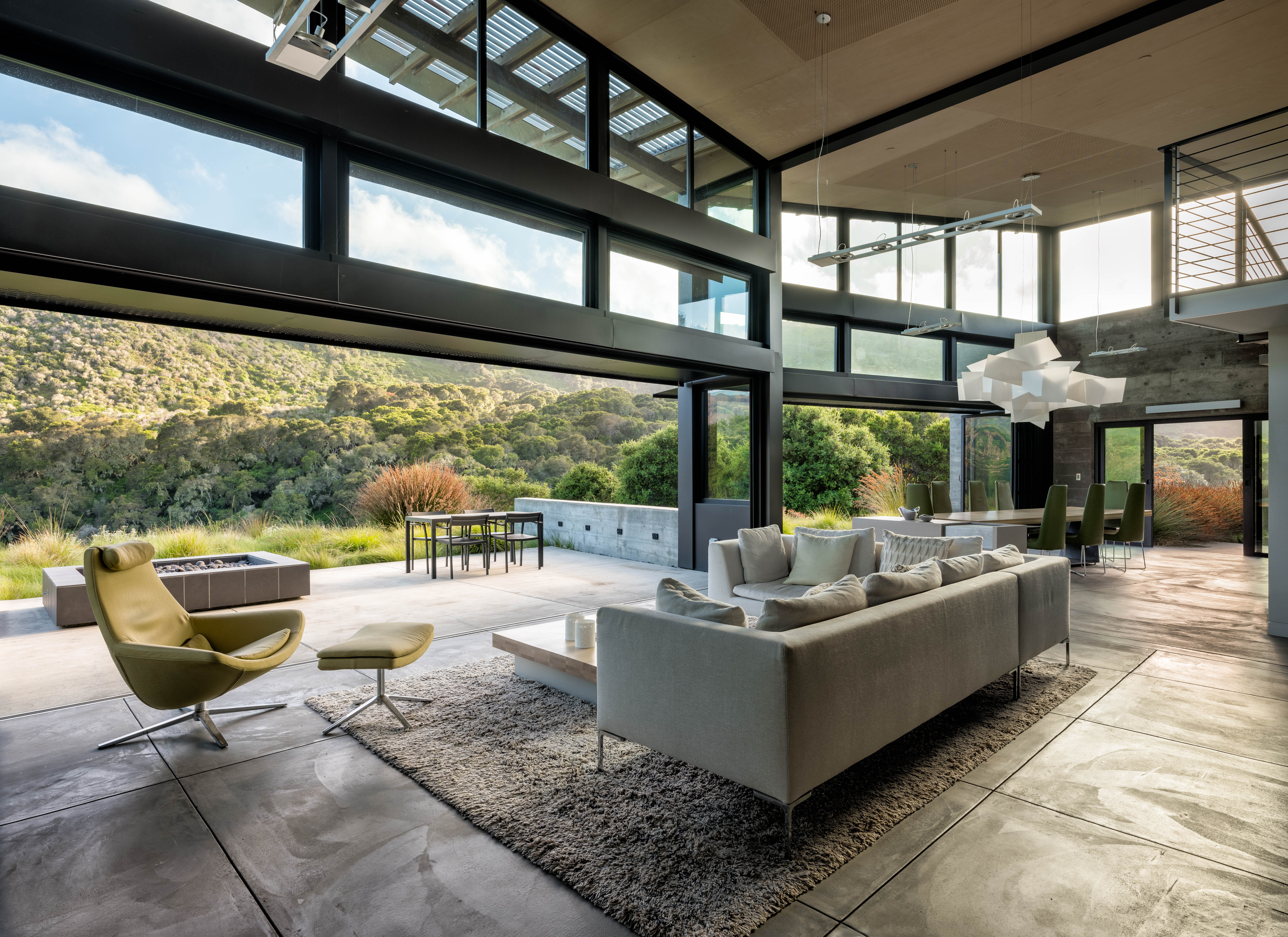 The architects said, "The house uses little energy as a result of extensive daylighting and passive thermal strategies. A large solar array located out-of-sight provides much of the energy that is used."
"Each roof funnels water to a rain chain fountain and into landscape collection pools, which then gather in cisterns where it is stored and used to irrigate the landscape," the architects said. "In addition, the pavilions were sited to allow storm water to flow under the office bridge during the rainy season and seep slowly into the ground in the main courtyard."
Read about more ways to use ornamental grasses in our curated design guides to Grasses 101 and see more of Trainor's landscapes:
Landscape Architect Visit: The California Life, Outdoor Living Room Included
Cape Rush: A Field Guide to Planting, Care & Design
Architects' Roundup: 10 Landscapes Designed Around a Single Tree