Once again, our friends at Vancouver-based Le Marché St. George café invite us to take part (at least from a distance) in their yearly French-Canadian Thanksgiving escapade. This year, family, friends, and co-workers return to owners Janaki Larsen and Pascal Roy's remote property in Oroville, (a town in Eastern Washington State), to partake in a three-day outdoor camp celebration including open fire cooking, foliage-adorned table settings, and nature-seeking activities.
Photography by Janaki Larsen and Issha Marie for Le Marché St. George.
Above: The landscape in Janaki and Pascal's Oroville property is desert-like—dry, hot, and arid in the summer, and extremely cold and dry in the winter.
Above: The Thanksgiving table is set in the middle of a field with an open view.
Above: A mix-and-match collection of vintage chairs has grown over the years.
Above: Makeshift long table benches are put together using reclaimed wooden planks placed on top of cinder blocks. The tablecloth is a painters' canvas drop cloth.
Above: The table was set with ceramic plates and bowls by Janaki (she's also a ceramist). Wild greenery and branches gathered from the surrounding fields dressed the table.
Above: "Since we were such a large group, everyone had to bring their own dishes, but in the end, we happened to have enough of Janaki's plates from her personal collection to set the table. The gold tumblers come from Atelier St. George," Marie adds.
Above: On the menu: char-roasted cauliflower and Brussels sprouts, a warm fruit compote, and a roasted medley of root vegetables. "A dinner was heavily inspired by Francis Mallmann's methods of cooking over an open fire," Janaki says.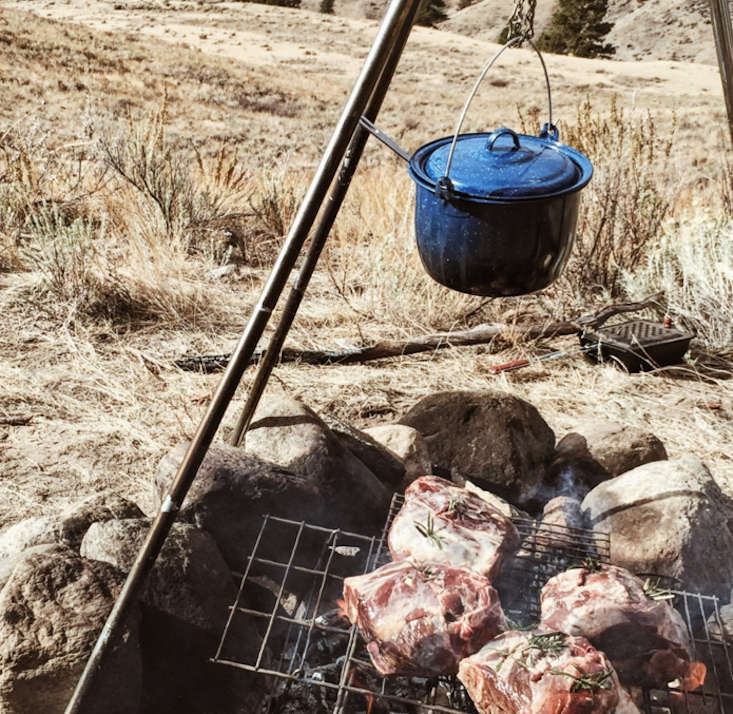 Above: Roasted lamb and chicken, also part of the Thanksgiving dinner.
Above L: Roasted carrots and fingerling potatoes with herbs and onions. Above R: Warm fruit compote with apples and coronation grapes.
Above: Lola (Pascal and Janaki's daughter) and her friend Malachai play outside a nearby abandoned homestead.
Above: Lola holds one of the neighbor's new golden retriever pups.
Above: Marie brought colored smoke sticks to play with for a personal project. "I wanted to share one of these sticks with the rest of the group who had cameras, so I set this off not too far from one of the abandoned homesteads. We had two minutes to photograph this against the incredible landscape before the pink smoke died down," Marie says.
Above: LeMarché St. George's open fire pit blazes beneath the orange and purple skies of Oroville.
Above: Family and friends of Le Marché St. George.
For more of Le Marché St. George:
(Visited 66 times, 8 visits today)