Last week, I spent a splendid few days at Chelsea Flower Show, the annual horticulture extravaganza, which this year was a ginormous 100 years old.  What a grand old lady she is.  And to celebrate, it was a bumper year for gold medals.  There were masses of them sloshing about, possibly to make everyone feel better about the dismal weather and the fact that half their plants weren't out.
Photographs by Clemmie Hambro.
Above: Christopher Bradley Hole won a gold for his garden inspired by the Japanese garden, Ryoan-ji.  Blocks of native box, yew and beech, loose natural planting, hazels to form a woodland canopy, still silent water and a walkway round the edge of the garden as interestingly there was no way to access the center (which seemed slightly odd to me, but perhaps I have no imagination).  However, the overall effect was certainly quite goose-bumpy and meditative.
Above: Ulf Nordfjell's garden for Laurent-Perrier was wonderfully elegant with tall spires of Quercus robur f. fastigiata "˜Koster', clipped yew blocks interspersed with clipped balls of Enkianthus perulatus which offset unclipped versions of the same shrubs.  Enormous hummocks (my favourite word) of Hakon grass gave the whole thing layers of texture and richness.  Murtagan lilies, bearded irises, short Japanese anemones, Verbascums, Gillenia, Aruncus were all planted in blocks and layers.
Above: Another garden I liked was the Homebase garden designed by Adam Frost.  The theme was the modern family garden – a space to eat, garden, relax, entertain but also connect with nature.  Vegetables were interspersed with flowering perennials to show that you can grow food anywhere (although, in practice I can imagine this does not work very well – pull out your beetroot and you will be left with a whopping whole in your border).  The main reason that I liked it though, were that there were just masses and masses of plants – about 20 different herbaceous perennials, fruit, herbs, vegetables and soft fruit, water plants, roses, fruit trees…  it was glorious.
Above: Definitely worth a mention was the Brewer Dolphin garden designed by Rupert Myers.  A welcome flush of crisp modernism amongst the more blousy designs.  It was one of those gardens that drew you in, the more you looked at it.  The smooth giant eggs/pebbles that made you want to jump over the rope and stroke, a clever emphasis on native or commonly used plants like Geranium pretense, G. pryenaicum, multi-stemmed rowans (Sorbus aucuparia) honeysuckle, spindle, Virburnums.  A sunken planted area was peaceful and luscious and the whole garden was a clever combination of hard and soft. But between you and me I thought the bright, white furniture they used was hideously out of place and garish.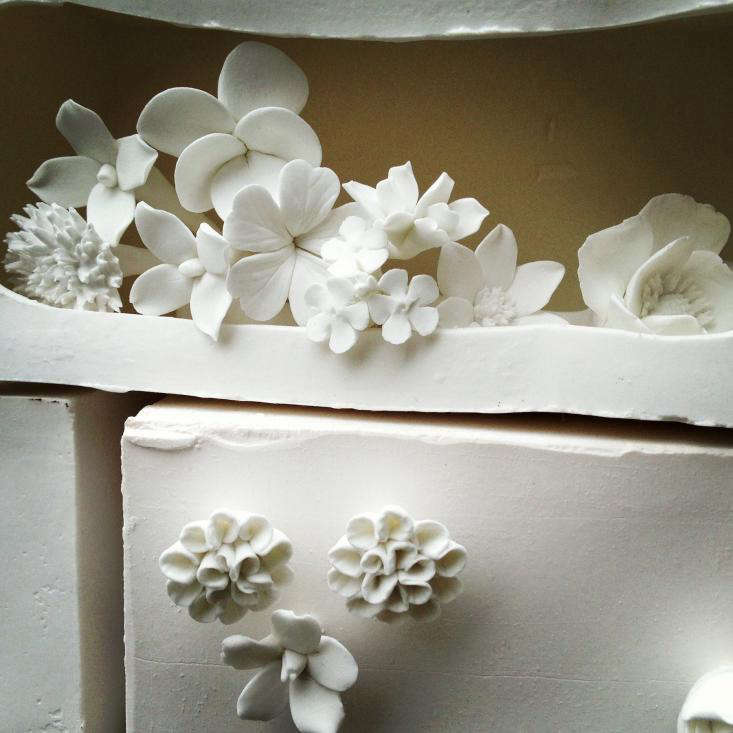 Above: Exquisite hand made ceramic bricks in the Stoke-on-Trent garden.
Not getting a gold this year was Ginny Blom who designed a garden for Prince Harry's charity Sentebale, sponsored by B&Q.  It did have some nice planting but not very much of it, and the garden seemed to be dominated by the hard landscaping, none of which was very forgiving and in fact a bit of it looked like a giant dog bed.  But what do I know?
One of my best bits of Chelsea is to find the plant or that seems to pop up in practically every show garden and appears to be having a bit of a moment.  Last year cow parsley reigned supreme and she certainly was not going to be de-throned easily.  She re-appeared this year in all her glory and in all sorts of variations – black stems (Anthriscus sylvestris "˜Ravens Wing), pink flowers (Pimpenella major "˜Rosea') etc, along with some of her other umbellifer friends like Angelica and Orlaya.
Above: However, the star turn was taken by Cirsium rivulare "˜Atropurpureum', the dark claret thistle.  Yes, that is right–the star of Chelsea seemed to be a thistle.  But she is massively versatile in all sorts of planting schemes and, I think most importantly, was actually in flower unlike a lot of plants who had turned their noses up at the appalling weather conditions and decided to stay firmly shut.   Cirsium will flower in early summer and then if you give her a hard chop once finished, will continue to do so until the first frosts.
Above: A gorgeous claret peony in the Cloudy Bay garden.
Above: Along with Cirsium, other little punctuations of claret seemed to be the thing.  Lots of gardens seemed to be using deep, blood wine peonies.  I spotted a couple of beautiful ones in the Main Pavilion, which would do you well.   P. "˜Black Pirate' or P. Wu Long "˜Peng Sheng' were both from Kelways nursery and were divine.  The other plants that were very much around were those neat little dots Sanguisorba officinalis and red astrantias like A. major "˜Hapsden's Blood.'  So, if you are looking to give your garden a "Chelsea update," plant a few of those.  You heard it here first.
For more from Clemmie Hambro, see An English Gardener's Diary: Spring at Last.
(Visited 151 times, 1 visits today)