The walls around the kitchen garden at Holkham Hall in Norfolk are big, and tall, and really very long. They enclose six and a half acres, once intensely productive but abandoned by the mid 20th century. The walls survived as the garden crumbled. Happily, a restoration project is underway.
Head gardeners these days require a lot of imagination and a new kind of energy. There is no call for homegrown asparagus in November, and a heated glasshouse for raising melons would be a kind of madness. Like many head gardeners, Tim Marshall at Holkham has a tiny staff and as many volunteers as he can get.
Photographs by Kendra Wilson.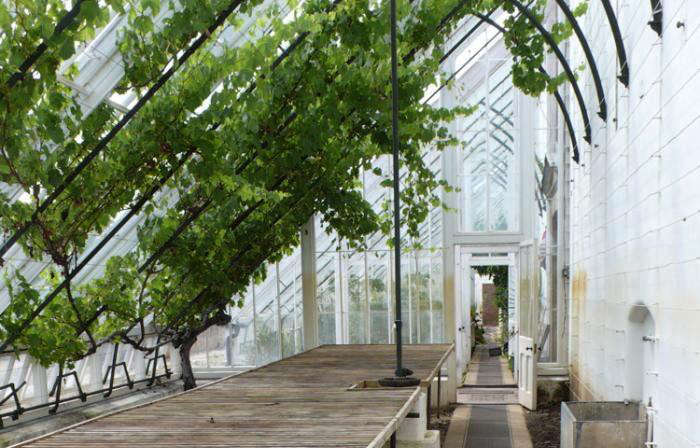 Above: The vinery, or glasshouse, at Holkham Hall has been restored with the backing of English Heritage.
Above: Acres and acres of brick at Holkham Hall in Norfolk, a county littered with country estates.
Above: Peaches are trained against the warm whitewashed wall of the peach house, part of the vinery.
Above: Before. Part of the vinery, as was.
Above: The restored fig house, with delightful lead sink and typical metal grid floors for drainage.
Above: The vastness of the glasshouses, bisected by a door to the park. A vinery faced south or west and typically it leaned against one of the garden walls.
Above: Architectural details, underneath glass. It was a fantastically efficient system: ventilation was key, and panes of glass were fitted like roof tiles, for ease of replacement.
Above: The buildings in the walled kitchen garden are being restored to a new kind of glory, as opposed to their former glory. For a story about another unusual English garden, see "A Pop-Up Roof Garden in London."
N.B.: See 426 more inspirational images of gardens and landscapes in our Gallery of rooms and spaces.
(Visited 31 times, 1 visits today)