Greatest Hits 2021: This week, we'll be republishing the most popular posts of the year. Happy reading!
Monarch butterflies have been in the news lately, and unfortunately it's not because thousands of them have made their epic long-distance southern migration to their California coast and Mexico wintering spots. They're making headlines because their numbers are critically low—so low that they are tragically inching to extinction.
Western monarchs generally head south from the Pacific Northwest and land in forested groves on the California coast by the beginning of November before dispersing across the country in March when the weather warms up. Eastern monarchs fly thousands of miles from southern Canada and northeastern United States to spend their warm winter break in Central Mexico. This year, sadly, the count of monarchs is grim. In fact, The Xerces Society, a non-profit environmental organization focusing on invertebrate conservation, recently recorded fewer than 2,000 monarchs for the entire state of California—a frightening decline from the tens of thousands counted in past years. And at the Monarch Butterfly Sanctuary in Pacific Grove, CA, where typically thousands of western monarchs overwinter, volunteers spotted zero.
N.B.: Since this post ran, the monarch population has made an encouraging rebound, for now. Scientists can't explain why but maybe it's a sign that we can protect this butterfly from extinction.
Interested in helping save monarchs? Please keep reading:
Why are these beloved butterflies disappearing?
Butterflies are, not surprisingly, very fragile and easily affected by environmental changes. Scientists believe many factors are contributing to their decline, but one major cause is the decimation of their critical milkweed habitats that grow along their migratory route. (Monarchs, unfortunately, are not legally protected by the state and federal system.) As development projects consume the land and genetically modified crops take over, the native milkweed is destroyed.
Another contributing factor is the widespread overuse of toxic herbicides and pesticides. And then there's the effects of climate change, which alter the schedule of the springtime wildflowers necessary to their migration, coupled with the numerous destructive wildfires that raged through the West last year.
How can you help?
Before monarchs dip into the threatened or endangered category, fellow gardeners can start taking action right now in these five ways:
Photography by Marie Viljoen for Gardenista, unless otherwise noted.
1. Plant native milkweed.
This crucial plant is what butterflies rely on exclusively for their first life stages: the females lay their eggs on it, and the caterpillars munch on it for nutrition and protection (the plant's noxious chemical compounds make the caterpillars taste repugnant to predators.) It's a symbiotic relationship: the nectar nourishes and gives energy to the butterfly, and the butterfly pollinates the milkweed. This important plant not only serves monarchs, it also benefits other pollinators and beneficial insects such as honeybees.
Be aware that tropical milkweed (Asclepias curassavica) should never be planted because not only is it not native to California, it harms butterflies by being evergreen, which encourages our winged friends to hang out and breed in the area instead of moving on to other more hospitable winter locations. Instead, only plant narrowleaf milkweed (Asclepias fascicularis) and showy milkweed (Asclepias speciosa).
Pro Tip: Because milkweed is deciduous and is often covered in unsightly aphids, it's best to plant it in less visible spots in the garden. Give your milkweed good drainage and little summer water.
Note: If you live in coastal areas of Marin (Bolinas, Inverness, Tomales, Muir Beach, Stinson Beach, and Point Reyes Station), the Environmental Action Committee of West Marin, a nonprofit dedicated to protecting and sustaining the water, land, and biodiversity of West Marin, suggests planting coastal nectar-rich native flowers and overwintering tree covers to give them the food they need as well as protection from cold winter weather.
2. Grow a diverse and flower-rich pollinator garden.
Pick plants that will fuel their flight and plant a diverse amount of flowers rich in nectar. Monarchs love to (and need to) gorge on big flower clusters. Best plants for spring and summer are narrowleaf milkweed (only for inland gardens), pink-flowering current (Ribes sanguineum), seaside daisy (Erigeron glaucus), manzanita (Arctostaphylos spp.), and blueblossom (Ceanothus thyrsiflorus). Fall favorites are sages (Salvias spp.), goldenrod (Solidago velutina), California aster (Symphyotrichum chilense), California fuchsia (Epilobium canum), coyote mint (Monardella villosa), as well as annuals like cosmos, zinnias, and Mexican sunflower (Tithonia).
Also provide a fresh water source, a good place for them to bask in the sun and rest, and a shady puddle of muddy water to rehydrate and gain minerals.
Pro Tip: Place a shallow plate of water filled with a few flat rocks on the ground near flowers and refresh every day to discourage mosquitos.
3. Stop using pesticides.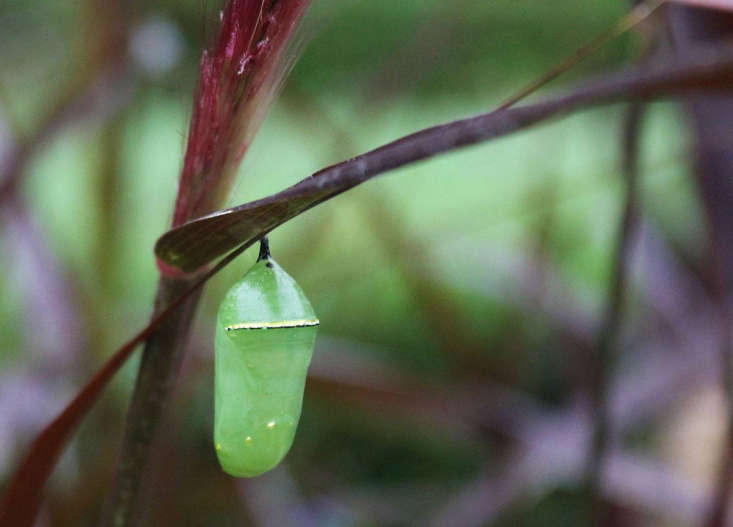 Both insecticides and herbicides not only remain in the environment, but they do not discriminate in their kill-mission. By eliminating the use of these toxic chemicals in public and agricultural lands and personal gardens, we can prevent the poisoning of these and other beautiful pollinators. Also, avoid buying plants from garden centers that are treated with any chemical, especially neonictinoides that negatively affect the nervous system of insects.
4. Share the news.
Maybe your neighbor doesn't know the status of these black and orange lovelies. Maybe they were just about to remove an overwintering site. Consider joining forces with your neighbors to plant pollinator corridors and monarch waystations (a stopping-off point for them during their journey) so that these creatures can easily find food and lay eggs without having to expend too much energy looking for the right spot.
5. Get involved.
Become a citizen scientist and help collect data on butterfly populations. The Western Monarch Thanksgiving and New Year's Counts and the Western Monarch Milkweed Mapper are two community science programs to join. Also research other local organizations that help restore narrowleaf milkweed sites, and consider donating to local organizations taking action to rebuild the butterfly community. Farther inland, it is also important to protect those migratory habitats (examples: Sacramento Valley, Coast Range, and the foothills of the Sierra Nevada,) so consider supporting organizations focusing on habitat restoration and land management.
Please remember, everyone's immediate action can contribute to a positive monarch solution.
Editor's Note: Since the publication of this post, several readers have written to inform us of yet another devastating cause of the precipitous decline of the monarch butterfly population: deforestation that is encroaching into Mexico's monarch butterfly sanctuaries, the winter breeding ground for eastern Canada's monarch butterflies. To learn more, go to UNESCO's page on the Monarch Butterfly Biosphere Reserve.
For more on pollinator gardens, see:
N.B.: This post was first published February 2021.
(Visited 404 times, 1 visits today)