Start tolerating horseflies. Why? Your garden is a democracy of insects, where even filthy flies have a purpose. Every garden needs a tree or a pond, even if that means one sizable container, filled either with soil or water. A tree or a pond attracts insects and with them, a world of predators. Even if you abhor mosquitoes and ants, you'll want to attract other members of the buzzing, invertebrate world.
Here, in appreciation of insects, are 10 essential bugs (some of which may surprise you) to help the garden flourish.
Photography by Jim Powell for Gardenista.
Bluebottles and Horseflies
Standing under a tree (which I find myself doing increasingly) is educational. Bluebottles, whose Latin name Calliphora vomitoria is self-explanatory, land on fruit tree leaves and clean them up. Down goes the proboscis and when the fly moves on, sickly-looking leaves that have had too much attention from aphids look better for their ministrations. Their catholic eating habits help food waste to break down and they pollinate plants too.
Predators of bluebottles, horseflies, and Musca domestica, the common housefly, need to be kept in business: They include frogs and toads, birds and bats, and spiders.
Beetles
The under-appreciation of beetles is symbolic of our relationship with insects. Beetles are the largest insect group, while invertebrates make up 95 percent of all creatures. Apart from the pretty ones, like ladybirds, beetles are generally treated with distrust and misunderstanding, when they come indoors. The best thing to do is gently remove them.
Predators: Badgers, foxes, reptiles, frogs, bats, rats, some birds—such as swifts.
Ladybugs are toxic to birds, as advertised by their bright colors. However, they are crucial members of the garden food chain because of their predilection for eating aphids. These emerge early in spring, which is one good reason for growing nettles, as the nettle aphid is also early, and will give ladybugs something to eat.
See also: Your Garden's Best Friend: The Life and Times of a Ladybug.
Green Flies and Black Flies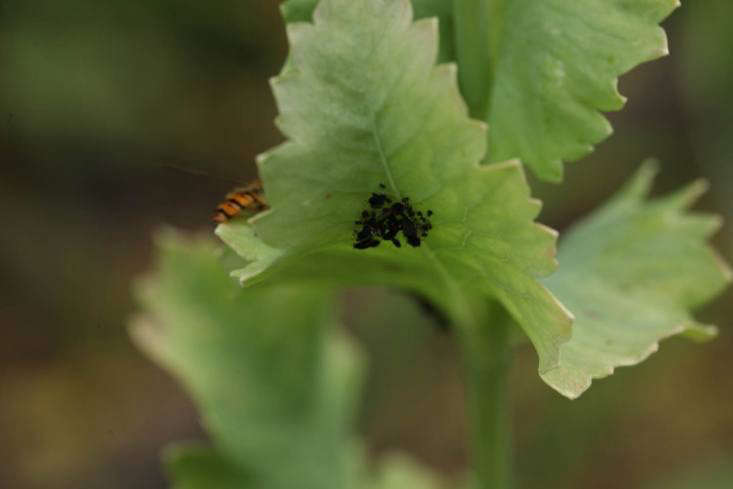 Budding populations of aphids can be wiped out by squashing them between thumb and fingers. Some aphid damage is not a disaster for a plant, although their sap attracts ants as well as mildew. When you spot a growing number on one plant, check for ladybugs, who may be getting to work. It's easy to transport ladybugs to plants that are in need.
Predators: Aphids are an important food source for beetles, earwigs, wasps, and birds feeding their young.
Butterflies and Moths
Landing on the stamens of flowers with pollen-brushed wings, butterflies and moths are most often seen drinking nectar. They also sip on decaying fruit, not so different in this way from less glamorous creatures such as flies and wasps. Many butterflies and moths rely on nettles and thistles as breeding grounds, so allow some weeds to grow, near a compost heap or behind a shed.
The Caterpillar-Butterfly Dichotomy
Romantic ideas about butterflies are connected to the fluttering ones, newly emerged from their cocoon. For gardeners, the fun is gone when egg-laying starts a week later, with a total withdrawal of affection for the butterfly's offspring. It's amazingly short-sighted; like the food chain and the whole living planet, you don't get one without the other.
Predators of moths and butterflies: Birds, spiders, hornets, and moths. Predators of caterpillars: Birds, beetles, wasps, spiders, toads, snakes.
Hoverflies and Lacewings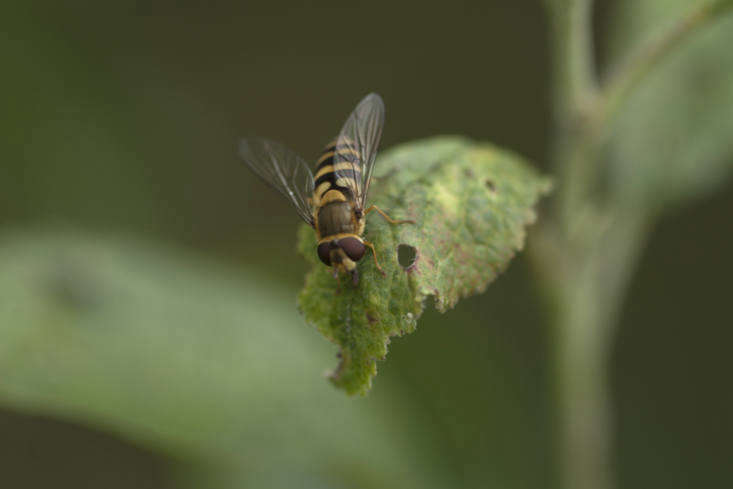 Hoverflies and lacewings, like ladybugs, are most appreciated as predators, rather than as a food source themselves. A hoverfly's looks confuse people (as well as predators), seeming to combine horsefly-style aviator eyes with wasp-like colors. But a closer look reveals a benign pollinator that hovers around umbels such as Queen Anne's lace, laying eggs near aphid colonies.
Lacewings are wonderfully transparent, with 1930s-costume wings enveloping slender green bodies and beady metallic eyes. Their larvae, like those of hoverflies and ladybugs, are prolific aphid eaters. Lacewing larvae also eat caterpillars.
Wasps and Bees
Wasps help with the breaking down of organic matter. Without their help food that is not harvested would take longer to decompose, putting more pressure on fungus and bacteria. Annoying as it is when you find that a wasp has dug a hole in some perfectly ripe fruit, they are doing what they were designed to do and will not attack fruit that isn't ready to be picked.
Need more convincing? See: What's the Point of Wasps?
Centipedes and Woodlice
Like the peach inhabitants in Roald Dahl's James and the Giant Peach, centipedes, earthworms and other invertebrates are a welcome sight. Under the lid of a compost heap, they are active when the pile is at mid-temperature, before and after the main business of decomposition. Aided by fungus and bacteria, invertebrates are crucial in the process of breaking material down, in or out of a heap.
Predators: The enemy within. Toads and grass snakes in compost heaps are happy to eat either, while the carnivorous centipede (shown above) may be about to eat one of the wood lice.
Food Chain: The Next Level
Insects are at the base of thousands of different food chains and, without humans, they are a wildly successful group. Humans without insects, on the other hand, would not last long at all.
N.B.: This post is an update; it was first published March 2018.
See more ways to show appreciation for essential insects in the garden:
(Visited 355 times, 1 visits today)