Here are ten options for garden trellises made of such materials as bamboo, twigs, and metal to showcase your finest climbers.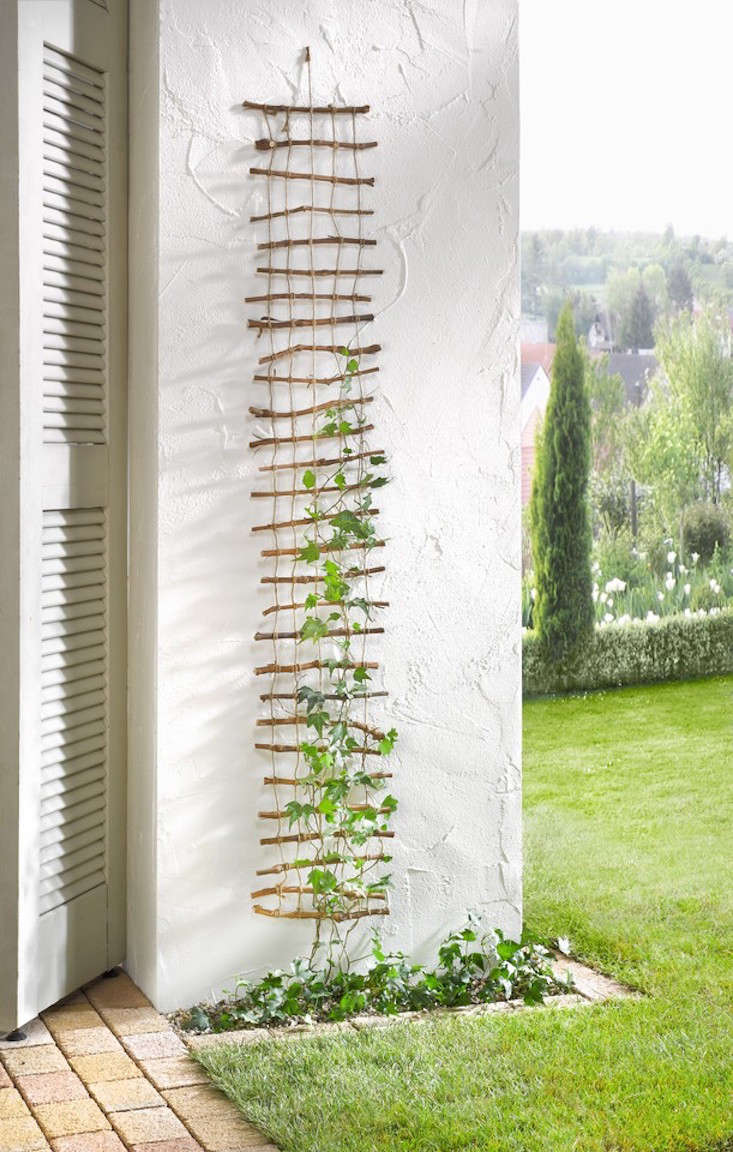 Above: A Decorative Lattice of twigs held together by hemp cord measures 150 by 25 centimeters and is €4.25 from Frank Flechtwaren.
Above: Available in four widths from 3 to 6 feet, a Woven Willow Trellis Panel is available for from £47 to £84 depending on size from Water Willows.
Above: Made of untreated larch, a freestanding Rankgerüst For Bed or Raised Bed is "put together like a simple wooden ladder of two longitudinal bars and nine crossbars and thus is variable in width." Screws are included in case you want to attach it to a wall; €72 from Manufactum.
Above: An Expandable Bamboo Trellis is made of black bamboo and measures 4 feet by 6 feet when fully open. It is $22 from Jamali Gardens.
Above: Made of raw metal and with a criss-cross arch design, a Barrington Arch Trellis is 191 centimeters tall and 78 centimeters wide; £52 from Garden Trading.
Above: Vegetable Trellises available in two heights (56 inches and 72 inches) are made of powder coated steel and have 6-inch openings to make harvest easy. They are $39.95 or $49.95 depending on size from Gardener's.
Above: A range of zinc galvanized steel Trellis Wall Panels is available from Garden Requisites at prices starting at £95.
Above: A galvanized Steel Wall Trellis powder coated in black from Garden Artisans is available for prices ranging from $599 t9 $779 depending on size.
Above: A Free-standing Lattice Trellis in powder-coated graphite is a simple pared down option; $67.99 from Amazon.
Above: Restoration Hardware's iron Palladian Trellises come in three sizes, currently on sale for from $125 to $275 apiece. Sets of two Trellis Ground Stakes ($20) and Trellis Deck Stands ($20) are sold separately.
For more trellises, see Indoor Gardens: Trellis Tables and Shelves from Moonish and High Achievers: Trellises and Pots for Indoor Climbers.
N.B.: This is an update of a post originally published June 11, 2013.
(Visited 3,660 times, 6 visits today)