A family of four escapes the city to live off the land on a homestead complete with cows, chickens, ducks, pigs, and an overflowing edible garden. This is a familiar fantasy—you may have imagined it, and I do often, lying awake at night to name my fictive cows.
But few of us turn the dream into reality by decamping to the country with children in tow and a vague idea that it would be nice to "find some land, start a farm, and maybe raise animals."
Molly and Eric Glasgow did. After buying property on Martha's Vineyard in 2008, they built a house, resurrected a defunct dairy farm, went to cheesemaking school, and started selling their organic tomatoes at a farm stand. We visited them recently at Grey Barn farm.
Photography by Matthew Williams for Gardenista, except where noted.
The Glasgows offer seasonal classes, including a Two-Part Orchard Pruning Class, at Grey Barn farm.
A herd of 25 Dutch Belted cows each produces about 4.5 gallons of milk a day, say the Glasgows: "Our lovely cows are able to produce delicious milk on grass alone and many of them continue producing into their teens.
"It may sound simple just to feed grass to your cows, but our pastures change with the seasons and presenting the right food at the right time of year becomes tricky," say the Glasgows, who in wintertime feed the herd microgreens from barley seed sprouted in a greenhouse.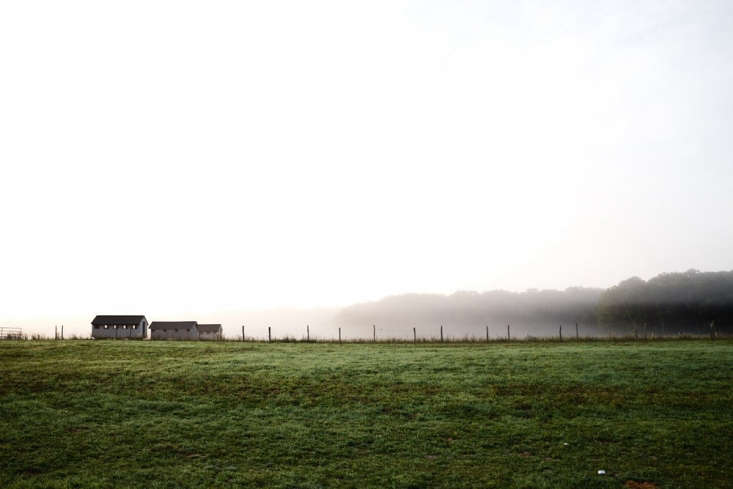 The self-service farm stand at Grey Barn is open from 7 a.m. to 5 p.m. every day of the year. For directions, see Grey Barn Farm Stand.
More rural homestead fantasies, turned into reality:
(Visited 680 times, 2 visits today)