When nature lovers Allie Rowe and Jim Ladio decided to settle in San Francisco's Bay Area, they knew they'd have to get creative with their housing dollars. Minimalists at heart and hesitant to spend money on a pricey rental, the young couple thought a tiny house could do the trick. It would allow them to invest in a home while offering the flexibility to find their perfect spot in nature. Eventually, perhaps, they could squeeze in a baby.
"We have a history of being creative with our living situation," says Allie, whose Minimallie blog describes their adventure. Working for room and board at a Tuscan agriturismo and bartering nanny services for lodging in San Francisco gave Jim and Allie a three-year break from paying rent. "It's funny how you get used to it," Allie says. "All of a sudden the tiny house seemed like something that also would be possible."
So in the spring of 2015 the couple chose Wind River Tiny Homes, based in Chattanooga, Tennessee, to build their home. Wind River offered a custom design process, could move quickly, and was less expensive—at $64,000 including delivery—than many California tiny house manufacturers. Jim and Allie's custom, 275-square-foot home arrived at their parcel in the East Bay near Mt. Diablo State Park on October 29. The first night in their home they learned they were having a baby.
Above: Photograph by Alexa Heung.
Allie and Jim specified shou sugi ban treatment for their exterior shiplap pine siding. Traditionally in Japan, sugi wood (commonly referred to as Japanese cedar) was charred to preserve the planks and make them more fire resistant. The design choice is a nod to the dry, hot summer conditions in San Francisco's East Bay.
Trim on the French doors and bar windows is painted Cedar Path from Benjamin Moore. "I literally brought an oak leaf back to the house, flipped it over, and picked the color from that," says Jim.
Above: Photograph by Jim Ladio.
The most challenging part of the process, the couple agreed, was finding the location. Ultimately they were able to get access to a dream site on private land 30 miles east of San Francisco. The home sits amid rolling foothills dotted with oaks and crisscrossed by trails that flow into Mt. Diablo State Park.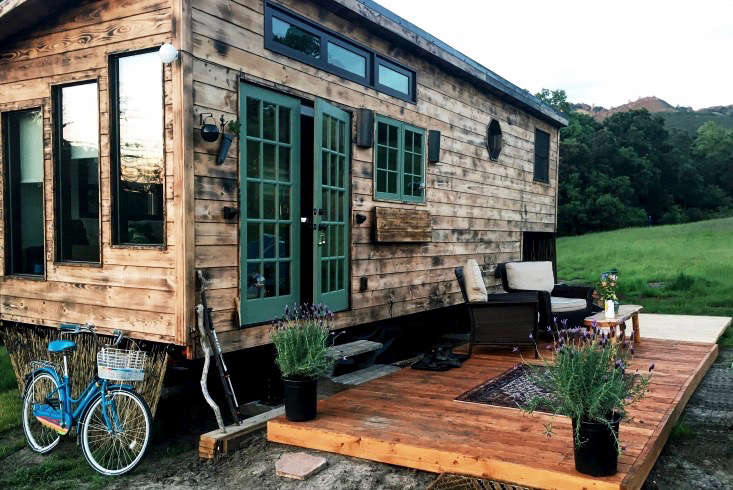 Above: Photograph by Allie Rowe.
Jim built a simple pine deck. "We added a whole separate living room when we added the deck," says Allie. Avid hikers, campers, and trail runners, they both like being outdoors as much as possible. "That's a big reason we moved to the Bay Area from Boston," says Allie. "When you can come home from work and be outside, your life feels like a vacation every day."
Above: A drop-down bar makes entertaining outdoors a snap. Photograph by Allie Rowe.
Above: The French doors often stay open all day. Photograph by Alexa Heung.
Above: The charred pine siding creates a beautifully natural backdrop to a hummingbird feeder. Photograph by Alexa Heung.
Above: Photograph by Allie Rowe.
In addition to indoor-outdoor living, the couple prioritized lots of natural light and full-scale luxuries, such as a four-burner stove. The home also includes a king bed, a large sofa, a farmhouse sink, and a 10-foot sloped ceiling, tall enough for Jim (who is 6 foot 4 inches tall) to feel at home. The custom kitchen counters are hickory.
Above: Photograph by Allie Rowe.
As soon as they moved in, friends started to pop by. "We love to host and have friends and neighbors over constantly," says Allie. Jim nods. Community is a priority for them both.
Above: Photograph by Allie Rowe.
Summer temperatures can climb well into the 90s in San Francisco's East Bay hills. This summer they added a sunshade (Sun Shade Sail available from Amazon for $79.98). Friends donated a sofa and chairs and after a quick power wash they were good to go.
Above: Photograph by Allie Rowe.
Getting the solar power worked out was one of the couple's biggest challenges. Solar energy powers the lights, fan, refrigerator/freezer, wi-fi radio, window AC, compost toilet, and the Piper nv Smart Home Security System. Propane fuels the hot water, range, and a small heater. They use graywater recycling for the bathroom sink and shower. Jim programmed nearly everything through the Wink Hub.
Above: Nights are cool year round in California. Photograph by Allie Rowe.
Above: On June 11, Allie gave birth to Rowen. The couple thought they'd have a little more time to get settled in before their tiny family expanded. But, as Jim says, "if you have a space, you'll fill it." Photograph by Alexa Heung.
Above: Photograph by Alexa Heung.
Jim and Allie aren't sure how long their tiny home can accommodate a growing family. They can imagine buying a property and keeping the tiny house as a guest space, or linking it to another tiny house. "Regardless," says Jim, "we love the idea of keeping it small."
For more on what it's like to live in a tiny house with a tiny baby, see Minimallie. See more from photographer @alexaheung on Instagram.
For more of our favorite tiny homes, see Cottage Visit: Living in 540 Square Feet in Portlandia and Outbuilding of the Week: The 186-Square-Foot Guest Cottage.
N.B.: This is an update of a post originally published on August
(Visited 250 times, 2 visits today)