Every year is challenging to someone. Looking back on 2017 as Thanksgiving and the holiday season careen toward us, gardeners may be tempted to lament the obstacles we've faced—bad weather, wilted expectations, or an invasion of varmints. But where a seed sprouts there is hope.
At Gardenista, we have plenty of reasons to feel grateful as this year's growing season ends. Our spring bulbs are in the ground, our dahlia tubers are in storage, and our potted citrus trees are safe indoors. As we go around the dinner table on Thursday to give family and friends a chance to say why they're thankful, here are 10 things we'll want to list:
Small Friends
As a gardener, I thoroughly appreciate and strive for as many pollinators and beneficial insects as I can get into my garden (and my clients' gardens). They aerate our soil, disperse seeds, and protect our lettuce from insect bullies.
As gardeners, we can show our gratitude for small friends by using organic products, practicing natural and safe pest control—and picking up a worm now and then, to cup it in a palm and say thank you to its face.
The Solace of Soil
We are thankful for the basics: The soil, the sun, and rain that allow our plants to grow and thrive. We know that all great gardens start with great soil. Gardeners also appreciate all the small things the soil nurtures, from microscopic bacteria to barely visible wildflower seeds.
Local Garden Shops
Plant nurseries and garden shops offer us daily inspiration. Where would we be without a free place to wonder around aimlessly, collecting new plant options, buying six-packs of vegetable seedlings, and asking question after question about our woeful, shriveling fern?
Sturdy Tools
I know I am in safe company when I can freely admit that I thank my Felco pruners everyday when I prune with clean, easy cuts. Great tools that are long-lasting, make garden chores easier and feel good to work with are invaluable (and save you from carpel tunnel syndrome later).
Native Plants
Well-adapted to local environmental conditions, native plants rule the roost. They save time and money with less maintenance and fewer fertilizer needs, and save our most valuable natural resource: water. Plus natives provide crucial habitats and food for birds and other wildlife.
Neighbors and Friends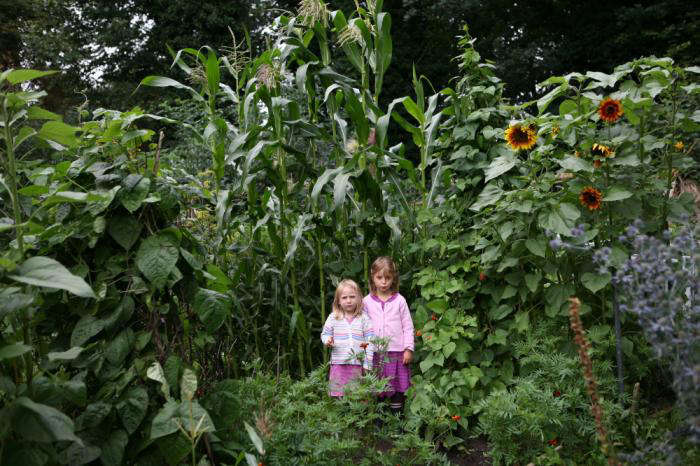 Every gardener needs other gardening  friends who speak "gardenese" and can share our admiration for dinner plate dahlias. These same friends generously share heirloom seeds and rose cuttings, along with textbook knowledge and thoughtful advice. We thank our friends for garden therapy sessions, shared obsessions, and a willingness to dig beside us in the dirt.
Every Single Garden
It may sound obvious, but it's no less true: we are thankful for gardens. And I mean ours, yours, and theirs. We gardeners are a tribe and know that it takes a village of gardens to make each one survive and thrive. We are also thankful whether we have one pot on the balcony, a small plot in a community garden, or ample acres.
The Seasons
Who doesn't love the leaves changing into their autumn-colored new clothes, with the sun sitting just a bit lower in the sky, casting deeper shadows?  A few months later there's the anticipation of spring flower petals unfurling, a bulb poking its anxious head out of the soil. Winter, spring, summer, and fall, we love you all. In every season, the garden is transforming—and transformative.
Parks and Botanical Gardens
For gardeners, feeling thankful for public garden spaces is like an artist feeling thankful for museums.  We all need external sources of inspiration. In parks and botanical gardens, we see plants together in new combinations, in unexpected ways working with unexpected materials. We even get the chance to see plants in their sometimes surprising mature state ("wow, that shrub actually gets that tall?"). We visit for new ideas, to relax, and be immersed in nature's botanical buffet.
Sustainable Landscapes
"Smart" irrigation controllers, French drains, rain chains, and compost bins—all these modern designs help us deal with drainage issues, excess food waste, and a limited water supply. Designers are working hard to make planet-friendly improvements for our landscapes.
Did we miss any of your favorite reasons to feel garden gratitude? If so, leave us a note in the comments below—we're on the lookout for reasons to feel thankful this year.
N.B.: See more of our Thanksgiving coverage at: