In a withering landscape, the stout curves and painterly colors of winter squashes are a sight for sore eyes. My stockpile of international heirlooms, grown by a local farm, doubles as a gorgeous and ever-dwindling still-life. Winter squashes require little cosseting and can spend several months in a frost-free shed or on your kitchen counter, with nothing more than a thick layer of newspaper to keep them happy. See how I make them disappear…
Photography by Laura Silverman for Gardenista.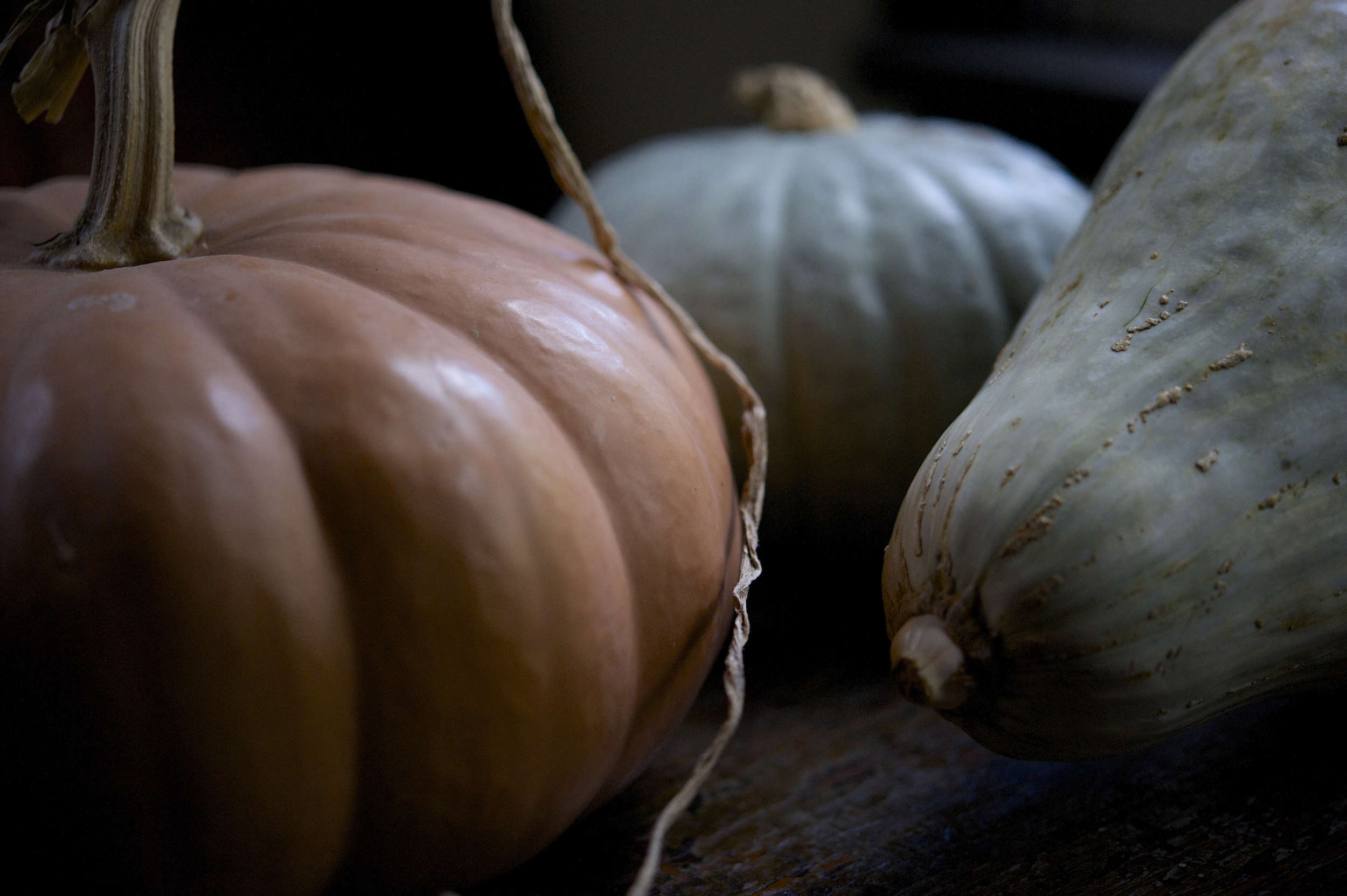 Above: Winter squashes and pumpkins are domesticated species of the genus Cucurbita, and the difference between them is more culinary than botanical. The Long Island Cheese pumpkin (left)–technically a moschata squash–is named for its resemblance to a wheel of cheese. Its smooth, sweet flesh is coveted for pies.
Above: The Sibley (left), a Native American cultivar, and the Red Kuri (center), a Japanese heirloom also known as Hokkaido, both have dry, rich flesh. They are good choices for preparations where lots of liquid is not ideal–such as tempura, one of my favorites. The flesh from more watery varieties can be drained off to achieve a similar texture.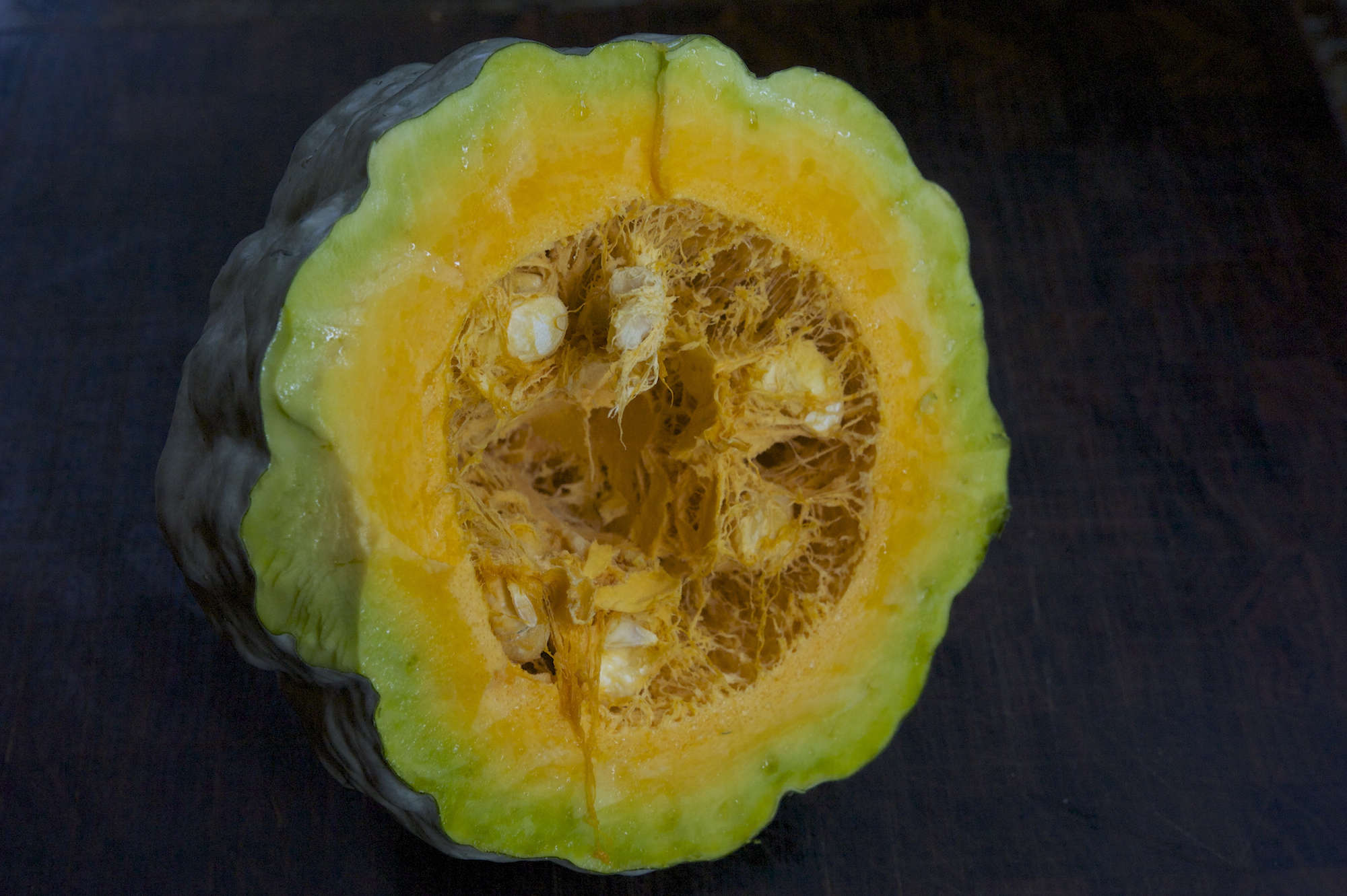 Above: Inside their thick, sturdy shells, squashes harbor an additional treat: the seeds! These contain lots of protein and make a delectable snack, so think twice before dumping them on the compost heap.
Above: The seeds are often quite thick-skinned, so boil them for 5 minutes in a pot of lightly salted water. This step also helps loosen any stringy pulp still clinging to the seeds. Then pat them dry, toss with a little olive oil and roast in a 425-degree oven.
Above: Spice the lightly browned seeds with whatever catches your fancy. I have a smoked bourbon sugar that takes them in one heavenly direction, but I also love them with garlic powder and cumin or, as above, with urfa biber chile, and flaky sea salt.
Above: My preferred way to cook a large winter squash or pumpkin is to roast it, either whole or in thick slices. It's wonderful with nothing more than a generous drizzle of spiced butter or an herbaceous salsa verde. Peeled and cubed, the flesh roasts more quickly and offers up greater surface area for that irresistible caramelization.
Above: A puree of cooked squash is a handy thing to have on hand. Thinned with water, stock or cream, enlivened with curry spices and garnished with chopped cilantro, it becomes a wintry soup. Stirred into risotto with slivers of Calabrian chile and a flurry of Parmesan, it is the ultimate comfort food. And combined with flour and eggs, it makes tender gnocchi, perfect with buttery mushrooms and a few crisp leaves of fried sage.
Above: The brilliant orange puree also has a sweet side. Bake it into your favorite quick bread along with dried cherries and chunks of crystallized ginger. Or whisk it with cream, eggs, and honey and steam it in a water bath for a very luxurious pudding that is always on my Thanksgiving table. The perfect topping? Candied pumpkin seeds, of course.
Above: For a show-stopping presentation, try my surprisingly simple recipe for a whole stuffed and roasted winter squash or pumpkin. After carving a lid from the top–just as you would when making a jack-o-lantern–scoop out the insides and stuff the cavity with a mix of vegetables and cheese. Bits of chopped ham, crisp bacon or chorizo would make nice additions. The lid is placed on top and the whole thing roasts to a bubbling and fragrant stew in your oven. The shell remains intact, softening enough to be edible, but providing the structure necessary to cut and serve it in thick wedges. It's no wonder they call it the Great Pumpkin.
Stuffed and Roasted Winter Squash
Serves 4
Ingredients
1 5-pound round, fairly symmetrical winter squash or pumpkin
2 tablespoons olive oil
2 shallots, minced
2 cloves garlic, minced
1 leek, white and light green parts only, thinly sliced
1 jalapeño, seeded and minced
1 teaspoon salt
1 teaspoon spicy pimentón
2 teaspoons fennel seeds, toasted and ground
1 cup diced carrots
1 cup diced winter squash or pumpkin (from the cavity)
1 cup diced tomato, fresh or canned
1 cup diced fennel
1 cup fresh mozzarella or other melting cheese, shredded
4 tablespoons grated Parmesan
Preheat oven to 350 degrees.
Using a large, sharp knife, carefully cut into the top of the pumpkin to detach a lid, as you would for a jack-o-lantern. Scoop out all the seeds and their pulp to make a clean cavity and save or compost. Use a heavy spoon and/or knife to scrape out some of the inside flesh of the pumpkin, leaving the walls about ¾" thick. Dice this flesh and set aside. "¨
Heat a large, heavy sauté pan over medium heat and pour in the olive oil. When it's hot, add the shallots, garlic, leek, and jalapeño, and stir together for a minute before adding the salt, pimentón, and ground fennel seeds. Cook until lightly caramelized, about 5 minutes. Add the carrots, pumpkin, tomato, and fennel and cook for another 15 minutes or until the liquid has cooked out. Remove from heat and stir in the cheeses.
Place the squash shell on a baking sheet lined with foil or parchment. Rub the inside with a little olive oil and sprinkle with salt, then spoon the vegetable mixture into the cavity. You can fill it all the way up. Set the lid on top and put the covered squash in the oven.
Bake for 60-75 minutes, or until a metal skewer slides in easily through the side. You want the squash to retain its shape, so don't bake until it's so soft that it collapses. (Although it will still taste good if you accidentally do this). "¨
To serve, slice the squash into wedges and arrange any filling that falls off back on top.
Planning a Thanksgiving menu? See our earlier posts:
(Visited 87 times, 1 visits today)