Is there someone on your holiday shopping list who doesn't have room for a full-size Christmas tree? Comfort that person with a mail-order mini. Here are five tiny topiaries that would look adorable draped with little lights:
Above: Seuss-spindly, a Santolina Topiary has a tiny footprint in its terra cotta pot with a 5-inch diameter. It likes a sunny window but keep it away from drafts; $78 from Terrain.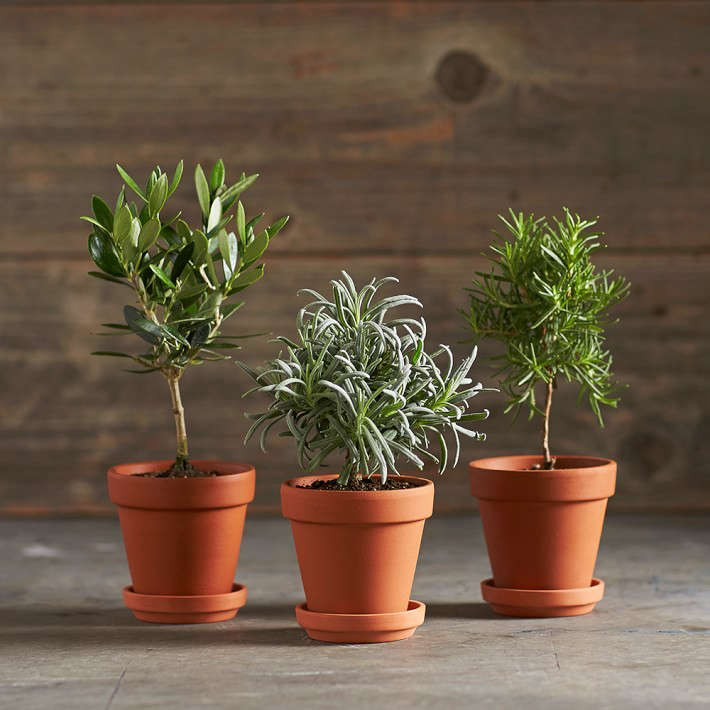 Above: A set of three tiny topiaries–rosemary, olive, and lavender–are planted in terra cotta pots with drainage saucers. A set of three Culinary Trio Topiaries is $39.95.
Above: A Large Olive Tree comes in a terra cotta pot and likes a sunny window; (not available to ship to Hawaii, Alaska, or Oregon) it's $49.95 from Sur La Table.
Above: A Miniature Olive Plant Topiary is about 12 inches tall and comes in a 4-inch pot; $49 from Viva Terra (order by 2 pm Eastern Standard Time December 13 for Christmas delivery).
Above: A small Live Boxwood Topiary Ball is from 15 to 18 inches in diameter and ships in a 5-gallon pot (decorative planter not included); $165 from Restoration Hardware.
(Visited 251 times, 1 visits today)