Oregano, Origanum: "Joy of the Mountain"
One of my garden clients came back from vacationing in Spain and gave me some oregano that he had smuggled into the States. Really, I thought? Smuggling culinary herbs? After all, I already had some perfectly fine oregano dried in my spice cupboard and growing in a pot out back. Or did I?
Maybe I didn't really know oregano. So I went to the local nursery, scoured reference books, and (of course) Googled—and learned that oregano is a much more interesting herb than I'd realized. For one thing, I learned that sweet marjoram (Origanum majorana) has a milder flavor than the Origanum vulgare that grows wild throughout Mediterranean climates. The flavor of dried oregano also can differ dramatically, depending on whether you're tasting a variety from Greece, Italy, or the Middle East. And beyond culinary oreganos, there's a whole world of ornamental varieties to plant. Read on for everything you need to know about oregano.
Native to Mediterranean climates, true oregano is a highly fragrant, slightly woody perennial herb with rosy purple or white flowers. It can be used for culinary purposes, medicinal reasons, or as an ornamental plant. For culinary use, oregano has been used for centuries because of its robust scent and flavor. The ancient Greeks saw oregano's purpose and value: The name translates into "joy of the mountain." And oregano is more than just a way to spice a dish. Besides possessing a zesty flavor, oregano also has antiviral properties.
Spanish oregano, it turns out, belongs to the Thymus genus. But due to its herby, oregano-like scent, Thymus capitatus is often distilled into an oil used for aromatherapy. So basically my client brought back a form of thyme thinking it was oregano. Either way, I appreciated the gesture (and spicy aroma).
If your intention is to grow oregano for culinary use, choose a variety that best suits your recipe and taste. Here are a few of our favorites.
Italian Oregano
Italian oregano (Origanum x majoricum) is a delicious herb,  a hybrid of common oregano and the mild flavor of sweet marjoram. You can probably guess how it got its nickname ("Pizza Herb"). Hardy in USDA growing zones 6 to 9, it has delicate, lighter green leaves, white flowers, and grows into a mound.
Greek Oregano
Greek oregano is a peppery herb with a loose, open growing habit. At maturity, it is two feet tall, with small purple or white flowers and gray-green leaves.
Sweet Marjoram
Marjoram (Origanum majorana) is commonly used in Southern European and Middle Eastern recipes. Its flavor is similar to Greek oregano, but milder. Try marjoram with poultry, egg dishes, and potatoes.
Ornamental Oreganos
See some of our favorite varieties of ornamental oreganos: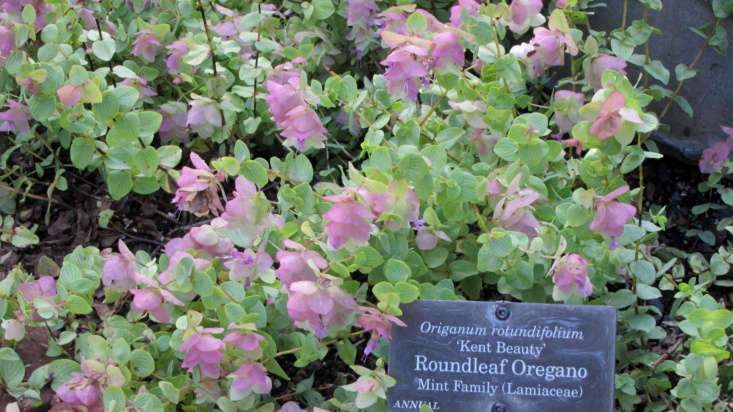 O. 'Kent Beauty' resembles hops when in flower, with pendulous rosy bracts. Long blooming and has lovely silvery foliage.
O. 'Hopley's Purple' is a fragrant ornamental plant that stands up well to heat and drought conditions. It's also a superb cut flower and a lure to butterflies.
Variegated O. vulgare with deep green leaves edged in ivory, has a low mounding habit and milder flavor than most oreganos. This attractive plant reaches heights of 12 to 24 inches and spreads to 24 inches.
O. 'Aureum'  is an edible variety with robustly creeping gold-colored foliage and smallish pink, lavender, purple flowers in early to late summer.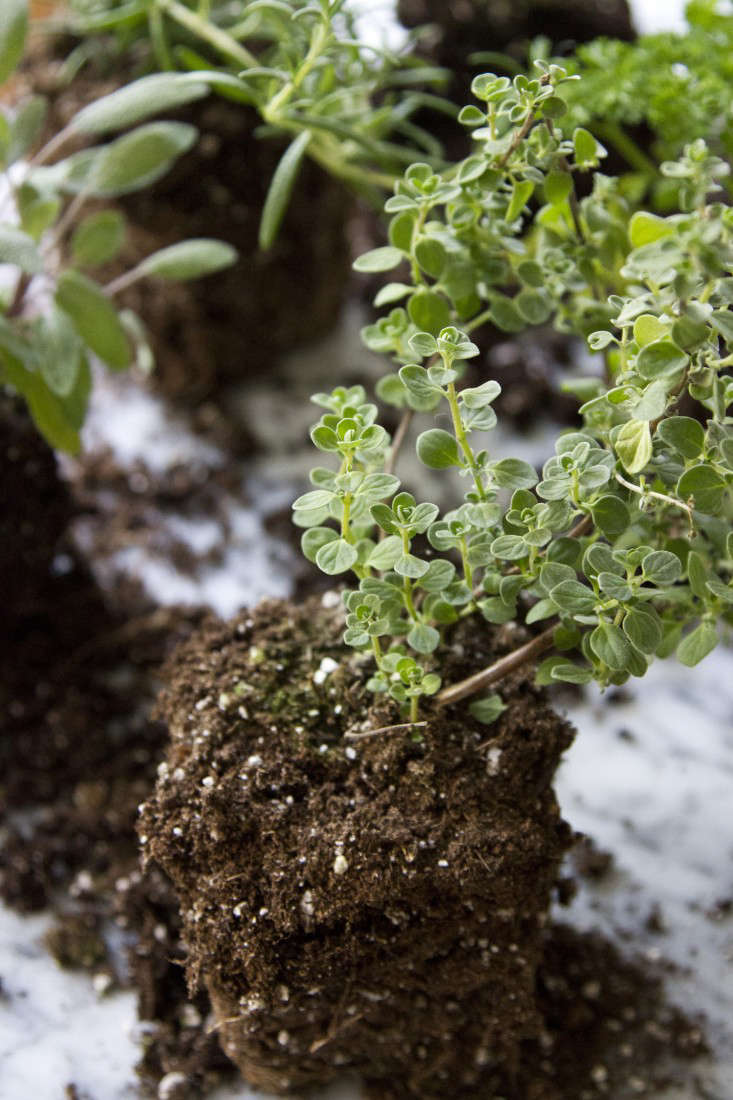 Cheat Sheet
Harvest oregano's leaves as needed but note that the most flavor-filled leaves are found before the flowers bloom. (This is also the best time to harvest leaves for drying.)
Fresh oregano, unfortunately, doesn't stand up well to prolonged cooking; add tender leaves as a final ingredient or use dried leaves for anything needing a long simmer.
Oregano makes a good companion plant in the vegetable garden, repelling pests that commonly affect beans and broccoli. The flowers are also especially attractive to pollinators.
Try growing oregano in pots where it happily spills over edges or plant it on a low wall. Oregano is also a unique seasonal ground cover or edger along paths.
Keep It Alive
Considering its Mediterranean roots, it's not surprising that oregano can tolerate dry soil—and requires loamy, well-draining soil to prevent rot and disease.  If any brown or spotted foliage appears, simply remove.
Oregano is a sun worshiper; ensure that your placement offers a generous amount of sunny heat. This also boosts the flavor profile.
Oregano does not require as much water as most herbs.
Allow oregano plants to grow to roughly four inches tall and then pinch or prune lightly to encourage a bushier plant.
For more growing and care tips, see Oregano: A Field Guide to Planting, Care & Design in our curated guides to Herbs 101 and Edibles 101. Read more:
(Visited 258 times, 1 visits today)