With five other Seattle restaurants to run, award-winning chef Matt Dillon chose the ingredients for the menu of his Capitol Hill wine bar, Bar Ferdinand, with a simple goal: "The whole idea at Bar Ferdinand is that we don't buy anything."
That's where Old Chaser Farm comes into the picture. On 20 acres of land on Vashon Island (a 30-minute ferry ride from the city), Dillon and farmer Pierre Monnat grow fruits, vegetables, and herbs, tend bees, and raise pigs and chickens to supply the restaurant. "Everything we grow on the farm fits into one of two categories, either fresh produce for the restaurant, or ingredients to use in the larder," says Dillon, who in 2012 won a James Beard Best Chef award at another of his restaurants, Sitka & Spruce.
At the pesticide-free farm, everything is grown organically. And nothing goes to waste—Bar Ferdinand's food scraps return to the farm, to feed the chickens and pigs. "With Bar Ferdinand and Old Chaser, minimizing our impact is just as important as how well we treat our customers at the restaurant and how delicious the food is," Dillon says.
Photography by Aaron Leitz for Gardenista.
The gardens' herbs include sage, thyme, mint, and sorrel. "Bar Ferdinand gets first dibs on all of that," says the restaurateur. He also grows roses to make petal-infused vinegar.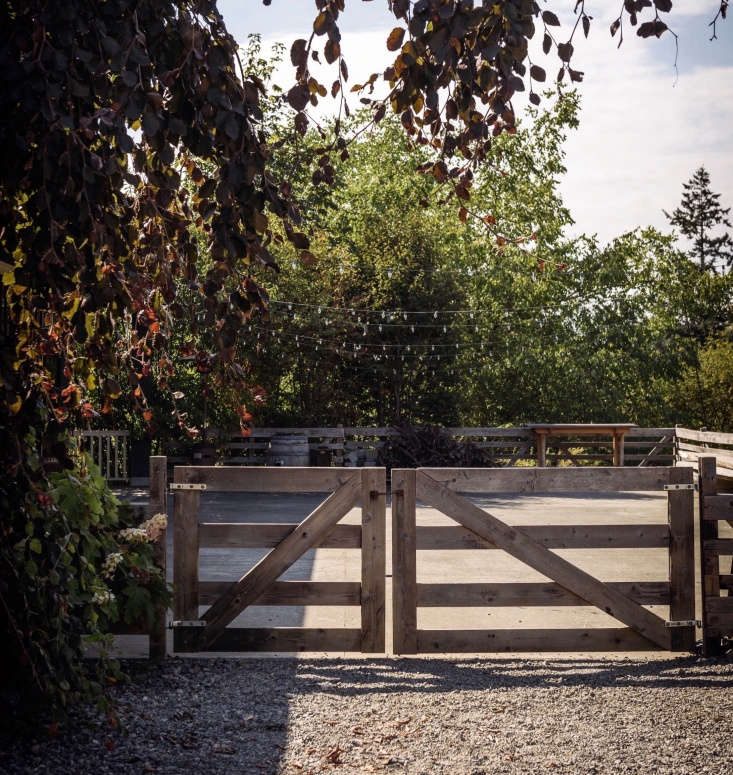 The farm's staff includes Monnat (a full-time farmer), plus Dillon and three seasonal employees. "We don't have a lot of variety," says Dillon of the produce grown on the farm, "since it's only a couple of us working there." We'd beg to differ. Among the vegetables: Potatoes, onions, cabbage, garlic, beans, radishes, turnips, leeks, pumpkins, squash, kale, chard, beets, cauliflower, broccoli, burdock, carrots, tomatoes, and chicory.
Dillon explains why he chose the Scottish Highland breed: "If you were a chef and wanted to show off how bad-ass you are, you might raise an heirloom French breed, baby it, and get an insanely marbled piece of meat," he says. But that's not his style. He likes the Scottish Highland because it needs very little human intervention and consumes minimal resources. "It's important to me that I think about my impact, instead of just how the taste reflects on me as a chef," he says. "Plus, since we use the whole animal, one cow will last us a really long time."
The pigs and chickens eat scraps from the restaurant's kitchen—mainly vegetables, grains, and fish. "If bread and butter come back in a bowl, we put it in our 'pig bucket' everyday," says Dillon. Composting is better than nothing, he notes, "but I would rather take that food and turn it directly back into food."
The chef rides the ferry from the city, carrying buckets of food scraps from the Seattle restaurant to the Vashon Island farm once a week.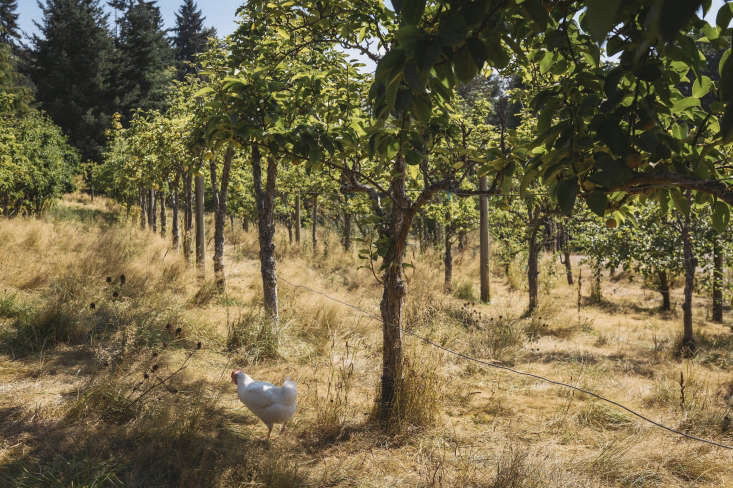 Nearby, a few beehives produce honey for the farm.
For more nearby, see:
(Visited 172 times, 1 visits today)