The effusive spring froth of fothergilla flowers brightens shady green garden corners and sparkles when planted to catch the backlighting of morning or afternoon sunlight. Long after the flowers are gone, these multi-interest North American shrubs end the season in a blaze of sunset-orange foliage.
Read on to learn how to grow fothergilla and what these hardy shrubs require to thrive.
Fothergilla's invitingly fluffy flowers—white with exquisite chartreuse tips—appear on naked branches before they leaf out, making the shrubs especially striking. The blooms do not have petals. Their showy softness is all about their stamens: white filaments and yellow anthers. Shrubs planted in full sun bear the most flowers and will appear more compact and dense in terms of branch structure, while very shaded plants will develop a graceful and more slender habit.
Fothergilla gardenii
Dwarf fothergilla (Fothergilla gardenii) is native to the low coastal regions south of North Carolina. For petite gardens or for simple structural variation within a mixed border, it is an excellent choice, rarely growing taller than five feet. Specific cultivars (such as 'Harold Epstein') can be much more compact. This species generally flowers a little earlier than its larger cousin F. major, so planting cultivars of both species will extend your enjoyment of their fragrant white blooms. Dwarf fothergilla requires ample moisture and will be unhappy if it dries out. Hardy in USDA growing zones 5 to 8, it grows especially well in its native range and in the Pacific Northwest.
Fothergilla major
Fothergilla major is a large shrub, sometimes exceeding 12 feet. In smaller spaces it is an excellent alternative to a tree. And in a large space a group of three (odd numbers works best in informal gardens), it makes a stunning spring and fall backdrop for smaller shrub and perennial plantings. Unlike dwarf fothergilla, this shrub is more tolerant of soils that are near-alkaline, and it can handle some drought stress too. It is hardy from USDA zones 4 to 8.
As the growing season closes, fothergilla shines. "It is one of the great American native shrubs for fall color," writes Michael Dirr, author of Manual of Woody Landscape Plants (a staple reference book for serious plant geeks).
Regardless of whether it is planted in full sun or in semi-shade, fothergilla's leaves will offer a wide and intense range of warm hues, from yellow to deep orange and red, often on the same plant.
Fothergilla x intermedia
Many of the fothergillas sold in the nursery trade actually may be a naturally occurring hybrid, Fothergilla x intermedia (only identified at a genetic level in 2007). They combine qualities of both species, with the smaller stature of dwarf fothergilla and the adaptability of F. major. 'Blue Shadow' is considered by botanical author Rick Darke to be "one of the most promising new shrubs yet to appear in the current century." Even its summer leaves offer interest, maturing to powder blue.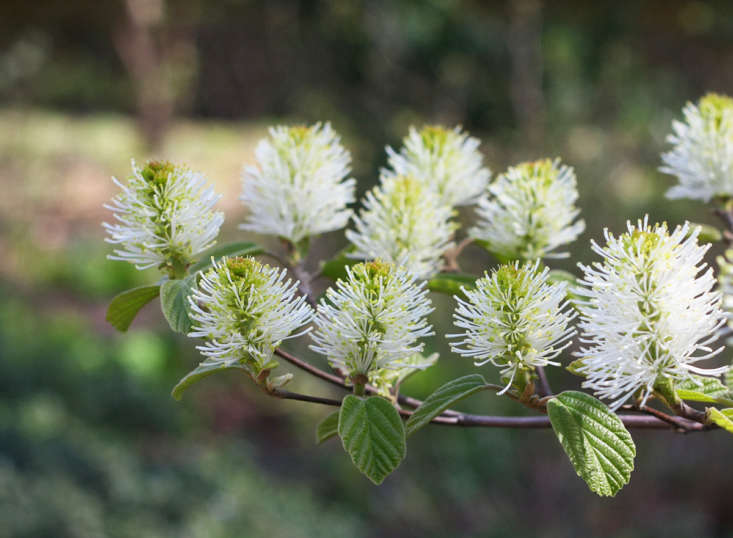 Cheat Sheet
Fothergillas belong to the same family as witch hazel.
On paper, fothergilla's common name is witch alder, but no one uses it.
Fothergillas were introduced to England in the 18th century.
The shrubs are named for Dr. John Fothergill (1712–1780), an English
physician whose 18th-century garden included one of
the earliest collections of North American plants.
Keep It Alive
Fothergilla prefers acidic soil of pH 5 to 7 (7 is neutral); test your soil's pH.
Soil should be rich with organic matter and well-draining; avoid heavy soil or clay.
Dwarf fothergilla is less adaptable than F. major; make sure it never dries out.
Mulch the root zone of fothergillas to conserve moisture in the soil (never mound mulch against the bark).
Water newly planted shrubs regularly until they are established.
See more growing tips at Fothergilla: A Field Guide to Planting, Care & Design and explore our curated design guides for Shrubs 101, including other flowering shrubs such as Paperbush, Rhododendrons, and Forsythia, which put on a show in early spring. Read more:
(Visited 920 times, 2 visits today)