Over the years, I've visited Ashland, Oregon, on several occasions. I've gone for the town's renowned Shakespeare festival, for good food, and sometimes just for a pleasant break on an umpteen-hour drive. Each time, I've stayed in a very basic motel while pining for a peek inside one of the town's charming B&Bs or its few grand hotels.
During the July Fourth weekend, I got my wish. After attending a performance at the Shakespeare festival (Richard III, one of the best plays I've seen), I spent the night at the Morical House Garden Inn, a nine-room B&B oozing with charm. The inn's three-course breakfast was exceptional (think cantaloupe gazpacho and vanilla brioche bread pudding), but my favorite part was the garden, two acres full of lawns, trees, chaise lounges, and baby deer. As I learned, Morical House is hospitable to more than human guests. To book, visit Morical House. 
Photography by Meredith Swinehart. 
Above: The inn's main building is a restored Eastlake Victorian farmhouse built in the 1880s. 
Above: A productive pear tree in front of the farmhouse. 
Above: I spotted a deer and her fawn on a hillside at the back of the garden.
Above: I was some distance away, so I snuck silently toward the deer with my camera. But this little acorn-head loudly alerted the deer to my presence.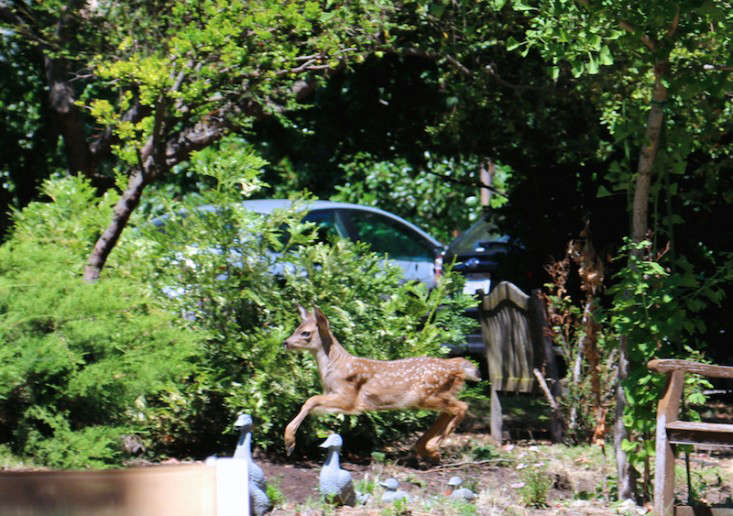 Above: Startled, the fawn hopped around the garden, fleeing my lens. I felt terrible for scaring it.
Above: Reunited with mom a few seconds later, the fawn stayed close to her side.
Above: Bird feeders and birdhouses around the garden encourage songbirds to linger. 
Above: A vocal songbird in profile against the summer sky. 
Above: The Morical House grounds are officially "bee-friendly."  
Above: A pastel apiary at the back of the garden. 
Above: Not quite as cute as the deer, but still cute: fuzzy honeybees, hard at work in the lavender.
Above: A vine-covered arbor gives the garden an enchanted look. 
Above: Nothing in this garden is too manicured or perfect–which is, of course, perfect. 
Above: A giant willow tree envelops one side of the garden. 
Above: Morical House is right on Ashland's Main Street (on a part that's not especially attractive). But as soon as you cross the narrow entrance to the inn, quiet ensues. 
Read more on deer in The War of the Roses: Fighting the Enemy with Deer Spray, The Landscape Designer Is In: Elegant Deer Fencing, Hamptons Edition, and A Deer-Proof Edible Garden, East Coast Edition. 
(Visited 64 times, 1 visits today)