When the Pitt family purchased a 1950s Northern California ranch house, the garden had an equally '50s-like lawn surrounded by a dated white picket fence. When they renovated the home, they also created a clean Zen-like space at the front with olive trees and a simple path of concrete pavers. And then? They decided they needed a teepee, of course.
Although there was plenty of space at the rear of the space, they soon realized that they enjoyed hanging out in the west facing garden, where they especially enjoyed the afternoon light. As a result they decided to create a more lush, private oasis there, with plenty of room for sitting around. Their solution? Pampas grass surrounding the family teepee.
Photography by Mimi Giboin for Gardenista.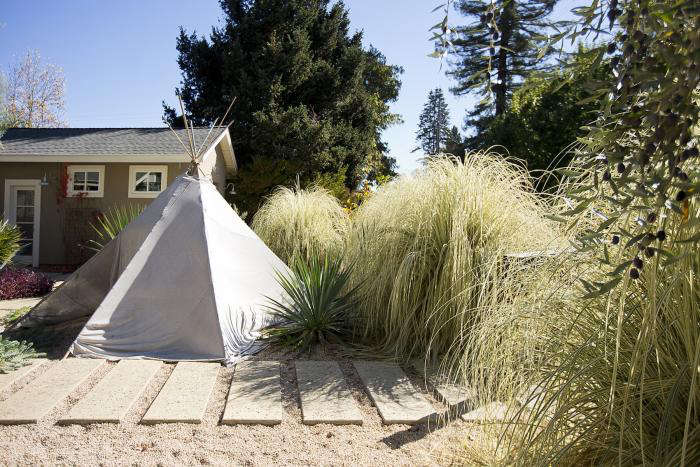 Above: A homemade teepee in the garden with a pampas grass hedge of sorts as a backdrop.
Above: For more of our favorite ways to use drop cloths, see DIY: Instant Painter's Drop Cloth Pergola.
Above: Greg Pitt put down the slab pathway, measuring out the stride. He created the steps to run 18 inches from center to center of each slab. This proved to be the perfect distance for his wife, but next time he would have bigger slabs to make for easier strides for people of different heights.
Above: Pampas grasses line the gateway and produce beautiful wispy flowers.
Above: Succulents and cactus add variation to the garden landscape.
Above: The Pitts planted pampas grass around the fence, spaced to allow the grasses to fill out. They are not native and grow very quickly; the Pitts are careful to cut the grasses back to keep them in check.
Above: A secluded seating area under the shade of an olive tree. The Pitts put down a weed barrier in the garden, then covered it with California gold gravel. For more information about California Gold Gravel pebbles, see Bourget Bros.
Above: A modernist bird house hangs from the olive tree.
Above: A hog-wire fence allows passersby to enjoy the grasses from the street.
Above: A succulent growing alongside the path.
Above: The main gate flanked by pampas grass.
Like the look of the simple hog-wire gate? Check out our post on Modern Gates and see Hardscaping 101: Hog Wire Fences.
N.B.: This is an update of a post originally published on March 13, 2013.
(Visited 211 times, 1 visits today)