An autumn tradition in my family, our annual walk on the "Battlefield Road" retraces the footsteps of Paul Revere from Lexington to Concord. Here, in addition to autumn splendor, we enjoy presentations in Revolutionary firearms and, my favorite, colonial cooking.
Fall was a time of bounty in colonial New England. But with no refrigeration, it was also time to prepare for the long, hard winter, preserving food by pickling, salting, and drying. Not only women, but also children were expected to partake in this provisioning process, with evenings by the fire spent stringing vegetables and fruits to be dried. As one who is always game to instill a sense of history in my children, and perhaps kill an hour or two in the process, I decided to give it a try.
Read on for step-by-step instructions:
Photography by Justine Hand.
Above: Each October at Hartwell Tavern, a preserved 18th century house and gathering place along the Battlefield Road, historic re-enactors demonstrate authentic methods of colonial food preparation and preservation.
Carrots, onions, broccoli, peas, almost any vegetable can be dried. I found the most comprehensive list of which vegetables to use and how to prepare them at Colorado State.
Above: Strung using a large needle and kitchen twine, fresh and dried mushrooms hang in the sun at Hartwell Tavern in Lincoln, MA.
Above: Back home, we gathered supplies. Beans and mushrooms are easy to dry and are therefore a good option for beginners.
Above: With their small fingers, children are ideal candidates for stringing vegetables. They also really enjoyed it. Here, Oliver, 7, strings green beans.
Above: Solvi, 5, works on mushrooms.
Above: After one strand each, Oliver and Solvi were still raring to go, so they switched vegetables and started again.
Above: There is almost nothing more charming than the sight of your children stringing vegetables. (Photo opps galore.)
Above: After our vegetables were strung, we simply found a sunny, dry spot (our kitchen window) in which to hang them. Then all you do is wait.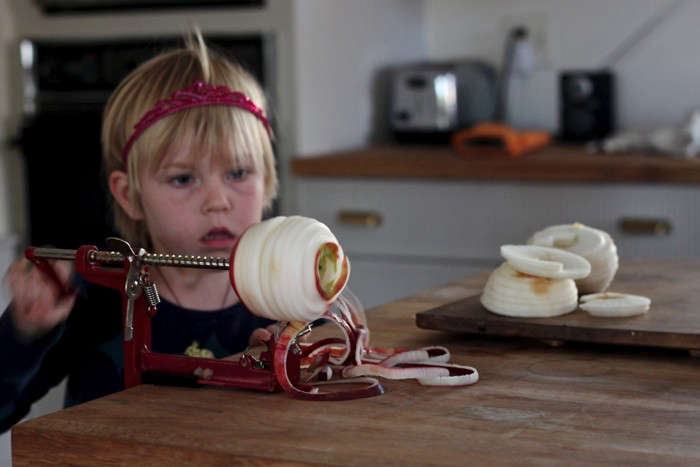 Above: A few days later we decided to try drying apples.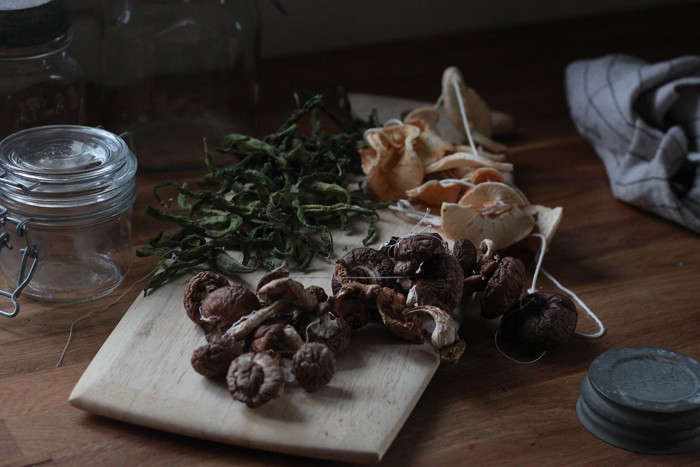 Above: After a couple of weeks we had dried food. The results, though not pretty, were still pretty satisfying.
Above: Stored in sterilized antique canning jars, our dried vegetables should keep all winter.
Above: For more authentic colonial food preservation and other handy household tips, the folks at Minute Man National Park recommended the improved The Servant Directory or House-Keepers Campanion. (When reading, it is helpful to note that the letters that look like f's are in fact s's.)
DIY: Dry Vegetables Like a Colonist
Unlike my recent foray into colonial candle making, which was fun but labor-intensive, drying vegetables in the tradition of our fore-mothers was quite easy.
First, procure fresh vegetables from a garden or farm stand. If you are growing beans, it is recommended that you leave them on the stem as long as possible. (As I learned from Blind Pig and the Acorn's excellent experiments with colonial foods: dried beans are also called "leather britches.")
Gently wash vegetables and thoroughly dry them; moisture may introduce mold. It is also recommended that you blanch vegetables such as beans to kill germs that can cause mold and decay.
Using a large needle, such as an embroidery needle, and some kitchen string or sturdy thread, begin stringing vegetables or fruit. Be sure to knot the ends so the food stays in place.
After your strand is complete, select a warm, well-ventilated, and moisture-free space in which to hang your vegetables. Many colonists selected a place in the kitchen or under the eaves in the attic. (Some websites even recommend the window of a car, parked in a sunny spot.) The idea is that it should be warm enough to dry the vegetables quickly, but not so fast that the outsides become hard and lock in moisture. Obviously, like anything, this involves some trial and error. But lucky us, ours turned out great the first time.
Drying time depends on the dryness of your spot. In my kitchen window, it took only two weeks. One of the reenactors at Hartwell Tavern said it took four weeks for her mushrooms to dry.
Dried vegetables will look shriveled. Beans should be pretty hard, mushrooms and apples will still be spongy.
After your vegetables have dried, place them in a sterilized container and store in a dark, dry place.
Use the concentrated flavor of your dried vegetables in soups or casseroles all winter.
Interested in more ways to prolong the shelf life of food? Try our recipe for Pickled Dilly Beans, explore methods of Preserving Roots in Sand, or try your hand at Canned Tomatoes.
N.B.: This is an update of a post originally published November 6, 2013.
(Visited 530 times, 6 visits today)