Ever since our first visit a couple of years ago to Bluet Coquelicot, a Parisian flower shop where the customers are neighbors and as likely drop by for a glass of rosé as for a bouquet, we've been hoping for an invitation to tour the private courtyard garden of owner Tom de Fleurs (who lives just around the corner in the Canal St. Martin neighborhood).
This summer we got lucky when photographer Mimi Giboin just happened to be in town at just the right time to capture Tom's tiny garden, looking its best. Here are 10 garden ideas to steal from a Parisian courtyard:
Photography by Mimi Giboin for Gardenista.
Create a Perimeter of Privacy
You don't need a stockade fence to ensure seclusion in a courtyard. Tom uses a low brick wall as a ledge; on it sit planters and pots of greenery at eye level.  To get the same look, create container gardens full of ferns and other lacy foliage that will create an airy green privacy screen.
Add Layers
In a small courtyard garden where space is at a premium, Tom creates a tapestry of textures and allows plants to overlap and grow together. For a similar look, train vines and climbers to grow up a wall to create a backdrop layer of foliage.
Mix and Match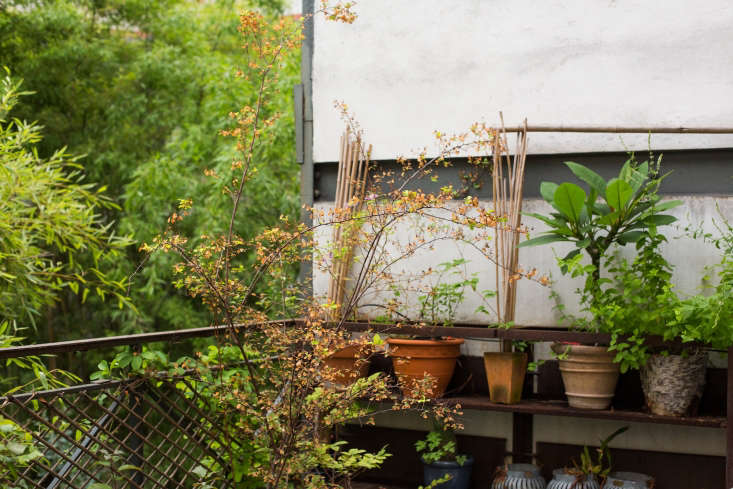 In a small space, planters and pots don't need to match. Individual containers will become a collection if you repeat a theme—group several terra cotta planters together, for instance—and then add variation with different sizes and shapes. See some of our favorites at 10 Easy Pieces: Terra Cotta Planters.
Embrace the Elements
Unless you have winter storage space in a shed or garage, outdoor accessories such as shelves and planters will need to shelter in place. Make sure they can endure the seasonal vagaries of temperature changes as well as the elements (wind, rain, and snow) and choose materials (such as metal) that will look handsome with a layer of rust.
Pot Up a Woodland
Many small trees will thrive in pots and large containers. Consider Japanese maples; many varieties of Acer palmatum can be pruned and shaped aggressively to make sure they don't outgrow a courtyard garden.
Grow Ornamental Edibles
In a small courtyard garden, Tom puts plants to work by choosing edibles—such as fruit trees—that can do double duty as ornamental plants. Fig trees have beautiful leaves, for example. In a mild climate, potted lemon and mandarin orange trees can live outdoors year-round and will reward you with white blossoms before they set fruit.
Choose Flexible Furniture
Small furnishings, such as folding tables and collapsible chairs, will pack up easily and can be moved around a small courtyard, to chase the sun or create more are more space to entertain.
Consider Color Carefully
Any colorful flower or foliage will be in your line of vision in a small courtyard. Choose accents judiciously and make sure colors don't clash.
Automate the Irrigation
Potted plants dry out faster than those rooted in soil in a garden bed. Most need to be watered daily in hot, sunny conditions. You can avoid heartbreak (and feel free to leave town for a weekend without guilt) if you install a simple  automatic irrigation system (hook it up to the hose tap, with a timer).
See more at Hardscaping 101: Drip Irrigation.
Install Drainage Underfoot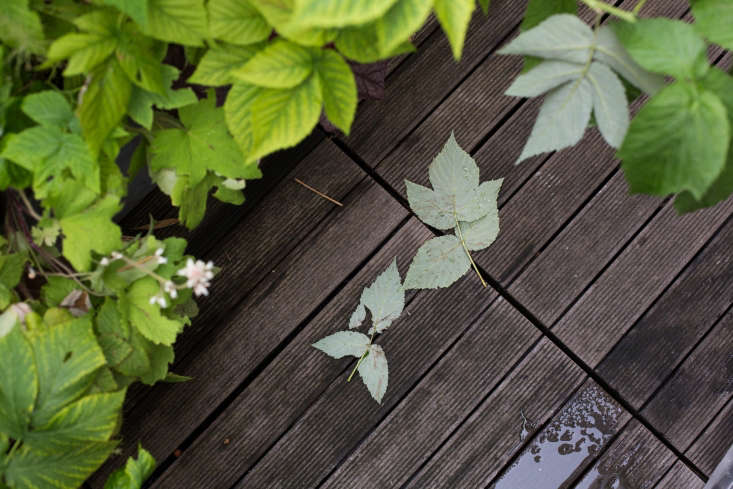 Water has to run off somewhere; in a small courtyard garden you can make sure it will drain properly instead of puddling underfoot by laying a permeable deck surface—gravel and pebbles are other inexpensive choices. See more choices at 10 Easy Pieces: Wood Flooring for Decks.
N.B.: For more courtyard care tools and tips, see:
(Visited 266 times, 1 visits today)