The Scenario: The clients have a pied-à-terre on Manhattan's Upper East Side (near the Frick Museum) with astonishing, postcard-perfect views of Central Park.
The Challenge:  To design a terrace—on a small L-shaped space just slightly larger than an average budget hotel room—that would function as an elegant outdoor room: for dining, entertaining guests, and enhancing the round-the-calendar green views visible through the apartment's windows.
The Solution: Some landscape designers might have balked at the list of requirements for such a small space, but not Harrison Green. Partners in business (and life) Damien and Jacqueline Harrison, who specialize in turning tiny New York City patios, balconies, and terraces into meticulously detailed and high functioning outside rooms, were undaunted. Here's the terrace garden, floating above Manhattan:
Photography courtesy of Nicholas Calcott
L-Shape Layout
The designers placed a small table and chairs in a niche in the narrow portion of the terrace. A planter with a Stewartia tree separates the dining area from the living room seating area.
Color Palette
Harrison Green created a cool-colors palette of green and white, with boxwood and flowering shrubs such as hydrangeas and rhododendrons.
When it comes to choosing plants, Damien Harrison says "you can get in a pickle when you try to use too many colors." He prefers to steer clients away from bright hues and toward muted shades of blues and whites mixed with liberal amounts of green ("the best color"). The perennials chosen for this terrace include a white flowering climbing hydrangea (Hydrangea anomala petiolaris)  trained to cling to a custom-designed trellis. There are also climbing white roses (Rosa 'White Dawn') and a subtle pop of pale purple-ish blue in the blooms of catmint (Nepeta faassenii 'Walker's Low').
Herringbone Deck
Damien Harrison believes it is important to work closely with the architect and interior designer on both large and small projects.  In this case the philosophy led to the creation of the most distinctive design element on the terrace: the striking wood floor. Both the client and the interior designer,  Carol Egan, wished to continue the design of the herringbone oak floor from inside the apartment onto the terrace. Because the outdoor flooring needed to be weatherproof, Harrison Green turned to ipe, an extremely durable tropical hardwood from South and Central America.  Ipe weathers to attractive shades of gray and is said to be as fire resistant as concrete and steel.
Although building a custom floor was challenging, Harrison says that his firm "likes to push it" by including unique design features.  He notes that in a typically small New York City space, it is important that each element be outstanding in both function and appearance.
Disappearing Act
Furniture
Richard Schultz's 1966 Three Seat Lounge is available in nine color combinations (including Onyx with Onyx Mesh and Strap) for $2,188 from Knoll.
Sunset Views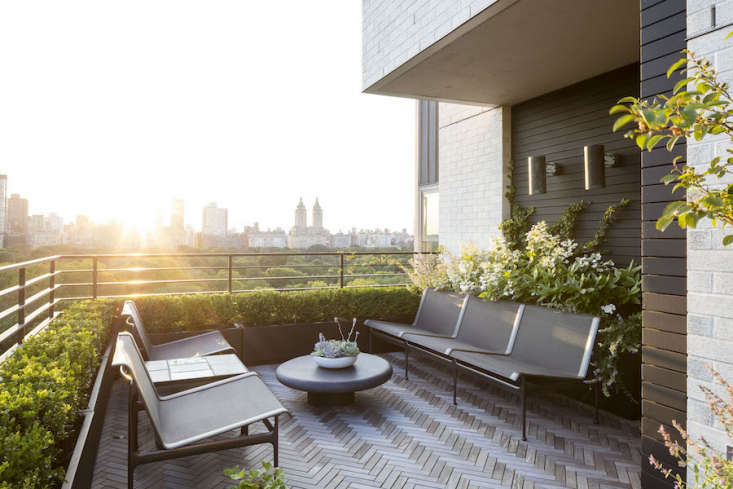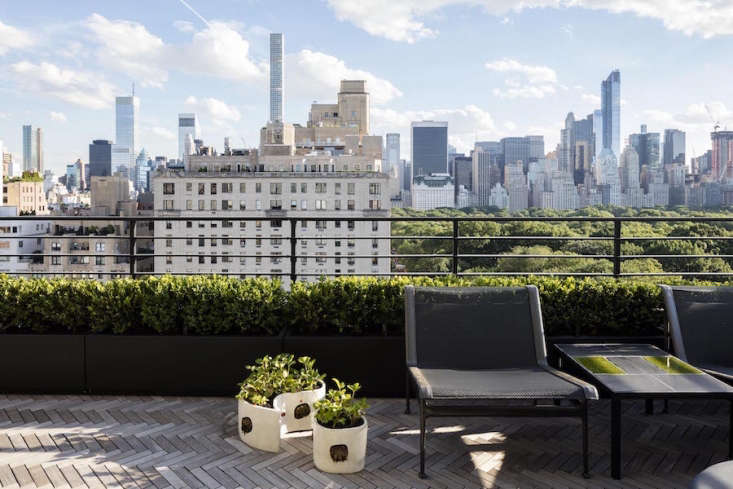 For more of our favorite New York City gardens, see:
(Visited 695 times, 3 visits today)