If you've spent much time on a farm with chickens then you know that the spaces where chickens live aren't always the most beautiful corners of the place. Chickens can make a space dusty and smelly, and then of course there are the chickens themselves to worry about. I'd be lying if I didn't say that more than once I've run in the opposite direction of a hen that seems hell-bent on pecking at something more than the grass at my feet. Bringing a chicken into my someday-backyard gives me some pause.
But then there are the eggs to consider. Anyone who's had the privilege of eating an egg fresh from a healthy chicken will agree that regular old grocery store eggs have nothing on the eggs that you can collect from your own flock; yolks so golden they're practically orange and all that jazz. Making a little room for a small flock of backyard chickens seems entirely worth it when you remember that the reward is fresh eggs every morning. There has to be way to raise chickens without turning your yard into a dustbowl. Right?
In her book Free-Range Chicken Gardens (Timber Press Books, 2012), Jessi Bloom says yes, indeed. In the picture-filled volume, Bloom offers tips and tidbits for incorporating chickens into your garden without sacrificing the beauty of your space. In fact, as Bloom explains, chickens are actually beneficial to gardens. They provide garden help by keeping weeds and pest populations in check, aerating the soil, helping to compost greens and foodwaste and to some extent, helping to mow the lawn. Instead of being only a nuisance, chicken manure can be a resource used to fertilize the garden soil.
Bloom takes readers on visits of beautiful gardens where chickens have been seamlessly incorporated, while also outlining practical steps and measures for creating a garden of one's own. From choosing chicken breeds and chicken coops to selecting chicken-friendly hardscapes and vegetation, Bloom outlines the best tools for building a chicken-friendly space.
Photo by Kate Baldwin.
Above: Author Jessi Bloom with one of her girls.
Photo by Kate Baldwin.
Above: Bloom outlines characteristics of different chicken breeds. The Black Star chicken above is known as a hybrid 'sex link' chicken and is known for its outstanding egg-laying ability. Their easy-going temperament makes them an ideal option for backyard coops.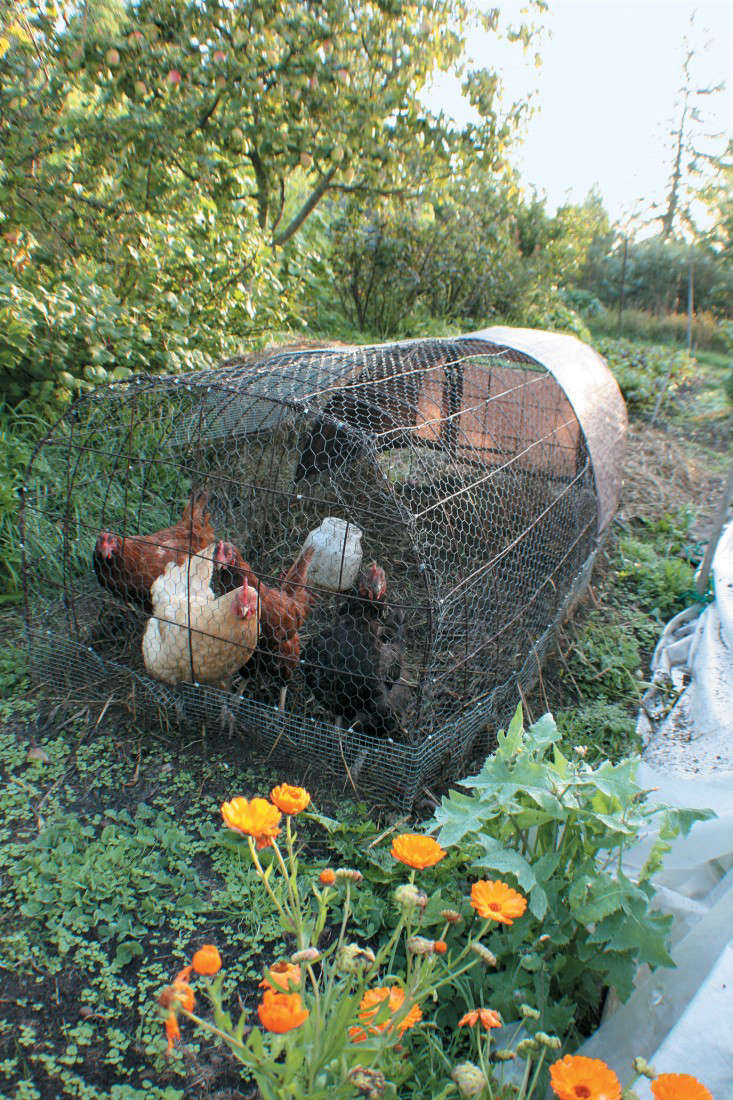 Photo by Jessi Bloom.
Above: Considerations of time, space, and climate will dictate what kind of coop makes the most sense for your backyard.
Photo by Jessi Bloom.
Above: Bloom outlines plants that can be used for shelter, food, and soil-building, as well as those that are best left out of a chicken garden. The Echinacea above provides beautiful color for the garden and seeds for the birds.
Photo by Kate Baldwin.
Above: Incorporating chickens into your garden means more than just thinking about plants; it's important to consider the hardscaping too. Gravel paths provide a clean, permeable surface while also providing chickens with a source of grit which they need to digest their food.
Photo by Jessi Bloom.
Above: Whether you decide to purchase a ready-made coop or build you own, Bloom provides tips on materials, size, and placement. Above, a modern coop-tractor designed by Nicole Starnes Taylor.
Photo by Kate Baldwin.
Above: Apple trees are a recommended addition to a chicken garden, providing both food and shelter.
Photo by Jessi Bloom.
Above: A backyard flock forages in a garden's ground cover. Bloom recommends dense evergreen ground cover like Japanese spurge, ground raspberry, and cotonester.
Free-Range Chicken Gardens: How to Create a Beautiful, Chicken-Friendly Yard is available from Timber Press for $19.95.
Photos taken from Free-Range Chicken Gardens: How to Create a Beautiful, Chicken-Friendly Yard (c) Copyright 2012 by Jessi Bloom, Photography by Kate Baldwin. Published by Timber Press, Portland, OR. Used by permission of the publisher. All rights reserved.
Getting serious about raising chickens? See 5 Favorites: Backyard Chicken Coops for Small Flocks.
Need something more to convince you? Christine Chitnis makes chicken-keeping look cute.
(Visited 714 times, 1 visits today)