Thyme, Thymus: "A True Love of Mine"
So many thyme puns, so little time. I'll do what I can. It's high time, after all, to make this drought-tolerant perennial ground cover–and nutritious herb–a mainstay in your garden and in your cooking endeavors.
Above: You can start a pot of thyme in any season, even in winter. See DIY: Reviving the Cold Frame. Photograph by Erin Boyle. For more images of Thyme, see our Gardenista Gallery.
You might decide to stick a mini-pot of thyme on your windowsill or to plant a big spread in the backyard. You can also use thyme throughout your vegetable garden, to deter nefarious insects and boost the growth of other plants. While it loves and needs sun, you can otherwise leave it alone, besides giving it occasional water; thyme even thrives in rocky soil. Just prune it back every season to let light in on new stems.
Above: For an instant windowsill herb garden, Williams-Sonoma sells a six-pack of potted Essential Kitchen Garden Herbs for $29.95; the set includes English thyme.
Above: Hungry? See Erin's recipe for creamy Celeriac Gratin With Thyme. Photograph by Erin Boyle.
Thyme contains lots of vitamin C and A, as well as manganese, fiber, iron, and copper. Add the leaves as an ingredient in stir-fries, salad dressings, and soups for an extra dose of health. You can put them in at the end of cooking or chop them finely and serve raw, as a garnish–heat can destroy the herb's delicate fragrance and taste. Try making herb butter to preserve a large amount of thyme, or any hardy herb. Simply crush a good portion of chopped herbs into softened butter and then freeze for future use.
Above: Edible herbs look good planted in a rustic container. For ideas on what to pair with thyme, see Required Reading: The Plant Recipe Book.
Cheat Sheet
Thyme's fragrant, tiny flowers attract tiny beneficial insects.
Depending on the variety, the flowers could be white, purple, or pink (on many woody, tiny branches).
The herb's essential oils boost the production and flavor of neighboring plants.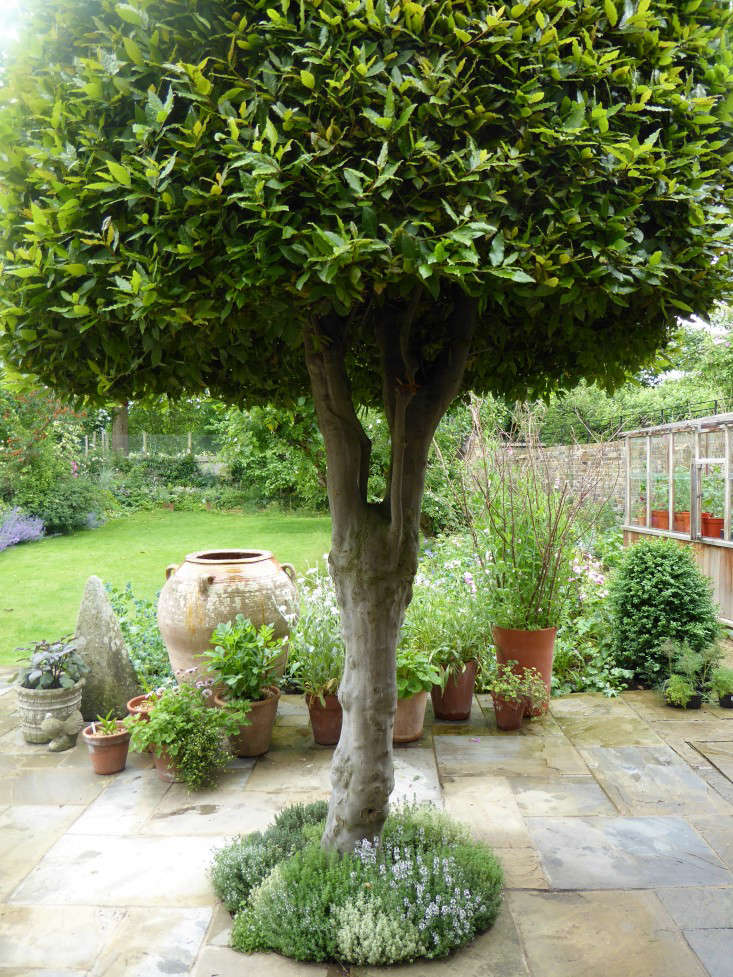 Above: Thyme grows at the base of a bay tree in writer Daisy Garnett's garden. For more, see Garden Visit: At Home with Writer Daisy Garnett in London. Photograph by Clare Coulson for Gardenista.
Keep It Alive
In cold months, add mulch around the base of this perennial herb.
Thrives in full sun or partial shade.
Water only when it gets very dry.
Above: Photograph by Michelle Slatalla.
Thyme is a rugged, low-water alternative to a grass lawn. Here's what Janet discovered: "Very drought-tolerant, low-growing Elfin Thyme (Thymus serpyllum) forms a tight solid mat of green foliage that blooms with light pink flowers in summer. The sun-loving plant is a vigorous creeper that stands up to foot traffic." For more, see Fields of Green: 5 Favorite Lawn Substitutes.
Above: Creeping thyme also thrives as a container plant. For a planting scheme, see DIY: Long-Lasting Outdoor Planter. Photograph by Meredith Swinehart.
An added bonus to this timeless medicinal, culinary, and cultural herb? Scientists have confirmed what ancient Egyptian and Greek societies believed: Thyme has preservative and antiseptic qualities that make it useful as a kitchen cleaner or a dental wash. Herbalists recommend thyme tea to lift the spirits. They also use thyme in a concentrated oil to treat skin conditions, upper-respiratory problems, gastric issues, and more.
Planning an herb garden? See our previous Field Guide posts on Rosemary, Tulsi Basil, and Cilantro.
Finally, get more ideas on how to successfully plant, grow, and care for thyme with our Thyme: A Field Guide.
Interested in other edible plants for your garden? Get more ideas on how to plant, grow, and care for various edible plants (including flowers, herbs and vegetables) with our Edible Plants: A Field Guide.
(Visited 12 times, 1 visits today)