Thanks to smart phones and ever more sophisticated compact cameras, we are all photographers now. But there's a wide gulf between those everyday pictures and the exquisite images captured by garden photographer Clive Nichols, who started out as a travel photographer before quickly realizing his calling was to capture some of the world's most extraordinary gardens.
One of his favorite subjects is Pettifers, Gina Price's stunning country garden in the North Oxfordshire village of Wardington, where Nichols is also based. The pair, who met more than a decade ago, before Gina had been gripped by the ornamental grasses that now happily co-exist with her lush perennial planting. And now her beautiful garden plays host to workshops where Nichols shares his expertise and tricks of the trade.
After attending a recent workshop, I came away with nine tips for taking better garden pictures:
Photography by Clive Nichols.
Invest in a Tripod
Above: It's the biggest difference between amateur shots and professional ones, says Nichols, and the only way that you will get bitingly sharp pictures. He routinely works with a zoom lens on a tripod, which not only compresses perspective—giving a massive depth of field—but also allows him to pick out different shots around a space in quick succession, which is vital when good light is fleeting.
Shoot in Early Morning or Evening
Above: Autumn mist rises off the box parterre at Pettifers.
Both early morning and evening light can be magical but in very different ways. In mornings, especially in cooler climates, there is moisture in the air creating dramatic mists, fog and picturesque features including cobwebs. Long shadows at sunrise also add to the depth of the picture. In the evening colours are much richer and the low sun creates a warm golden light that can also be spectacular.
Go for the Glow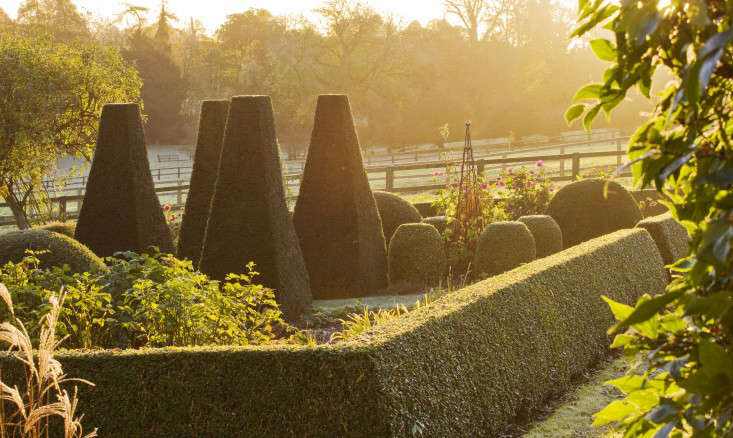 Above: Clipped boxwood and yew in the Pettifers lower parterre.
By shooting directly into the sun you will backlight plants and flowers but you will often get patches of flare too. Sometimes it can create interesting effects in a picture but if you want to reduce it then use tall trees to diffuse the sun's rays.
No Sky Necessary
Above: The light at dawn on a late-summer border of echinacea and Cornus controversa 'Variegata' at Pettifers.
Often a vast swathe of dull overcast sky adds nothing to a composition and takes the attention away from the action on the ground, so don't be afraid to eradicate the sky from your pictures.
Go Macro
Above: Pink berries on Sorbus vilmorinii.
If you want to take really great close up shots then ideally you need a macro lens —Nichols uses a 180-millimeter lens. A macro lens will give a minimal depth of field (if you use a large aperture such as f4 or f3.5), creating what the Japanese called "bokeh," where the background is blown out of focus and your subject pops out of the frame. Macro lenses are brilliant for taking pictures of insects and for capturing the stunning details of buds just as they are coming into bloom too.
Let's Go Indoors
Above: Some of the most effective still-life shots can be very simply taken inside on a windowsill using nothing more than soft natural light, and it's a good way to still be able to take pictures even if nothing much is going on in the garden. You can also add light with a reflector too, which will subtly light flowers from other angles. And, adds Nichols, it's much harder to get a great garden shot than it is to get a brilliant plant shot because outdoors there are so many more variables, including light and wind and the fact that the whole garden scene needs to work as one picture.
The Thirds Rule
Above: Just as things always look better planted in an odd number, a picture often looks better when the subject is placed slightly off. The "thirds" rule means that your focal point should always sit in the "thirds" if you imagine your frame as a lined grid. Here, a backlit Cornus controversa Variegata illustrates this point perfectly. And just like planting, compositions can look more effective if there's a pattern of repeated features or plants, no matter how subtle, within the shot.
Frame Game
Above: The parterre at Pettifers framed by a rose arbor.
Using vertical structures to frame compositions is an age-old technique and it's very effective—make the most of pergolas, arches, and boughs of trees to frame views. Nichols also suggests creating interesting viewpoints by moving around: shoot high up in a treehouse, up a ladder or take detail shots low on the ground.
Plan Ahead
Above: Narcissus 'Johann Strauss' flowering in springtime.
Nichols will often scout a location before taking pictures, sometimes running around before the sun comes up or visiting a garden two or three times before he gets the pictures he wants.
For details of next year's workshops, see Clive Nichols.
For more, see 10 Tips for Gorgeous Garden Photos.
(Visited 1,049 times, 2 visits today)